There's something about the month of January that makes me want to curl up in my bed, read a good book (The Long Walk to Freedom at the moment), and do nothing particularly productive whatsoever. Maybe it's related to the fact that everyone is proclaiming resolutions and making strides towards a better year, but the past few weekends I've found myself holing up at home, being rather lazy, and loving it. I blame the mixture of polar vortex and rainy weather, and the fact that I've been on call a lot recently, but either way Ryan and I have gotten a lot of use out of our flannel PJ's recently. And if there's anything to reflect our current state of house, it's a great recipe for an indulgent, comforting, rustic-looking breakfast treat that's easy to make ahead and absurdly delicious. So go ahead and bust out your pajamas and grab a hefty loaf of bread because it's going to be a yummy weekend!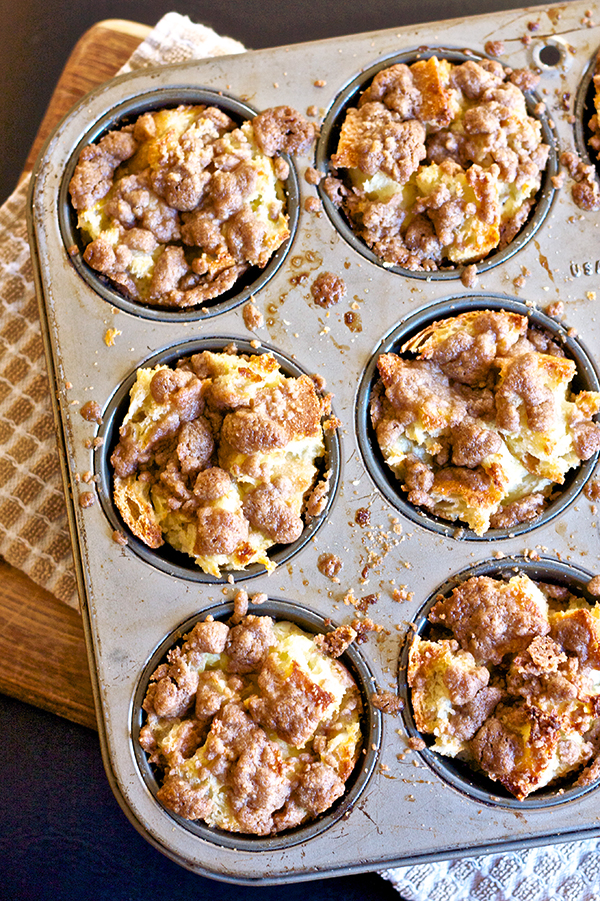 I actually made these muffins for Christmas morning with my family since they are perfect for preparing ahead of time and are warm and cinnamony and even more delicious doused in maple syrup. Perfect for Christmas, but also for any other Saturday or Sunday or weekday for that matter if you've got the appetite. I'm sure you've seen recipes for baked french toast made in a casserole dish or big Pyrex, but something about them served as individual muffins made them so much more desirable to me. My monkey bread muffins were such a hit, I knew these would be just as good. But then again the cinnamon bread pudding I made last year in a casserole dish was pretty unbelievable too, so you can go either way. Regardless of how you serve them, there's streusel involved here so you really can't go wrong with these.  So good, so easy, you hardly need to get off your couch for these, but it'll be worth the few steps on your new FitBit or Nike Fuel band, I promise :)
As much as I've loved relishing in a bit of sloth-like behavior and streusely muffins, I think the tides will probably start turning after this coming week. Ryan and I are headed to Costa Rica for a little getaway, and I think the warm sunshine is just what I need for a little 2014 rejuvenation. And if not, at least I might come back with a tan!
French Toast Muffins
Ingredients:
for the french toast muffins:
1 loaf French bread, cut into 1/2" cubes
2 cups milk
6 eggs
1/2 cup sugar
1-1/2 tbsp vanilla extract
for the streusel topping:
1/2 cup all purpose flour
1/2 cup brown sugar, packed
1 tsp cinnamon
1/4 tsp salt
Pinch of nutmeg
1/2 cup butter, cold and cut into pieces
Directions:
Spray a 12-muffin tin with non-stick cooking spray. Cut bread into cubes and fill each muffin tin well up with bread. In a large bowl, whisk together the milk, eggs, sugar, and vanilla. Carefully pour the mixture evenly over each muffin tin, pressing down the bread cubes to allow more liquid to be absorbed. Cover the muffins with plastic wrap and refrigerate for 2 hours or overnight.
Preheat the oven 350 degrees and prepare the cinnamon streusel. In a small bowl, combine the flour, brown sugar, cinnamon, salt, nutmeg, and butter and use your fingers or 2 forks to crumble the mixture into coarse crumbs. Sprinkle mixture on top of the muffins evenly.
Bake muffins for 20-25 minutes, or until the tops are golden brown. Let the muffins cool for 5 minutes in the pans, then serve warm with maple syrup.