If cupcakes are over, doughnuts are on the rise (especially the yeast kind, hardy har har…). There are trendy doughnut shops popping up in every major city, and NYC is no exception. I knew I wanted to hit up a doughnut place on my tour and did a little research to find one that I thought would be extra special. Doughnut Plant fit the bill – a bakery with an awesome history (read about it here), lots of buzz from other reviewers, and an incredible lineup of creative flavors (and shapes!). The Doughnut Plant store officially opened in NYC in 1994 with a Lower East Side location, opened their Chelsea storefront in 2011, and apparently there are a lot of locations in Japan too. The bakery itself definitely has a modern and fun vibe that I would expect from a Japanese bakery, and I absolutely loved all the colors and doughnut-shape motifs throughout the store! Even before biting into a doughnut I knew this place was going to be good.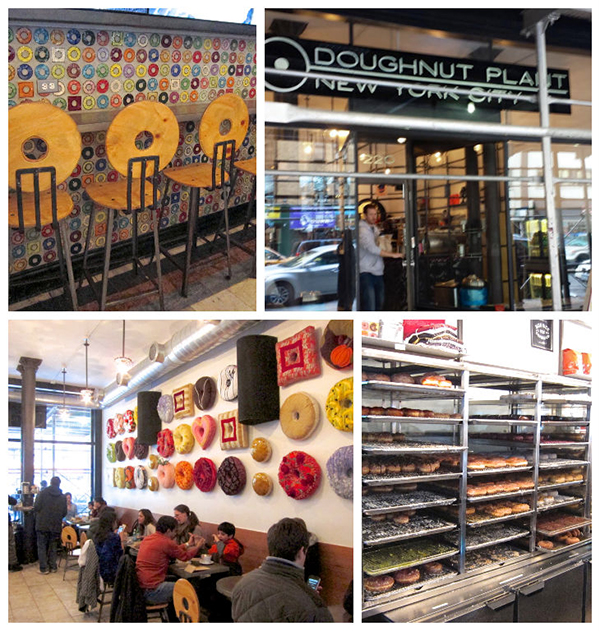 What makes tasting and baking cupcakes so much fun is all of the components and creativity involved. Cake flavors, fillings, frostings, toppings, drizzles – there are a lot of options when it comes to putting together a cupcake. Turns out the options aren't limited with doughnuts either, Doughnut Plant goes all out with the combinations of doughnut flavors, fillings, and glazes. Although I'm all for purity of flavors, it's also really fun to try some wacky combinations that you can't find at your corner Dunkin Donuts. With choices such as peanut butter and banana cream, rose petal, carrot cake, and creme brulee, it's hard not to try at least 10. But for Ryan and I we settled for five and had fun sampling the ones we found most tempting. We tried coffee cake, wild blueberry, triple chocolate, tres leches, and peanut butter and jam. It was one of the toughest decisions we made that day! I loved the coffee cake one – it was coffee flavored with a rich filling and crunchy topping while Ryan predictably loved the filled peanut butter and jam one that was absolutely decadent and amazing.
The verdict: I had a lot of fun at Doughnut Plant – the staff was friendly, the atmosphere was colorful, modern, and clean, and the doughnuts were totally crave-worthy. Sometimes bakeries get a little too creative with their offerings and the taste falls short, but Doughnut Plant delivered in both regards. Apparently they have great churros and mini filled doughnuts (called doughseeds) too, but I'm only here to report on the doughnuts I tried. Overall this was a great stop and I was very pleased with the fancy breakfast treats we tried. Highly recommended if your trip in NYC takes you to Chelsea or the LES!
This project sponsored by Rafflecopter. They're working on a new approach to brand-blogger relationships and are searching for bloggers with creative ideas. Learn more here.