Since it's right before Thanksgiving, I couldn't NOT post a pie recipe today. It would just seem weird if I carried on with normal posting with brownies or something and ignored the fact that the day of pies is just two days away. Even though we all know I don't like pie, and even though making pie crust scares me, I've overcome these difficulties to create an epic pie for all of you today!  So of course I avoided fruit pie again and basically went for a giant, gooey chocolate chip cookie baked in a flaky pie crust instead. The recipe comes from one of my favorite cookbooks, Baked, and since I visited their bakery in Brooklyn recently, I've been dying to revisit their recipes and commemorate my trip to Red Hook. The authors call it Tuscaloosa Tollhouse Pie because it's a recipe hailing from Tuscaloosa, Alabama, but it's also very similar to what some of you may know as Derby Pie. With the combination of plenty of butter and sugar, chocolate chips, walnuts, and a splash of whiskey – this pie (whatever you call it) gives you plenty to be thankful for this year.
The thing about this pie is that it's supposed to just look like a regular chocolate chip cookie in pie form, but when I mixed the toasted walnuts and chocolate chips together before adding them to the dough, things got melty and my dough turned chocolatey. Although I was initially bummed that my esthetics would be a bit off, I quickly realized the resulting chocolately mixture was potentially even more heavenly than originally planned. When you eat a slice of the pie warm (even nuked in the microwave for 30 seconds is amazing), it almost reminded me of a freshly baked Levain double chocolate cookie – one of my favorite, favorite treats that I've tried in NYC! When served warm the pie is gooey and fudgey, like the combination of a perfectly underbaked cookie and a chocolate lava cake. It SCREAMS for a scoop of ice cream, and I thought cookie dough would be the perfect flavor for this utterly decadent pie.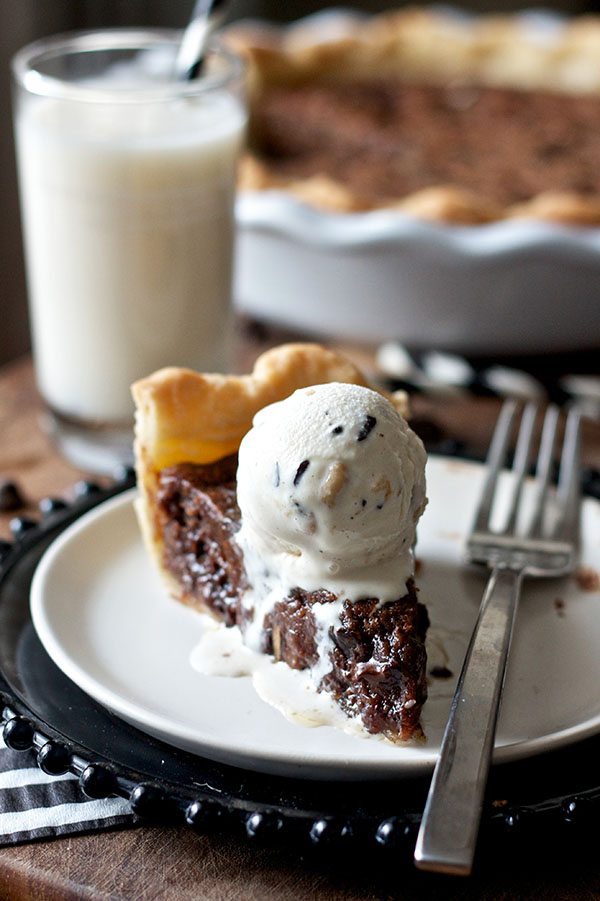 I'm not particularly proud of the artistry of the pie crust, but it stayed intact and was really yummy, so I can't be too disappointed. I should have more practice under my belt if I want to call myself a baking blogger, but since I'm not the biggest fan of pie I don't tend to make many myself. With so many posts from other bloggers out there dedicated to "the perfect pie crust" and talks of all butter vs. all shortening vs. a combination, the whole process can seem very daunting. But I just followed the recipe out of the Baked cookbook and no catastrophes followed, so maybe I'm just lucky? Or maybe I'm just not much of a pie connoisseur so I didn't notice if it wasn't great or not. Either way the crust takes a backseat to the filling in this recipe anyway, and in my mind it's just a vehicle in which to serve this amazing chocolatey filling. You're gonna need that glass of milk!
Although it may be pretty last minute to add a dessert to your Thanksgiving lineup, thankfully this recipe is quite simple and there's a good chance you have most of the ingredients in your pantry already. And for those in your family who always prefer chocolate to fruit in their desserts (my kinda people!), this will be a great option so they can still get their obligatory pie fix. Just make sure to have some ice cream on hand – it's not the same without it!
Chocolate Tuscaloosa Tollhouse Pie
Recipe adapted from Baked
Ingredients:
for the pie crust:
1-1/2 cups flour
1/2 tbsp sugar
1/2 tsp salt
1/2 cup (1 sticks) unsalted butter, cold, cut into cubes
3 tbsp ice water
for the filling:
1/2 cup all-purpose flour
1/2 cup granulated sugar
1/2 cup firmly packed dark brown sugar
2 large eggs
3/4 cup (1-1/2 sticks) unsalted butter, at room temperature, cut into cubes
1 tbsp whiskey
3/4 cup walnuts, toasted and chopped
1-1/4 cups semisweet chocolate chips, divided
Directions:
for the pie crust:
In a medium bowl, whisk together the flour, sugar, and salt. Put the flour mixture into a food processor, add the butter, and then pulse in short bursts until the pieces of the butter crumble into pebble-sized clumps. Drizzle the ice water through the feed tube while pulsing in 4 second intervals until a dough ball forms.
Once the dough forms a ball, remove it from the processor, flatten to a disk and wrap first in parchment paper and then in plastic wrap. If using right away, firm up in the refrigerator for at least 1 hour. Dough can be stored in the freezer for up to three months.
When you're ready to make your pie, flour your work surface and roll out the dough into a 12" circle. Transfer dough to pie plate, folding any overhang under and crimping the edges as you go. Wrap and freeze until firm, about 2 hours.
for the filling:
Preheat the oven to 350 degrees. In a medium bowl whisk together the flour and sugars and set aside.
In the bowl of an electric mixer, fitted with the whisk attachment, beat the eggs until foamy on high speed, about 3 minutes. Replace the whisk attachment with the paddle and with the mixture on low, slowly add the flour mixture. Turn the mixer back up to high and beat for 2 minutes until everything is mixed together well. Scrape down the sides of the bowl and add the butter. Beat again on high until everything is smooth. Scrape once more, being sure to get the bottom, and add the whiskey. Beat on high again for 1 minute. Fold in the walnuts and 3/4 cups of the chocolate chips with a rubber spatula. If you toast the walnuts right before combining them with the chocolate chips, you're chocolate chips will get melty and turn your whole batter chocolatey brown as mine did. This resulted in some fantastic chocolate flavor throughout, but if you're looking for a more classic chocolate chip cookie appearance, make sure your nuts are cooled before mixing them in!
Pour the filling into the frozen pie shell and spread evenly. Top with the remaining 1/2 cup chocolate chips and bake for 25 minutes. Remove pie from oven and cover the edges of the crust loosely with tinfoil and then bake for another 25 minutes, or until a cake tester comes out clean. If there is uncooked dough sticking to the tester, keep baking for 5 minute intervals until fully cooked. Transfer to a wire rack to cool before serving.
Pie can be served immediately, or up to 3 days if wrapped tightly and kept in the fridge. Remember to warm up the slices before serving with a quick nuke in the microwave, and don't forget the ice cream!