This isn't my normally scheduled post for the week, but I just had to squeak in an extra recipe this week so I could share this with you before Halloween becomes a distant memory. If you remember, last year my co-residents and I dressed up as Minions and I made coordinating Minion Cupcakes for us to enjoy as we assembled our costumes together. This year we dressed up as Teenage Mutant Ninja Turtles (and Splinter) and last minute I threw together this cookie cake to keep the tradition of themed desserts going. The Ninja Turtles love their pizza (especially Michelangelo), so I figured they'd like dessert pizza too. And not just pizza made of sweet things like my Grilled Berry Pizza, but a cookie pizza that looks like real pizza!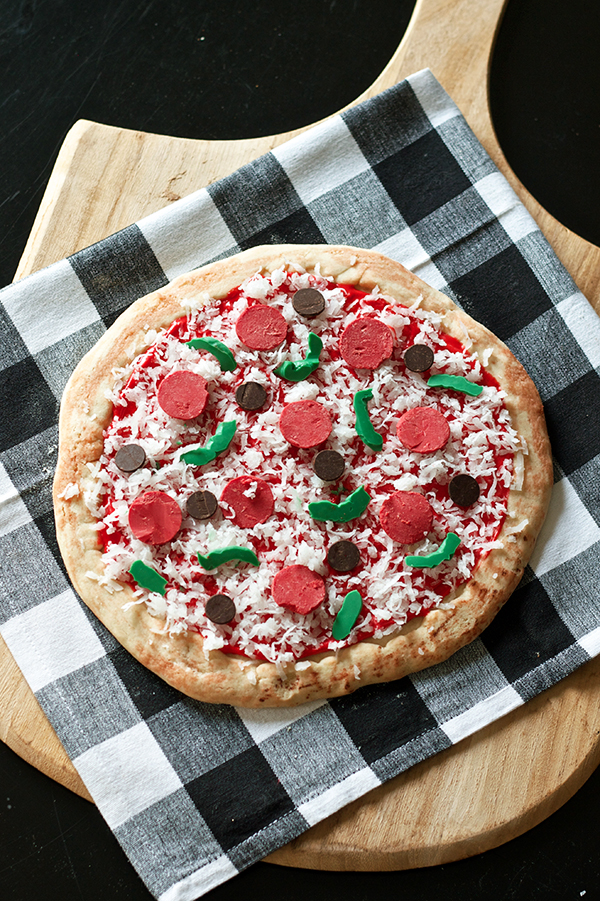 I made this cookie cake only with things I already had in my apartment since it was so last minute, and that forced me to get really creative. Sometimes that's the most fun! I had half a bag of red candy melts, some green candy melts, shredded coconut, chocolate chips, and of course had to make a quick batch of sugar cookie dough and cream cheese frosting (I had leftover cream cheese in the fridge, thus the choice of flavor). If I planned ahead a bit more, I may have piped chocolate to look even more like olives (with hollow centers) and spent more time making the green peppers look more like peppers and less like little green worms. Thus my initial hesitations with sharing this idea, especially because I didn't get a great photo of the cake all cut up, but I figured it was still worth a mini post since it did look pretty realistic in the end! And I really, really wanted to share my amazing co-residents and I in all of our cowabunga glory :)
If you don't have a abnormal amount of random leftover candy melts and baking ingredients as I do you on a regular basis, you may need a bit more advanced planning to make this pizza cookie cake. But all in all it's a simple recipe and a lot of fun to put together. Use whatever sugar cookie dough you love (or store-bought), whatever frosting (canned works), white chocolate instead of coconut for cheese, cut up fruit roll ups for pepperoni, and whatever you can think of for other toppings! I mixed a little vanilla extract with a drop of brown food coloring to paint the crust and make it look even more realistic – that may have been my favorite detail of the whole thing (kind of like the crusts of my PB&J Cookie Sandwiches). What will you put on your pizza cookie cake??
Pizza Cookie Cake
Ingredients:
for the sugar cookie base*:
16 tbsp unsalted butter, at room temperature
1-1/2 cups confectioners sugar
1 egg
2 tsp vanilla extract
2-1/2 cups all purpose flour
2 tsp baking powder
1 tsp salt
for the cream cheese frosting "sauce":
6 oz cream cheese, cold
3 tbsp unsalted butter, at room temperature
1/2 tbsp vanilla extract
2 cups powdered sugar
Red food coloring
for the toppings:
1 tbsp vanilla extract
Brown food coloring
Shredded coconut
Red candy melts
Green candy melts
Chocolate chips
*This recipe is for an entire batch of sugar cookie dough. I only used about half for my cookie cake, but you can make yours as big as you want. Freeze the extra dough and let it defrost to room temperature whenever you want to make another one! Or bake off the extra dough as sugar cookies. This isn't my usual sugar cookie recipe, but I liked that this one didn't require chilling the dough since I was in a hurry.
Directions:
for the sugar cookie base:
Preheat oven to 400 degrees and line a large cookie sheet with parchment paper or a Silpat mat. In the bowl of an electric mixer, beat the butter on medium-high speed until light and fluffy, about 2-3 minutes. Reduce the speed to medium-low and slowly add the sugar. Beat until well combined. Add the egg and vanilla and continue to beat until well incorporated, scraping down the sides of the bowl as necessary.
In a large bowl, whisk together the flour, baking powder, and salt. Reduce the speed of the mixer to low and slowly add the dry ingredients into the wet. Mix until just combined. Sprinkle your working surface with flour and roll out half of the dough into a 1/4" thick circle. It doesn't have to be perfect! Place on prepared cookie sheet and fold in the edges to form a "crust". Bake for 10-12 minutes. Allow cookie to cool on the pan for 5 minutes, then transfer to a wire rack to cool completely.
for the cream cheese frosting "sauce":
In the bowl of an electric mixer, beat together cream cheese and butter until light and creamy. Add the vanilla extract and beat again. Slowly add the powdered sugar and beat until well combined, about 2-3 minutes. Add red food coloring and mix until desired color is achieved.
for the toppings:
Place the vanilla extract in a small bowl and add a drop or 2 of brown food coloring. Mix well, then use a pastry brush to gently brush on some brown color to the crust. I found it best to dip the brush in first, blot it, and then paint so the color wasn't too saturated.
To make the peppers I melted green candy melts in 30 second intervals in a Ziploc bag, snipped the corner, and piped pepper segments onto wax paper. Once the chocolate was hardened, they easily peeled off and were thrown on the pizza with the red candy melts for pepperoni and chocolate chips for olives.
PS – My BFF Marissa made her own pizza cookie cake last weekend for our pizza-loving friend Amanda and she had no idea I had just made my own version the week before. Craziness!! Hers was amazing – beautiful non-wormy peppers, fruit roll up pepperoni, white chocolate cheese, and a chocolate chip cookie base instead of sugar cookie. Such a funny coincidence that proves we truly are meant to be great friends :)