I hosted my second annual cookie exchange party with my co-residents the other night, and once again I was in heaven. I love having people over (even in our minuscule apartment), and when it involves hundreds of cookies and some of my favorite people, I'm definitely a happy girl! Everyone was instructed to bring a batch of 36 cookies and we all took home platters with about 3 cookies from each variety. There were so many good ones this year! For my contribution to the party I wanted to do a little play off the classic gingerbread man. I've made gingerbread cookies before (remember my cute Gingerbread Gift Tag Cookies??), but wanted to do actual gingerbread men this time since it's not a design I'd played with yet. After seeing this pin of little cookie bears hugging almonds a few months ago, I had the idea to try and see if gingerbread men hugging mega M&M's would be as cute…well, the answer is yes! I even put some crushed up M&M's in the cookie dough to make them chocolatey and play into the M&M theme.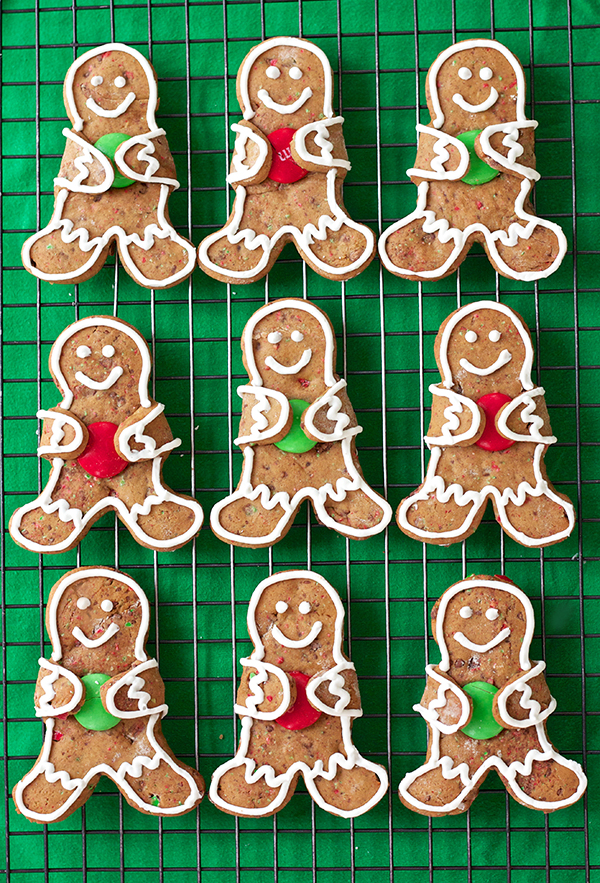 I'm so obsessed with how sweet these little men look. They're just hugging and loving their big M&M presents so much! When I was brainstorming for these cookies I was trying to think of a candy that would hold its shape during the nine minutes in the oven but also be the right size for a standard gingerbread man to hold (and extra points for Christmas colors). The new-ish mega M&M's totally fit the bill! Although gingerbread is not even my favorite flavor, I wanted to try to keep things somewhat classic here since I was opting for such a classic shape. But the adorable hugging trick is totally doable with whatever cut-out cookie recipe you love (sugar, peanut butter, chocolate, or even maple) and the design doesn't have to be limited to Christmas-themed either. Just cut out your shape, place the M&M in the center of the "chest" and gently drape the arms over and use gentle pressure to secure the dough to the M&M. Once they're baked the M&M becomes secured to the cookie and a few simple lines of white royal icing are all you need. I also threw in some non-hugging men in the mix since I ran out of red mega M&M's and thought a little variety would be cute.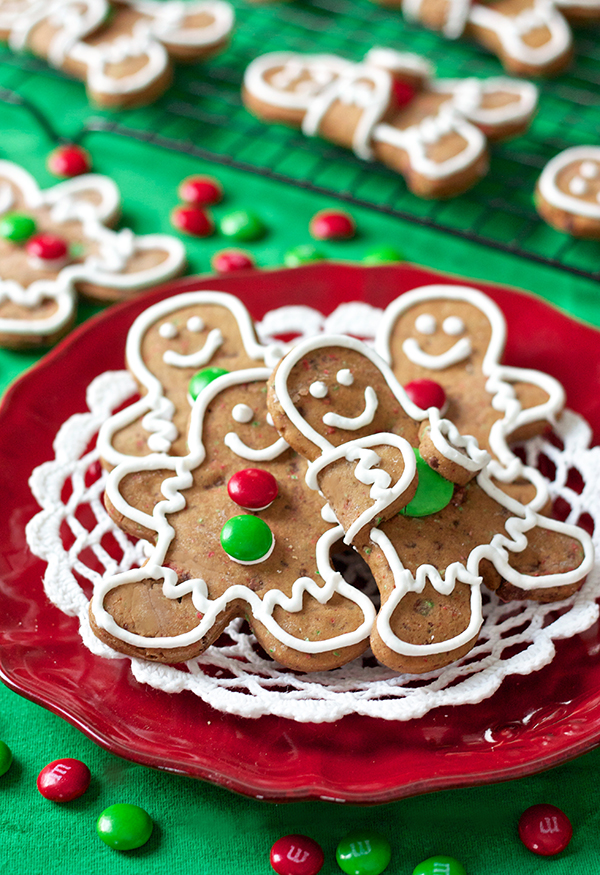 Speaking of variety, I also couldn't help but make a few safari themed gingerbread cookies to celebrate our trip that starts this Sunday! Since Ryan and I will be in South Africa on Christmas this year, I only thought it appropriate to decorate a few giraffes and elephants as well. We may not have our families with us this holiday seasons, but the wildlife will certainly be entertaining company! So here we are – Ryan, Me, and a bunch of giraffes and elephants ready to celebrate next Thursday. I am so, so excited for the trip and can't wait to share photos with all of you.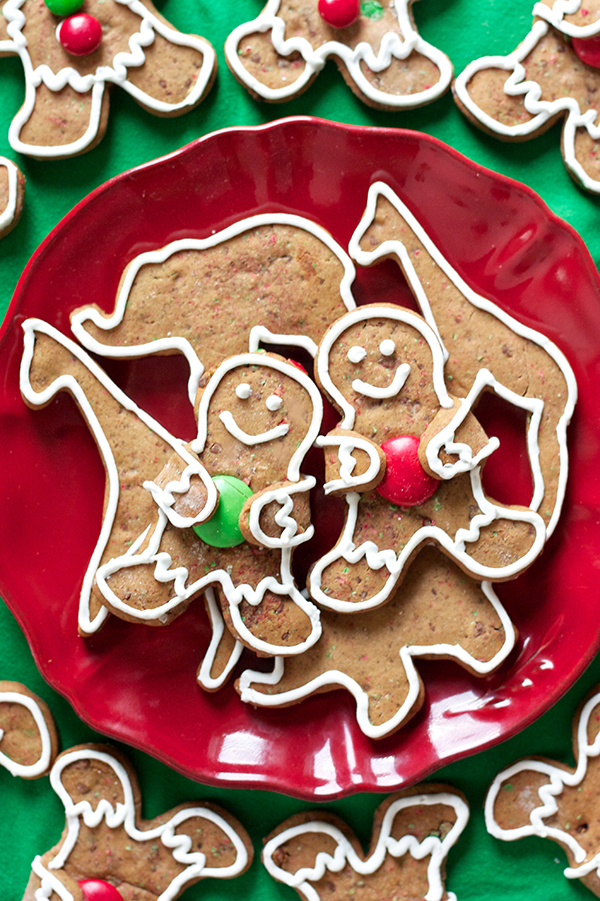 If you still have any more time for holiday baking this year, make these cuties and you're sure to get plenty of smiles, and hopefully a few hugs for yourself as well! Happy holidays to you all – hope you all get to bake a lot and spend lots of times with your friends, families, and maybe a lion or two :)
M&M Gingerbread Cookies
Ingredients:
for the M&M gingerbread cookies:
½ cup dark molasses
¼ cup packed light brown sugar
¼ cup granulated sugar
2 tsp ground ginger
3 tsp ground cinnamon
1/4 tsp + 1/8 tsp baking soda
8 tbsp unsalted butter, at room temperature
1 large egg
3 cups all purpose flour
1 cup M&M's, crushed into crumbs
24 mega M&M's
for the royal icing:
2 cups powdered sugar
2-1/2 tbsp meringue powder
1/3 cup water
Few drops vanilla extract
Directions:
for the M&M gingerbread cookies:
In a double boiler, combine the molasses, sugars, ginger, and cinnamon and heat over medium-high until sugar is melted. Once melted, add the baking soda and heat until mixture just begins to boil.
In the bowl of an electric mixer, beat the butter on medium-high speed until light and fluffy. Add the warm molasses mixture and beat until butter is completely melted. Keep beating until mixture cools to the touch. Add the egg and continue to beat until well incorporated. With the mixer on low speed, slowly add the flour and mix until just combined. Add the crushed M&M's and mix with a rubber spatula until incorporated evenly. Wrap the dough in plastic wrap and chill in the fridge for at least 30 minutes, or overnight.
Preheat the oven to 325 degrees and line 2 cookie sheets with parchment paper or Silpat mats. Lightly flour the working surface and roll dough out to be about 1/4" thick. Cut into gingerbread man shapes and place on prepared cookie sheets. Place a mega M&M on each cookie and wrap the arms gently around the candy. Put the cookie sheet in the fridge for 15 minutes before baking, then bake for 9-12 minutes, or just until the edges start to brown. Let cookies cool on a pan for 5 minutes, then transfer to a wire rack to cool completely.
for the royal icing:
For the icing, mix together sugar, meringue powder, water, and vanilla until smooth (about 2 minutes). If icing is too thick, add more water in 1 tsp increments. If too thin, slowly add more powdered sugar. For the outlining, you want the icing to be fluid but still hold a firm peak. Decorate cooled cookies as desired.