Although I was pretty bummed to step off the airplane at JFK last weekend and enter sub-freezing temperatures, I must say there are worse things than coming home to a place like NYC. I've been meaning to dedicate a post to my favorite city for months now, but since 2015 will likely be my last year living in the Big Apple, I feel like talking about it in January makes sense. I have absolutely loved my time here so far, and one of my resolutions for this year is never to take the city for granted and to continue to try and enjoy everything NYC offers while I still have it at my doorstep! And one thing that the city never fails to offer is some of the best food in the world. One of NYC's most famous treats is the black and white cookie – a soft, cakey cookie with a hint of lemon topped with a glaze-like frosting in its classic black/chocolate and white/vanilla style. To help commemorate my time here, I decided not to mess with the classic and try to recreate the original cookie, but opted for a baked cake donut instead with beautifully shiny and sweet frosting that makes them undeniably New York.
The big question when presented with a black and white cookie is how you're going to go about eating it. Personally, the white side is my favorite so I tend to eat the chocolate side first and then slowly savor the vanilla until the end. Some argue the best bites are the ones that have both black and white, but I prefer to keep my bites segregated. I was really happy with the consistency of the icing I made, but keeping the line between the two flavors perfectly straight was really hard! I have a newfound respect for black and white cookie decorators. At least making the donuts themselves was very easy – the batter is a cinch to put together and as long as you have a donut pan, baking them is a no-brainer. Since the original cookies are cake-like in consistency, transferring the black and white cookie flavors to a donut worked pretty seamlessly here. They were light, fluffy, full of flavor and really cute too!
Although I appreciate that baked donuts are healthier than fried ones, I also love that the baked version doesn't require using hot oil to fry them. There's nothing worse than the lingering smell of oil in the kitchen after deep frying, and when your apartment is less than 600 square feet, it's more than just your kitchen that stinks afterwards. I figured since I shared my Sweet Tooth Kitchen in Connecticut a few years ago, it would only be fair to also share all the glory that is my Sweet Tooth NYC Kitchen. There's not much to see unfortunately – it's a tiny galley kitchen with a smaller-than-average fridge and stove and only about one square foot of countertops. However, over the last year and a half I've accepted the challenge of making the kitchen work for all my cooking and baking adventures, and I'm pretty proud at how compact yet functional it is. Of course I also have a bookcase dedicated to photography props and extra baking supplies in the living room, but the downsize with the move was considerable!
Having such a small kitchen definitely has its perks – it's great to only have to use one Lysol wipe to clean the entire kitchen floor, everything you need is within arms reach, and we have become much more strict with only keeping things we really need. I do look forward to a larger kitchen once we move again to the 'burbs, but as far as NYC kitchens go, we feel pretty lucky and will definitely miss our tiny little kitchen in its own special way!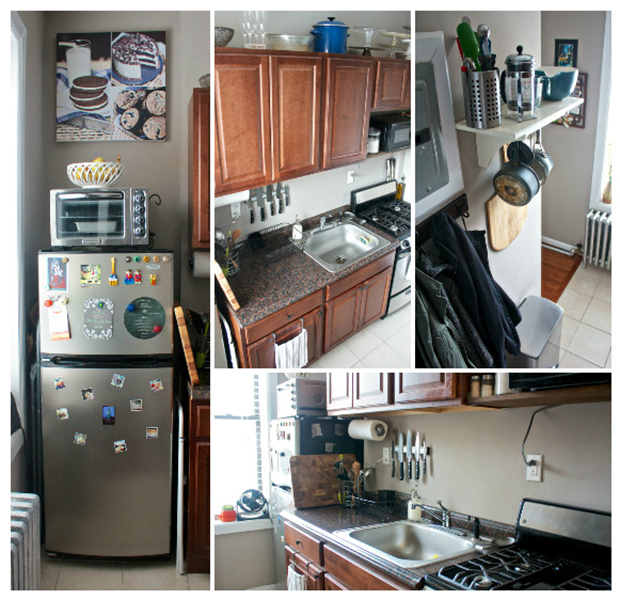 One thing that's harder than making a small kitchen funcitonal, is trying to capture said kitchen in photographs! I did my best to get as many angles as possible to give you a full tour, but maybe you'll just have to come over for black and white donuts and coffee instead to see it in person. But don't bring too many friends, we have limited space…
Black and White Donuts
Ingredients:
for the donuts:

2 cups all purpose flour
2 tsp baking powder
1 tsp salt
1/4 teaspoon ground nutmeg
3/4 cup granulated sugar
2 eggs, at room temperature
1 tbsp butter
3/4 cup buttermilk
3 tbsp fresh lemon juice
1 tsp vanilla extract

for the chocolate glaze:

1-1/2 cup powdered sugar
4 tbsp unsweetened cocoa powder
1/8 tsp salt
1/4 cup + 2 tbsp milk
1 tsp vanilla extract

for the vanilla glaze:

1-1/2 cup powdered sugar
1/4 cup + 2 tbsp milk
1 teaspoon pure vanilla extract
Directions:
Preheat oven to 325 degrees and spray a donut pan with nonstick cooking spray and set aside. In a medium bowl, sift together the flour, baking powder, salt, and nutmeg. Set aside.

In the bowl of an electric mixer, beat the sugar and butter together on medium-high speed until light and fluffy, about 2-3 minutes. Add the eggs, one at a time, scraping down the sides of the bowl as necessary. Add buttermilk, lemon juice, and vanilla extract and beat until well incorporated. .

With the mixer on low speed, slowly add the dry ingredients and mix until just incorporated. Transfer batter into a large Ziploc bag or piping bag, and cut off the corner. Fill each donut well 3/4 full and bake for 12-14 minutes, or until the edges of the donuts JUST start to turn golden brown. Allow donuts to cool in the pan for 5 minutes, then transfer to a wire rack to cool completely.

While the donuts are cooling, prepared the glazes. To make the chocolate glaze, whisk together the powdered sugar, cocoa powder, and salt in a medium bowl. Add the milk and vanilla and whisk to combine. For the vanilla glaze, get another medium bowl and combine the powdered sugar, milk and vanilla extract and whisk until smooth.

Place cooled donuts on a wire rack and use an offset spatula to spread half chocolate and half vanilla glaze on each donut. Use the edge of the spatula as your spread on the icing to help keep the line straight in the middle. Give the icing about 20-30 minutes to dry, then enjoy right away (the best way!) or store in an airtight container at room temperature for up to two days.
Don't you love the vintage map I used as a background in these photos?? It's actually wrapping paper I found at The Paper Source! It's almost too pretty to use :)