I am a bit embarrassed that I don't have anything green, gold, or rainbow to share with you today. St. Patrick's Day is in less than a week and there's not a fleck of green in this whole post! I loooove Bailey's, so it's really a shame that I've missed the boat on the opportunity to create another boozy dessert for you, but you'll just have to fill up on older recipes like Bailey's Mousse Pie and Bailey's Cupcakes this year. And the consolation recipe today isn't so bad – these cookies are amazing!! I have had a jar of coconut oil in my pantry for months, and although I usually only use it to pop popcorn, I finally used it for baking and really loved the results. People are still obsessed with coconut oil these days – it apparently offers a lot of health benefits and tastes really, really good too. Plus it has a lot of other uses outside of cooking! But if you do want to jump on the coconut oil bandwagon in the kitchen, swap out the butter for coconutty goodness and you'll have some of the trendiest, tastiest cookies on the block.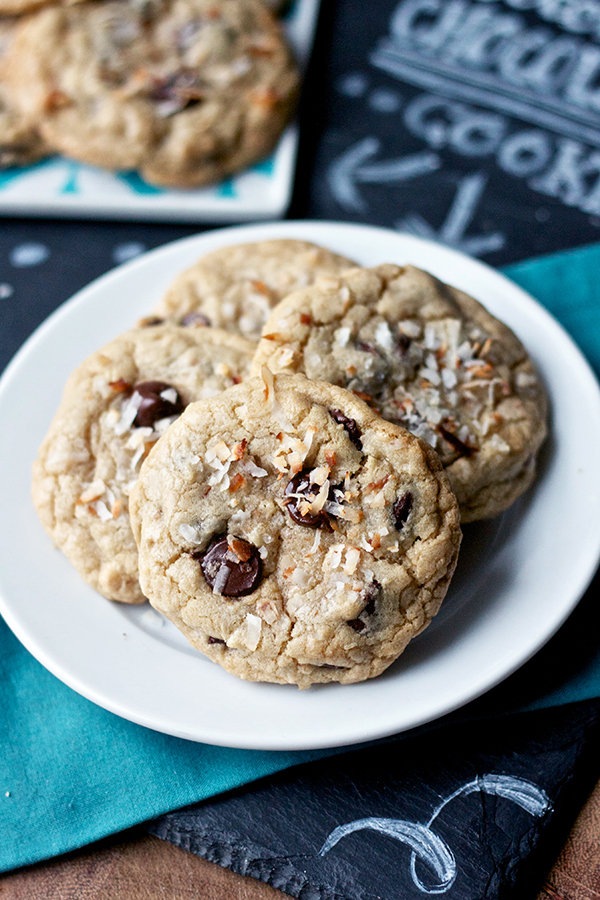 I upped the coconut flavor in these with not only using coconut oil for the fat content, but also incorporating shredded coconut into the batter and topping them with toasted coconut before baking. If you're a coconut fan, these have a lot of coconut flavor, without being too overwhelming. They've still got that classic chocolate chip cookie taste, with just the perfect amount of nuttiness from the coconut. And I'll use any excuse to toast up some coconut and make my apartment smell like a tropical paradise! Speaking of tropical, temperatures are finally consistently staying above freezing here in the Northeast and I definitely did a little happy dance yesterday when I got out of work with the sun still shining strongly. Which probably means it's time to start cutting back on cookies and get bathing suit-ready, but since these have healthy fats AND whole wheat flour, they are definitely one of the healthier options on the blog!
These cookies are a great twist on the classic chocolate chip cookie and I really hope you give them a try if you also happen to have some coconut oil laying around your pantry. Check Trader Joe's if you're looking for a good deal, that's where I get mine! The texture of these is fantastic – chewy and soft with just the slightest crispness on the edges and plenty of melty chocolate to keep everyone happy. These will definitely be made again soon in our house!
Coconut Oil Chocolate Chip Cookies
Ingredients:
1-1/2 cup sweetened shredded coconut
3/4 cup coconut oil, at room temperature (in liquid form)
1 cup light brown sugar
1/2 cups granulated sugar
2 large eggs
1 tsp vanilla extract
2 cups whole wheat flour
1 tsp baking soda
1/2 tsp salt
2 cups semi-sweet chocolate chips
Directions:
Preheat oven to 375 degrees and line two cookie sheets with parchment paper or a Silpat mat. In a medium saucepan over medium heat, toast the coconut until golden brown. Keep an eye on it because it can burn easily! Set aside.
In the bowl of an electric mixer, beat together the coconut oil and sugars on medium-high speed until creamy, about 2-3 minutes. Add the eggs one at a time, scraping down the sides of the bowl as needed. Add the vanilla extract and beat well.
In a separate medium bowl, whisk together the flour, baking soda, and salt. With the mixer on low speed, slowly add the flour mixture and beat until just combined. Add the chocolate chips and 1 cup of the toasted coconut to the batter and fold in gently by hand with a rubber spatula.
Use a small ice cream scoop or two spoons to form balls of dough, and place them on the prepared cookie sheets about 2" apart. Use the back of a spoon or your hand to flatten the balls into little patties. Top the cookies with the remaining toasted coconut and gently press into dough with your fingers. Bake for about 8-10 minutes, or just until edges start to turn golden brown. Allow the cookies to cool on the pan for 5 minutes, then transfer to a wire rack to cool completely. Store cookies in an airtight container at room temperature for up to 5 days.