Sorry for the radio silence the past week, did you even notice I skipped a week of posting?? Blasphemous, I know. Ryan and I got back from our trip to Scotland and Iceland early last week and I immediately started my new job as a real life pediatric dentist (yay!) so things have been quite hectic. As if that wasn't enough, I spent all of my free time last week getting prepared to help throw my BFF's bridal shower that happened this past weekend. I am her maid of honor (and she was mine!) and I knew I wanted there to be plenty of Sweet Tooth touches at the shower. What better way to play out some MOH duties than with customized cookie favors! Sara loves all things southern, and although we're both from Connecticut, she's always dreamed of being a southern belle. So for her shower we chose a southern theme with big hats, bourbon, and burlap. For the favors I opted to make my beloved sugar cookies with edible photo paper featuring little Sara's in hats and color-coordinated royal icing borders.
What I love most about sugar cookies like these is that they're so impressive and adorable, without much work. I also made cupcakes and banana pudding for the shower (recipes coming soon!) so I didn't want to go crazy with an intricate royal icing design. By ordering photo prints on edible paper online, you save yourself a lot of work and only have to pipe a simple border around them. Remember my wedding escort cookies? Same concept – easy but impressive. Since we had a theme of big hats at the shower, I put the phrase "Hats Off to the Bride" on each photo with the date of the shower. Aren't her baby photos so precious?!? Sara's mom had fun going through old photos trying to find the best ones of Sara wearing hats in all different ages. And of course I matched the colors to the invitation that helped set the design scheme for the whole shower. I'm obsessed!
Wrapped up in cellophane bags and tied with a raffia ribbon, they were perfect favors with some rustic southern flair. We really nailed the southern theme since it also happened to be like 100 degrees on Sunday, but all the ladies just glistened and partied on. Most of us lost the hats pretty early into the party, it was just too hot! If you were reading this blog back when I got married two summers ago you'd know that coordinating these types of parties is totally my jam. Even jet-lagged and anxious about my first week at a new job, I was so excited to help plan the party. My favorite part of the shower was the champagne tasting game that we played. We bought 5 types of champagne, covered the labels, and had all the ladies try to guess between the different varieties and different prices of bubbly. I made coordinating score cards based on the invitation, and a trivia game card too! I definitely recommend these activities if you're planning a shower – it's a good way to get people to mingle and drink some booze, of course!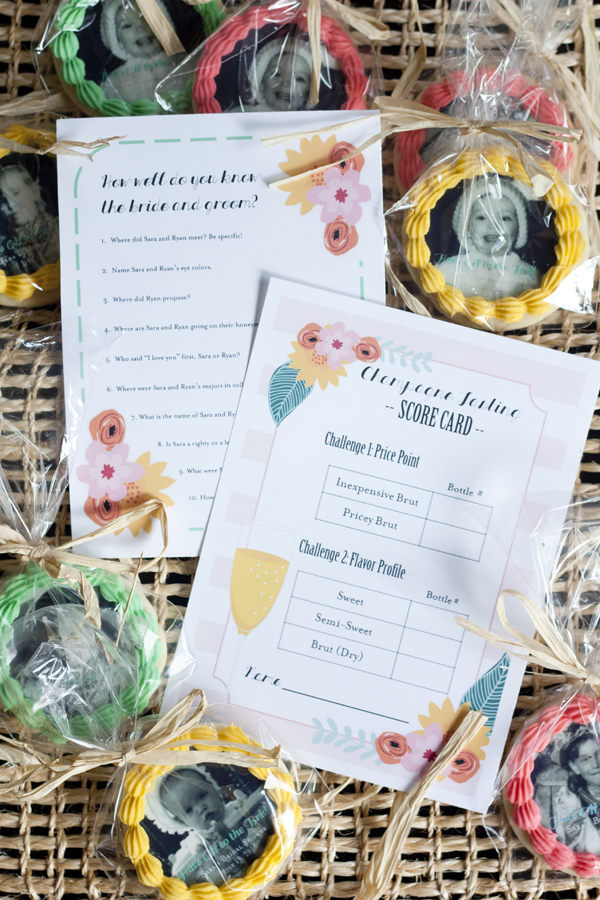 Sara lives on the west coast now so we don't see each other nearly as often as I'd like. But since we've been friends with birth, it doesn't really matter how long we spend apart – it's always like old times! She's like a sister to me and I hope we made her feel as special and loved as she really is. Being maid of honor comes with a lot of responsibility (still working on my speech, ahhhh) but so far it's been a blast. I know she's going to make a gorgeous bride and I cannot WAIT for her wedding and to share in her day as VIP maid. She may not be wearing a hat on August 29th, but I'm pretty confident she'll look just as good as in all these cookie photos :)
Bridal Shower Photo Cookies
Directions:
After your dough is chilled, preheat oven to 350 degrees. Roll out dough on a lightly floured surface and use a round cookie cutter that is slightly bigger than your paper circles to cut out circles of dough. Place them about 1 inch apart on a cookie sheet and bake for 8 minutes. Allow cookies to cool on the pan for 5 minutes, then transfer to a wire rack to cool completely.
Prepare royal icing and divide it into separate bowls, depending on how many different color borders you'd like. Set aside about 1/4 of a cup of white icing as well. Dye each bowl as you wish and transfer icing to piping bags fit with small/medium star tips. Use the white icing to act as "glue" for the photo paper by smearing a thin layer of icing on top of each cookie, and smoothing the paper on top of the cookies to attach them. Pipe a colored border around each cookie and set aside on a cookie sheet. You'll want your icing to dry out for a few hours, ideally overnight, so the icing can completely harden and not smudge as you package them.