It has been FAR too long since I posted a recipe with Nutella, but for some reason we recently ended up with a giant jar in our pantry (it must have been those damn grocery store fairies again) and I knew I needed some chocolate-hazelnut goodness in my life. Since brownies are probably my all-time-favorite baked good, I also felt like I was overdue for a brownie post too. Which is funny because shortly after I made these, I tried another blogger's new chewy brownie recipe and LOVED it, so expect another brownie recipe on here soon because I need to make those again ASAP. You won't mind more brownies, will you??
I must admit that these brownies didn't end up with a very strong Nutella taste, the hazelnut flavor is definitely dominated by all the chocolate. But I do think it added to the richness and fudginess of the brownies. Even though I'm usually a chewy brownie loyalist, I couldn't stop eating these fudgy brownies. Ryan had to end up taking them to work because I kept sneaking bites! I am not to be trusted alone with a tupperware of brownies on the counter. If you wanted to add a bit more hazelnut flavor to make the Nutella's presence more known, I would suggest adding a bit of Frangelico hazelnut liquor or some chopped roasted hazelnuts as well. This is a great brownie recipe base that you can certainly experiment with!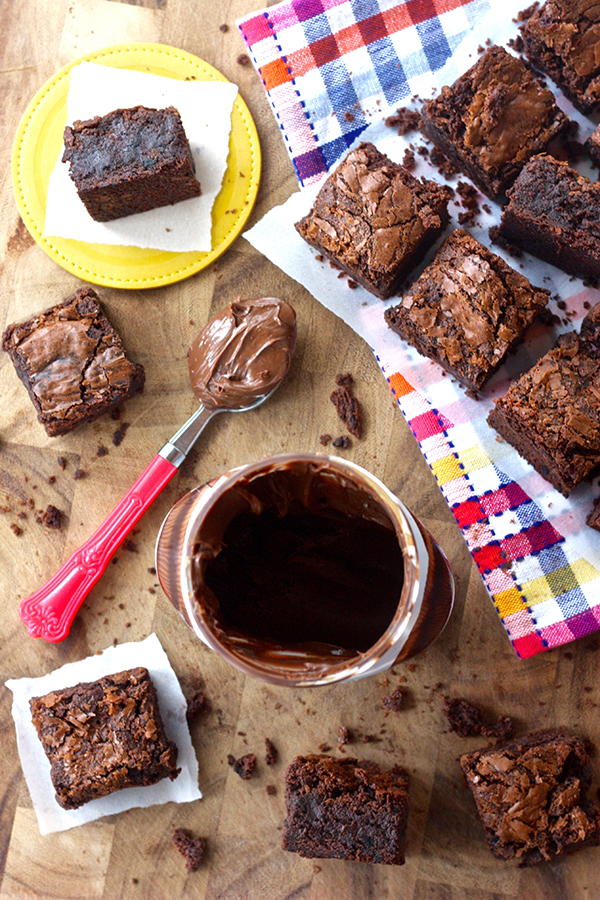 These Nutella brownies were not only delicious, but so photogenic too – I couldn't stop snapping pics. Nothing beats a batch of beautifully dark, fudgy brownies with crackly tops and fun-colored accessories when you're a food blogger/photographer. These babies speak for themselves in these photos – they're so, so good! If you're like me and just happen to have a large jar of Nutella hanging around – you gotta make these brownies. They're fudgier and richer than boxed brownies, and I guarantee you're going to love them.
Fudgy Nutella Brownies
Ingredients:
10 oz semisweet chocolate chips
1-1/2 cups unsalted butter
1-1/4 cups granulated sugar
1/2 cup Nutella
3 large eggs + 1 egg yolk
1 tsp vanilla extract
3/4 cup all purpose flour
1/4 cup unsweetened cocoa powder (I used Hershey's Dark)
1/4 tsp salt
Directions:
Preheat the oven to 350 degrees. Line an 8x8" baking pan with tinfoil and spray with nonstick spray. Cut the butter into pieces and place in a large microwave-safe bowl with the chocolate chips. Heat in the microwave 30 seconds at a time until fully melted, mixing well in between each interval. Allow the mixture to cool slightly, then stir in the Nutella.
In the bowl of an electric mixer, beat together the eggs and sugar for about 3 minutes. Add the vanilla extract and beat again. Add the cooled chocolate mixture and mix on low speed until evenly incorporated.
In a medium bowl, whisk together the flour, cocoa powder, and salt, and then with the mixer on low speed, slowly add the dry ingredients to the mixer. Keep mixing until just combined. Pour the batter into the baking pan, and bake for 35 minutes, or until a cake tester comes out clean. Allow the brownies to cool in the pan completely before cutting into squares.