I spend a lot of time talking about sweets here on this blog, but definitely not enough time talking about cinnamon candy. Hot Tamales are my all-time favorite candy, but they're not exactly conducive to adding to baked goods. I usually get a box of Hot Tamales from someone for every major holiday and I try not to buy them for myself because I'm just way too addicted. Good thing Valentine's Day and my birthday are coming up!! Although Hot Tamales don't make the best dessert ingredients, their crunchy counterpart – red hots- can be melted or ground up and worked into almost any recipe. I've made Red Hot Cupcakes before, and now I'm getting hot and spicy once again with these red hot shortbread cookies.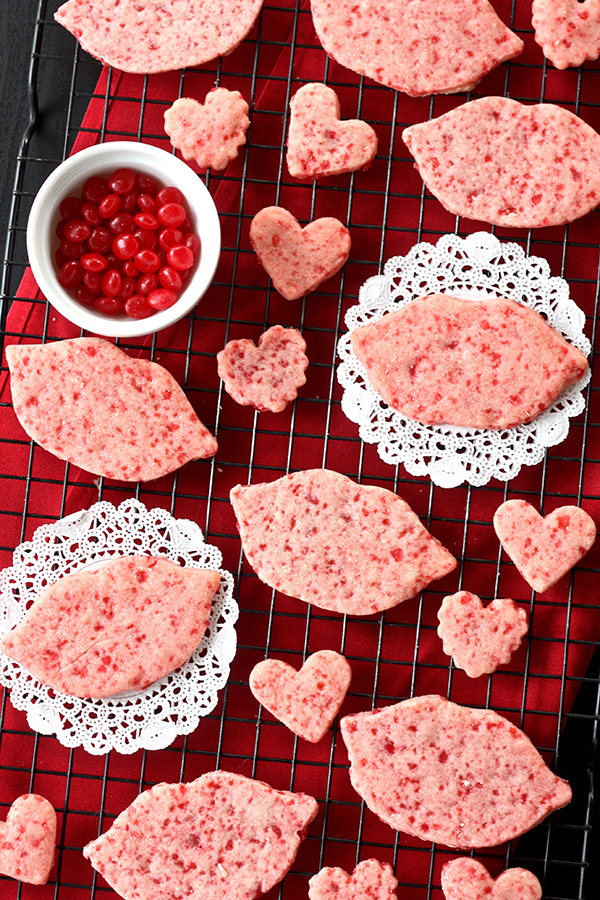 As much as I love cinnamon-flavored goodies, I'm also a sucker for shortbread. So this combination is an instant hit in my mind. Although the recipe calls for a good amount of red hots, the resulting flavor is not overwhelmingly spicy thanks to all the butter there to help mellow things out. If you want to up the heat factor even more, I would recommend adding a drop or two of cinnamon flavoring oil to really make them hot. I would have done that if I was only making these for myself, but I wanted to make sure everyone could enjoy them, even the spicy-haters! I chose to cut the dough into heart and lips shapes to celebrate Valentine's Day, but these can be made all year round in any shape.
These addicting cookies are sweet, slightly spicy, and melt in your mouth as all shortbread should. The crushed up red hots make for a cute pink hue and add little bits of crunch throughout the cookies as well. I think this is a very fun recipe for Valentine's Day, and packaged up with little tags that say something like "You're RED HOT" would be absolutely adorable. I did work Hot Tamales into a Valentine's Day gift for my bridesmaids a few years ago, and these cookies would be just as sweet. With the temps in CT dropping below zero this weekend, I'm definitely going to need plenty of Red Hots and Hot Tamales to keep me warm!!
Red Hot Shortbread Cookies
Ingredients:
1 cup unsalted butter, at room temperature
1/2 cup powdered sugar
2 drops cinnamon flavoring oil (if desired for extra heat!)
1/2 teaspoon salt
2-1/4 cups all purpose flour
1/2 cup Red Hots, crushed into coarse powder (I used my blender)
Directions:
Preheat oven to 325 degrees and line two cookie sheets with parchment paper or Silpat mats. In the bowl of an electric mixer, beat together the butter and sugar on medium-high speed for 2-3 minutes, until light and fluffy. If you're using the cinnamon oil, add that now and beat again until smooth.

In a medium bowl, whisk together the salt, flour, and crushed Red Hots. With the mixer on low speed, slowly add the dry ingredients and mix until the dough comes together. Roll out dough on a lightly floured surface to about 1/4" thick. Use cookie cutters to cut out desired shapes and transfer to prepared cookie sheets. Bake for 15-20 minutes, or until the edges just begin to brown.