I realize my posting has been less often these days – I strive to post every week, but recently I've slumped into an every other week pattern. There is a lot going on outside the world of sugar and sweets for me, we are spending so much time outside with Piper (yay, spring!), I'm in the middle of an exciting job transition, and Ryan and I have had a lot of bachelor and bachelorette parties too! Not a lot of free time for baking, but there's always time for a quick bread. Especially when there are Oreos and peanut butter involved. I have seen these types of breads floating around on blogs for awhile, and I was excited to give a try for myself. I mean how could it be bad…
Although the double chocolate banana bread recipe I have on the blog from a few years ago is probably my ultimate favorite, I love the craziness of this banana bread today studded with plenty of Oreo goodness. Peanut butter and banana is a natural combination, but the addition of Oreos just puts it over the top. I was a little sad that most of the white centers of the Oreos melted into the bread in terms of visual appeal, but the sweetness stays in every bite. I just love the contrast of the classic black and white Oreo! The bread was nice and moist after baking, and stayed that way for several days after too. In my opinion banana breads are always best enjoyed the day after baking, so if you could keep this around for a few days, you won't regret it!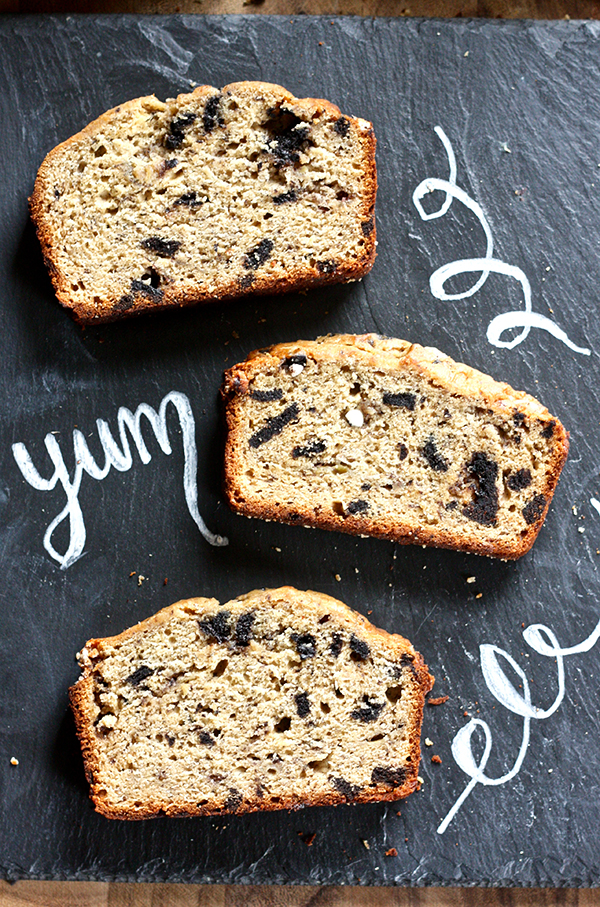 This recipe does require you to turn on your oven, but other than that it's about as straightforward as recipes get. Everyone loves a good quick bread, and this one is a fantastic additional to your arsenal if you want to blow someone's mind. Peanut butter?! And Oreos?!?!? In a banana bread!?!? Oh yes, we went there.
Peanut Butter Oreo Banana Bread
Ingredients:
3 medium ripe bananas
1-1/2 cups flour
3/4 tsp salt
1/2 tsp ground cinnamon
1/2 tsp baking soda
1/4 tsp baking powder
1/2 cup creamy peanut butter
1/4 cup unsalted butter, at room temperature
1/2 cup granulated sugar
2 eggs
1 tsp vanilla extract
10 Oreos, crushed
Directions:
Preheat oven to 350 degrees and spray a 8x4" loaf pan with nonstick spray. Place bananas in a small bowl and mash with a fork until somewhat smooth. Set aside.
In another bowl, whisk together the flour, salt, cinnamon, baking soda, and baking powder. Set aside. In the bowl of an electric mixer, beat together the peanut butter, butter, and sugar until light and fluffy, about 2-3 minutes. Add the eggs one at a time, beating well between each addition and scraping down the sides of the bowl as necessary. Add the vanilla and beat again.
With the mixer on low speed, add half of the dry ingredients and mix until just combined. Add the mashed banana and mix again until incorporated. Add the rest of the dry ingredients and mix just until the flour is incorporated. Add the crushed Oreos and mix in by hand with a rubber spatula.
Transfer batter to prepared pan and use an offset spatula to smooth the surface. Bake for 40-50 minutes, or until a cake tester comes out clean. Allow the bread to cool in the pan for about 20 minutes, then invert to a wire rack to cool completely. Store in an airtight container for up to a week.