I think I have officially exhausted my capacity for creating pumpkin treats this fall. I spent the month of November on a pumpkin muffin-making extravaganza. I wanted to introduce myself to a bunch of the local medical and dental offices as a new pediatric dentist in town, and I knew I couldn't show up empty handed – so 19 dozen pumpkin muffins it was! Spread over a few weeks of course, but lots and lots of muffins nonetheless. I felt bad that even though I have been baking nonstop this month, I didn't have much to show for it on my blog, or for my own office team. So this past weekend I made some mini pumpkin cheesecakes to round out my pumpkin mania and make something other than muffins!
I have never regretted this mini cheesecake pan I bought a few years ago. It's definitely one of those kitchen tools that is very specific and doesn't serve multiple purposes, but I am always obsessed with the results. Of course you can always bake mini cheesecakes in cupcake liners in a regular muffin pan, but serving them up in perfect little cheesecake shapes is much more fun. I was very happy with this recipe, the cheesecake was smooth and tart with plenty of pumpkin and cinnamon spice flavor. I added a swirl of sweetened cinnamon whipped cream on top since the tops of the cheesecakes sunk a bit while baking – the perfect decoration and cover-up! Also, quick tip: if you want your cheesecake batter to be 100% smooth with ZERO lumps, run the batter through a food processor before filling up your pan. Yes, it's an extra step with some extra dishes to clean, but I swear it's worth it – you'll get THE smoothest cheesecake batter ever.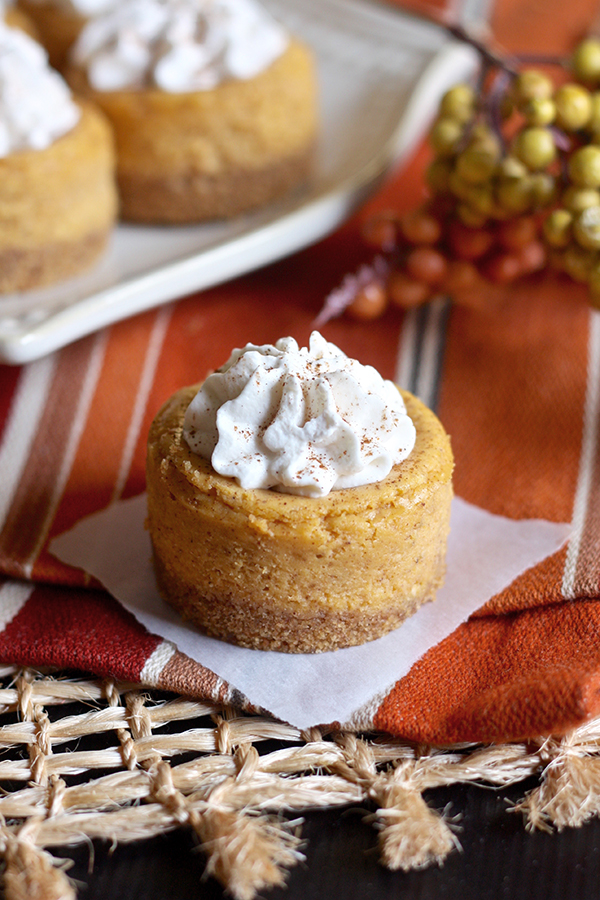 I realize this recipe is getting posted way too late in the game to make for Thanksgiving tomorrow, but at least bookmark it for next year. It's fun to serve something other than pie, and everyone will love getting their own little cheesecake to themselves. We're headed up to New Hampshire tomorrow to celebrate with Ryan's extended family (hopefully the freezing rain holds off!) and although these pumpkin cheesecakes have all been long gobbled up, you know I'll be baking a few other things today to bring along. Have a happy and safe Thanksgiving everyone! And ADIOS pumpkin, see ya in 2017!!!
Mini Pumpkin Cheesecakes
Yield: 12 mini cheesecakes
Ingredients:
for the crust:
3/4 cup graham cracker crumbs
1 tbsp light brown sugar
2 tbsp, melted
1/4 tsp cinnamon
for the filling:
8 oz package cream cheese
1/2 cup + 1 tbsp canned pumpkin puree
1 egg
2 tbsp sour cream
1/2 cup granulated sugar
1/2 tsp cinnamon
1/8 tsp ground nutmeg
Pinch of cloves
1 tbsp all purpose flour
1/2 tsp vanilla extract
for the sweetened cinnamon whipped cream:
1 cup heavy whipping cream
1/4 cup powdered sugar
1/4 tsp vanilla extract
1/4 tsp cinnamon
Directions:
Preheat the oven to 350 degrees and spray your mini cheesecake pan with non-stick spray. For the crust, combine all the ingredients in a medium bowl and mix with a fork. Add one tablespoon of crust crumbs into each well, and use the bottom of a shot glass or spice bottle to press down the crumbs evenly.
For the filling, beat the cream cheese with an electric mixer until smooth. Add the pumpkin, eggs, sour cream, sugar, and spices and blend until well combined. Add the flour and vanilla and beat again. If you want super smooth cheesecake, transfer batter to a food processor and pulse several times until batter is perfectly smooth. Divide filling equally on top of the prepared crusts.
Bake for 20 minutes. Remove from oven and cool about 15 minutes at room temperature, then cover the pan with plastic wrap or tinfoil and refrigerate for at least 2 hours before serving. Cover lightly with plastic wrap and refrigerate for 2 hours minimum.
Once the cheesecakes are cooled, prepare the whipped cream topping. In the bowl of an electric mixer fit with the whisk attachment, beat the whipping cream until stiff peaks form. Add the powdered sugar, vanilla, and cinnamon and beat again for another minute. Transfer whipped cream to a piping bag fit with a large star tip and pipe whipped cream onto each cheesecake. Sprinkle extra cinnamon on top if desired.