With only a few weeks left of summer, it's about time I posted something to commemorate my favorite season! We had a particularly rainy weekend recently and I was in the mood to take on a big baking endeavor. I had a lot of podcasts to catch up on and decided a good sugar cookie with royal icing project would be perfect. I've been wanting to do watermelon cookies for awhile since there are so many cute variations out there, and I'm really excited with how mine came out!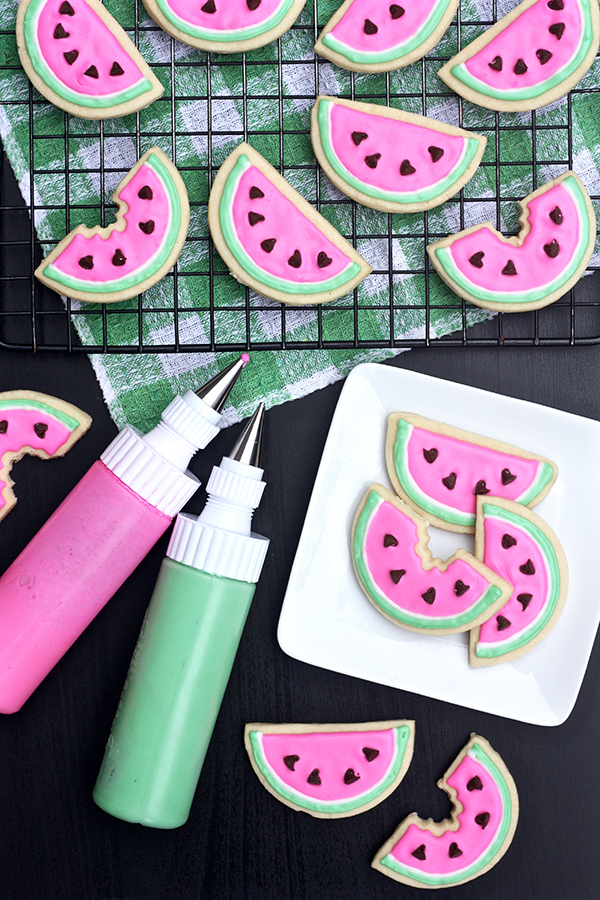 My favorite part of these cookies are the little "bite marks" that I made in some of the cookies. I just used a small flower cookie cutter I had to cut out a piece of the watermelon slices so it looked like they were bitten into. It's such a fun little touch that was really easy to do! You don't need fancy cookie cutters for these, just a round cookie or biscuit cutter (or a glass) and the design for the icing is super easy too. I bought new squeeze bottles from Sweet Sugarbelle's line at Michael's and I LOVE them. It's awesome to have a squeeze bottle with an interchangeable tip – I felt like I had great control for the thin green and white lines. The black "seeds" are mini chocolate chips, but if I had planned ahead I would have gotten some chocolate covered sunflower seeds because those look perfect in other cookies I've seen!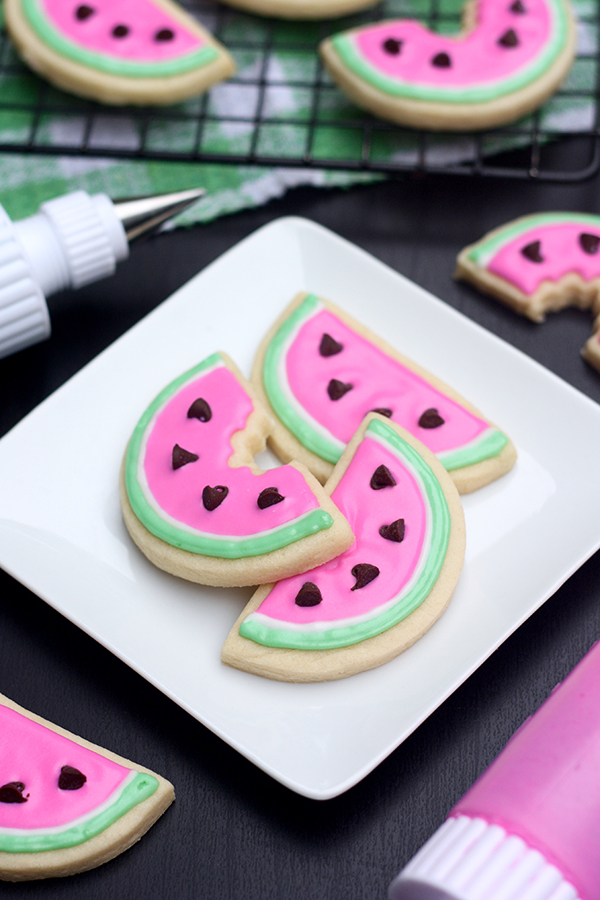 I opted for a bright pink and a more minty green so the colors matched my office's color scheme really nicely. I made a big batch of them to share with nearby offices that refer patients to us as a way to say thank you. It's so fun to combine my passion for baking with my passion for my profession as a pediatric dentist and small business owner, and I'm happy to share the summery love!
Watermelon Sugar Cookies
Ingredients:
for the sugar cookies:
1-1/2 cups unsalted butter, at room temperature
2 cups granulated sugar
2 eggs
2 egg yolks
5 tsp vanilla
4 cups flour
1 tsp salt
1 tsp baking powder
for the royal icing:
1 pound powdered sugar
5 tbsp meringue powder
1/3 cup water (plus more for adjusting consistency)
Few drops vanilla extract
Mini chocolate chips
Directions:
for the sugar cookies:
In the bowl of an electric mixer, beat together the butter and sugar for about 2 minutes. Add the eggs and egg yolks and beat until smooth. Add the vanilla and beat again.
In a separate bowl, whisk together the flour, salt, and baking powder. With the mixer on low speed, slowly add the dry mix to the wet until just combined. Wrap the dough in saran wrap and chill in the fridge for an hour (or more).
Preheat the oven to 350 degrees. Roll out dough on a lightly floured surface and use a circle cookie cutter to cut out shapes. Use a sharp knife to make semi-circles, and a small flower cookie cutter if you have it to place "bites" into some of them. Place them on cookie sheets lined with parchment paper or a Silpat mat, placing them about 1 inch apart. Bake for 8-10 minutes, allow them to cool for 5 minutes on the pan, then transfer to a wire wrack and allow cookies to completely cool before decorating.
for the royal icing:
Mix together the sugar, meringue powder, water, and vanilla in an electric mixer until smooth (about 2 minutes). If icing is too thick, add more water in 1 tsp increments. If too thin, slowly add more powdered sugar. For the outlining of the green and white, you want the icing to be fluid but still hold a firm peak. For the flooding in pink, add enough water so that a peak will sink back into the bowl and smooth out within 10-15 seconds. Divide the icing so that you have a small amount reserved for white, a bit more for green, and the rest pink.
Outline the cookies with the green, wait a few minutes and then add the white line. The pink part should be last and the mini chocolate chips should be added as seeds right after piping in the pink. Allow the cookies to dry for a few hours before handling or packaging them (I prefer to leave them out overnight).