My intention was to get this post up before Halloween since Reese's Pieces colors go very well with Halloween themes, but luckily peanut butter never goes out of style and we're still rocking yellow, orange, and brown for the month of November too! I made these ridiculous brownies for Ryan's birthday this past week and actually got around to taking a few photos so I could share them with all of you. It would be a shame not to – I mean just look at them!!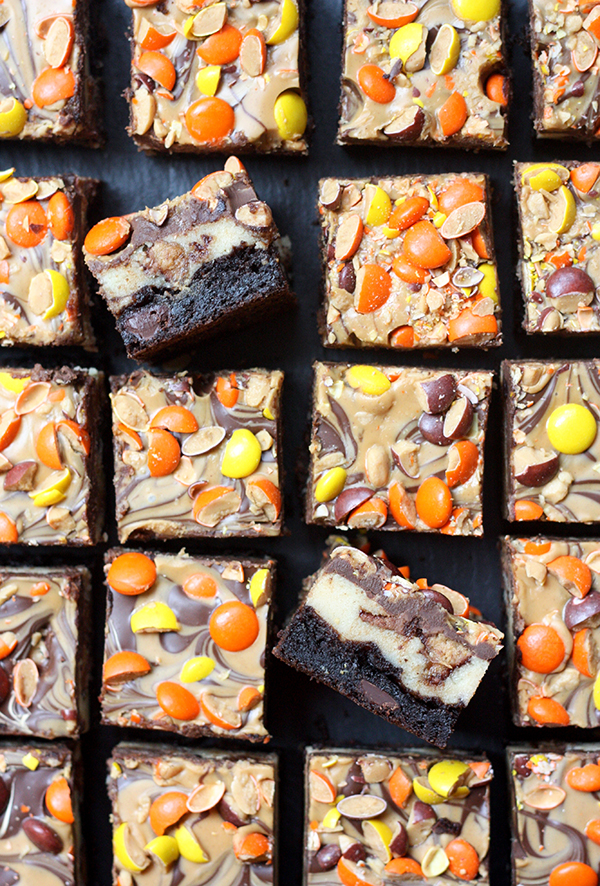 The layers you see are boxed dark chocolate brownies topped with peanut butter cheesecake made with peanut butter cups, a chocolate-peanut butter swirl, and crushed Reese's Pieces on top. They are truly decadent and we made sure to pick up a half gallon of milk before sharing these with our staff at the office! Ryan is a true peanut butter lover and also loves cheesecake so I knew these would be the perfect birthday treat for him. Cheesecake brownies are a lot easier in my opinion than taking on the task of making a whole cheesecake, plus the ridiculous-ness of the layers makes them just extravagant enough for a birthday celebration!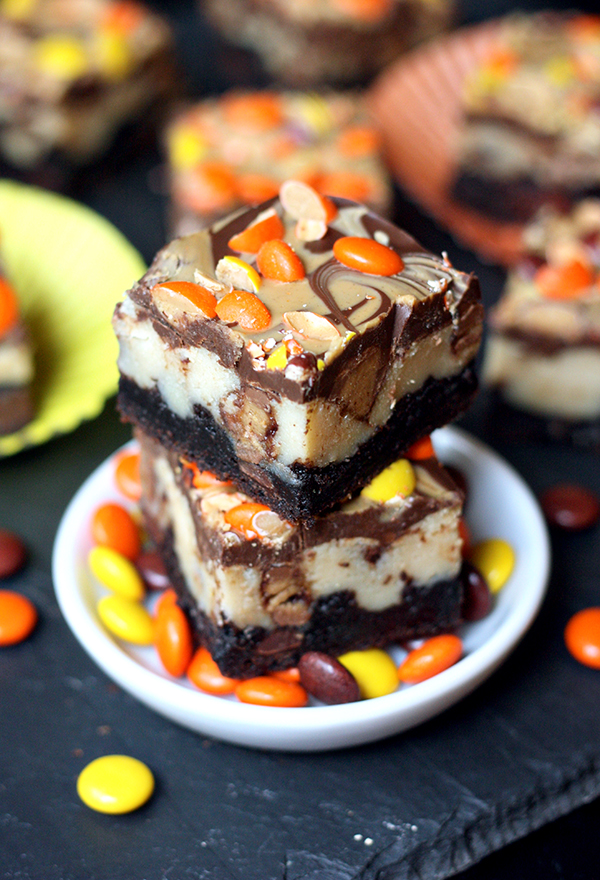 The reason I added "take 2" to the title of this blog post is that I actually have made peanut butter cheesecake brownies before. Seven (!!) years ago I posted another recipe that seemed great at the time, but really has nothing on this updated version. The previous cheesecake layer was way too thin and I was happy to provide some better photos too. Last month I celebrated my 9th blogoversary without any mention here, but clearly I have come a long way in my food photography! I'm going to have to be sure not to miss the anniversary next year though, 10 years is surely something worth posting about here on the blog :)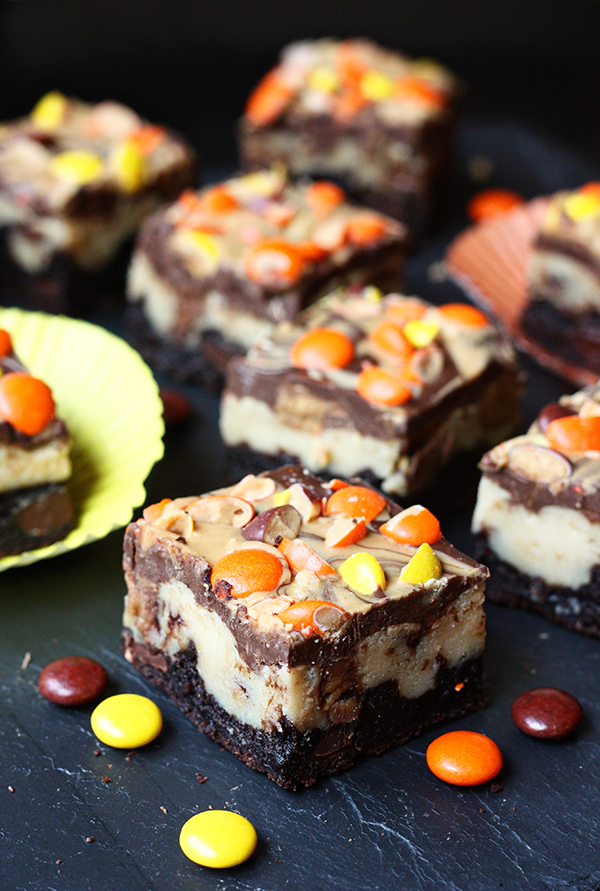 Even though I opted for a boxed brownie base for my creation, you can definitely feel free to use your favorite from-scratch recipe here too. Whenever I do over-the-top desserts with a lot of components and layers like these, it's nice to take a short cut here and there, and boxed brownies can't really be beat in my opinion. Make these for your peanut butter-obsessed loved ones, and don't forget the milk!!
Peanut Butter Cheesecake Brownies
Ingredients:
for the cheesecake brownies:
1, 9x13 package box brownie mix
8 oz cream cheese, at room temperature
2 tbsp butter, at room temperature
1/4 cup creamy peanut butter
1, 14 oz can sweetened condensed milk
1 tbsp cornstarch
1 egg
1 tsp vanilla extract
2 cups Reese's peanut butter cup minis, chopped
for the topping:
1-3/4 cups semisweet chocolate chips
1/2 cup creamy peanut butter, divided
1/2 cup Reese's Pieces, chopped
Directions:
Preheat oven to 350 degrees and line a 9x13 pan with tin foil. Prepare the brownie batter according to the package's directions and spread in the bottom of the pan.
In the bowl of an electric mixer or food processor, beat together the cream cheese, butter, and peanut butter until creamy. Add the condensed milk, cornstarch, egg, and vanilla and beat again until smooth. Stir in the chopped Reese's and pour the cheesecake batter on top of the brownie batter. Bake for 40-42 minutes, then cool on a wire rack for about an hour then refrigerate until chilled completely.
For the topping, place the chocolate chips and 1/4 cup peanut butter in a microwave safe bowl. Heat for 30 seconds. Stir until creamy. Heat again for 30 second intervals until completely melted. Heat the remaining peanut butter in a separate bowl for 20 seconds and stir until creamy. Spread the chocolate chip mixture on top of the chilled cheesecake brownies. Spoon the melted peanut butter in lines across the chocolate. Use a butter knife to swirl the mixture. Sprinkle the top with the chopped Reese's Pieces and store in the fridge to set completely.