Ok I may have gone off the deep end with these, but I've been home out of work the past 2 weeks and wanted to do something fun and intricate to take my mind off the craziness of the world these days. Hey, if I can't work as a dentist I might as well dust off my baking and blogging skills to feel productive and busy! Not that Wesley gives us much time to veg out, but I really enjoyed having a little baking project this week to occupy my free time. I figured since we've all been urged to "Stay Home, Stay Safe" I'd make little houses decorated with fun colors and the Instagram "Stay Home" logo.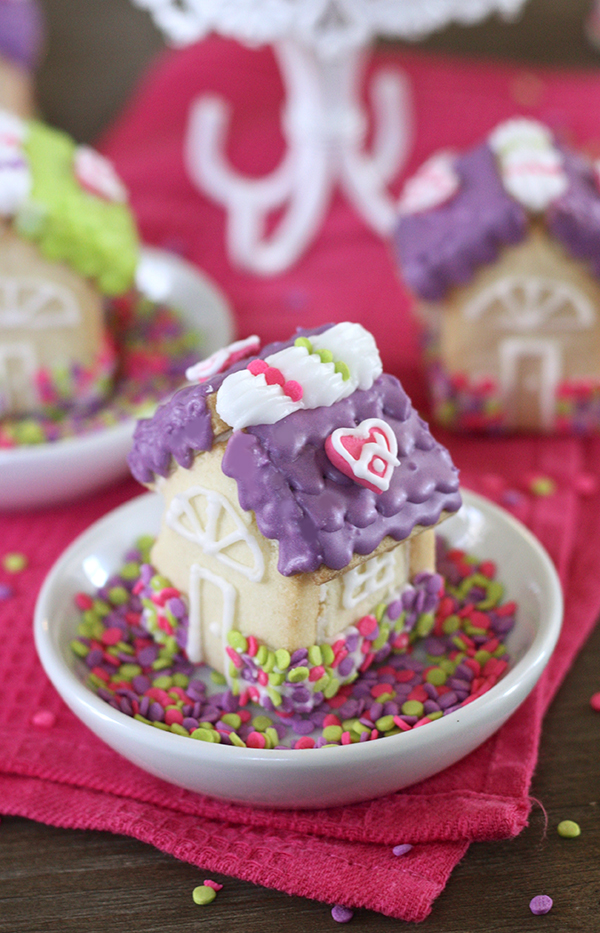 Who says gingerbread houses have to be reserved for Christmas time? I used my go-to cut out sugar cookie recipe for these and cut out tiny house pieces that I then "glued" together with royal icing. I only made 6 of them because the process is somewhat tedious, but I think it could be a really fun activity with kids who are cooped up and looking for a creative outlet. We're all trying to make the best of staying at home, and baking and decorating together is a great way to spend your time!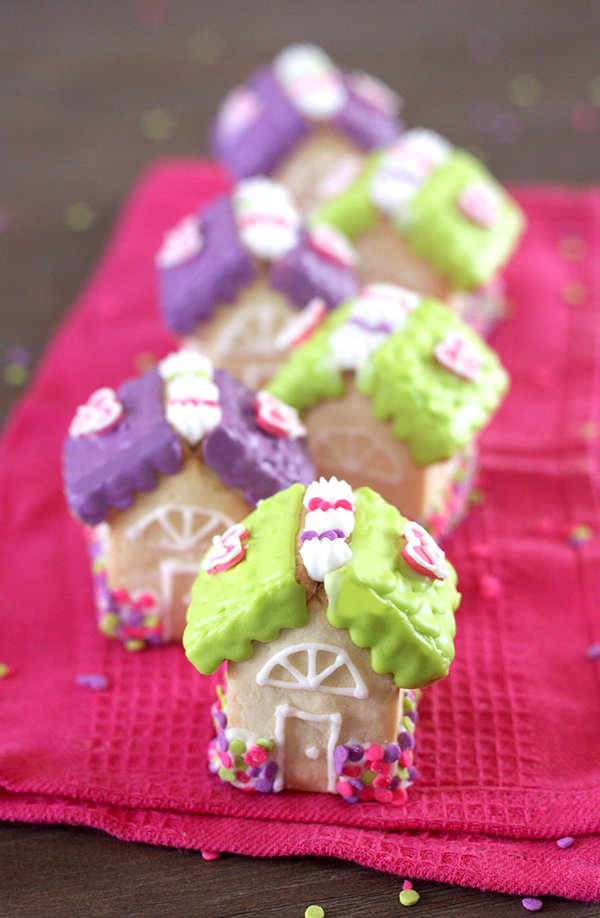 While I've still been baking all the time, I don't get around to taking photos and writing out blog posts very much any more. It was nice to have a sunny day this week to snap some photos and capture this cuteness! Since the shutdown started I've baked lactation cookies, brownies, banana bread twice, as well as energy bites and these sugar cookie houses. So even though Erica's Sweet Tooth has been quiet on the blogosphere, I've been plenty busy in the kitchen. It was fun to bust out my camera again and share some photos of my creation. Have you been baking a lot while staying at home? It's going to be hard not to gain the Corona 15!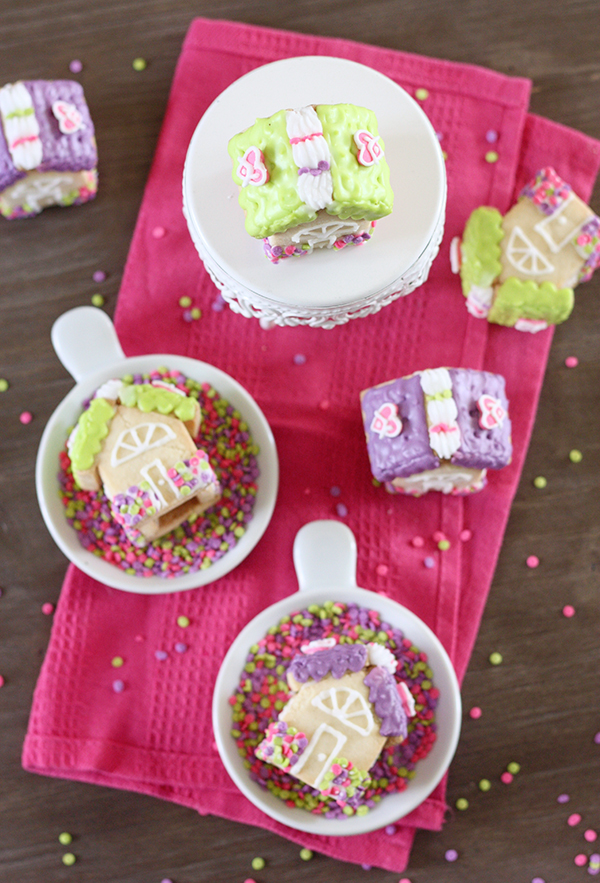 Sugar Cookie Houses
Ingredients:
for the cookies:
1 cup unsalted butter, at room temperature
1-1/2 cups powdered sugar
1 egg
2-1/2 tsp vanilla extract
2-3/4 cups all-purpose flour
2 tsp baking powder
1 tsp salt
for the royal icing:
4 cups powdered sugar
5 tbsp meringue powder
1/3 cup water (plus more for adjusting consistency)
Directions:
for the cookie dough:
Preheat the oven to 400 degrees. In the bowl of an electric mixer, beat together the butter and sugar for about 2 minutes, until light and fluffy. Add the egg and vanilla extract and beat until smooth. In a separate bowl, whisk together the flour, baking powder, and salt. With the mixer on low, add the dry mix until just combined.
Roll out the dough on a floured surface to about 1/4" thick. You can copy and paste the template below to print to the size you'd like for your houses. Mine are tiny, only about 2" wide! Cut out the template pieces and use a sharp knife to cut out two of each size for each house.

for the royal icing:
Mix together sugar, meringue powder, water, and vanilla until smooth (about 2 minutes). If icing is too thick, add more water in 1 tsp increments. If too thin, slowly add more powdered sugar.
for assembly and decoration:
To assemble the houses, first make a thick white royal icing mixture and transfer to a piping bag or bottle with a medium round tip. Start by attaching the fronts of the houses to the sides and let that dry. Then add the backs, followed by the roof. You'll want to wait at least 30 minutes in between each step to allow the royal icing to dry completely. I let the houses completely dry overnight before adding the final touches.
I opted to decorate the roofs with royal icing shingles before assembling, waiting a few minutes between rows to achieve the layered look. With thick white icing I added little windows, doors, and the decoration on top to finish it off. I had large pink heart sprinkles on hand that I attached to the roof and used thick white icing to design the "Stay at Home" logos after the houses were assembled.