It wouldn't be Christmas if I didn't make at least one batch of peanut butter cup cookies! They are the baked good I've been making the longest, it's my most tried and true recipe, and I love thinking of new ways to basically make the same cookie over and over again. Last year Ryan helped make a cookie butter version, and this year I've swapped out the traditional milk chocolate Reese's for the white chocolate variety. With some orange candy melts and a black edible marker or black royal icing, these cookies are also the perfect canvas for some snowman faces. I saw these thumbprint cookies on Pinterest last month and immediately imagined my beloved peanut butter cup cookies dressed up as little adorable snowmen. The result was so cute, and really yummy too!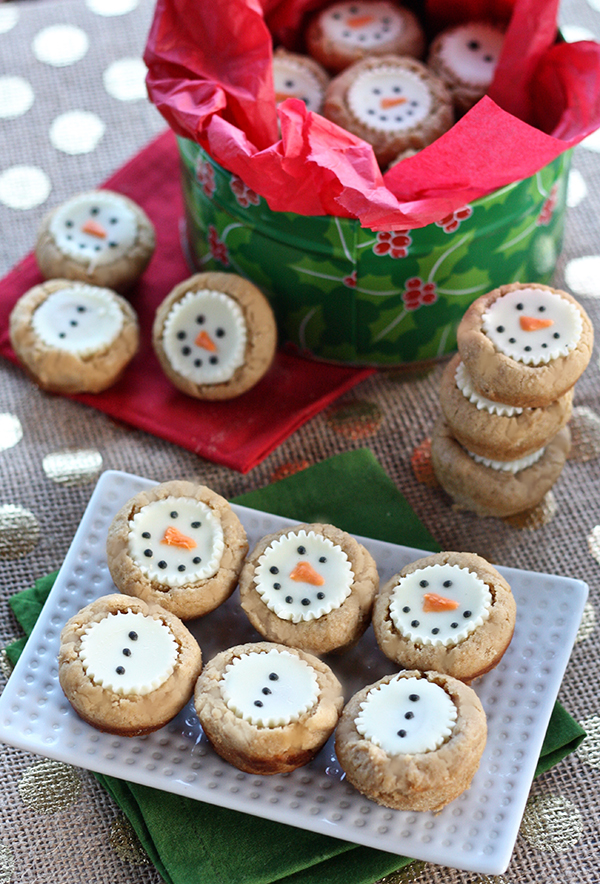 These cookies were my contribution for the Food Blogger Cookie Swap this year, and so I made three dozen to send out to the bloggers I was assigned to. Luckily these cookies are pretty hefty so they stand up well for shipping, and I didn't have to worry about any delicate parts being broken in transit. One batch had to travel all the way to California! I could have put on little pretzel stick arms to the button cookies, but I figured that would not hold up to the journey as well. I love participating in this cookie swap – it's so fun getting batches of cookies from other bloggers and being a part of the food blogging community around the holidays. I had to skip last year's swap because of the craziness of us getting ready for our trip to South Africa, but I was happy to participate again this year. We may not be going on any exotic vacations this holiday season, but some peanut butter cup cookies definitely help make up for the lack of adventures. They are Ryan's absolutely favorite cookie after all!
I still think the classic milk chocolate version of these are unbeatable, but the white chocolate with this recipe adds some extra sweetness, and the snowman faces are so cute it's hard to compare. To decorate I melted orange candy melts and used a toothpick to draw on little carrots on half the cookies. I wanted to just use a black edible marker for the eyes, mouths, and buttons, but my black marker dried up mid-cookie decorating, so I made a small batch of black royal icing to complete the rest. Either way works, but an edible marker takes fewer steps which is always welcomed! I hope the recipients of these cookies enjoyed them as much as we do every year, and now I have another excuse to buy Reese's in bulk around the holidays :)
White Chocolate Peanut Butter Cup Cookies
Ingredients:
3/4 cup peanut butter
1/2 cup unsalted butter, at room temperature
1/3 cup granulated sugar
1/3 cup light brown sugar
1 egg
3 tbsp milk
1 tsp vanilla extract
1-1/2 cups all purpose flour
1/2 tsp baking soda
1/2 tsp salt
40 miniature white chocolate peanut butter cups
1/4 cup orange candy melts
Black edible marker (or black royal icing)
Directions:
Preheat oven to 350 degrees and spray mini muffin tins with non-stick cooking spray.
In the bowl of an electric mixer, beat together the peanut butter and butter until light and fluffy, about 2-3 minutes. Add the sugars and continue to mix until smooth. Add the egg, milk, and vanilla and beat well, scraping down the sides as necessary to combine everything together.
In a medium bowl, whisk together the flour, baking soda, and salt. With the mixer on low speed, slowly add the dry ingredients into the peanut butter mixture until just combined.
Shape dough into 1″ balls and place in each one into its own mini muffin tin. Bake for 8 minutes. While cookies are baking, unwrap all of the peanut butter cups and have them ready to go next to the oven for right when the cookies are ready. When cookies are done, press a peanut butter cup firmly in the center of each cookie. Let the cookies sit in the tin for 5 minutes before transferring them to a wire rack to cool completely. I recommend putting the cookies in the fridge for about 20 minutes after they've cooled to make sure the chocolate is completely set.
Once chocolate is set, you're ready to decorate the snowmen. Melt the orange candy melts in 30 second intervals, mixing well between each interval, until completely smooth. Use a toothpick to draw little carrot noses on half of the cookies and transfer back to the fridge for 10 minutes to allow the candy to set. Use an edible marker (or black royal icing in a bag with a small round tip) to draw eyes and mouths on the cookies with carrots, and 3 buttons on the remaining cookies. Store cookies in an airtight container at room temperature for up to one week.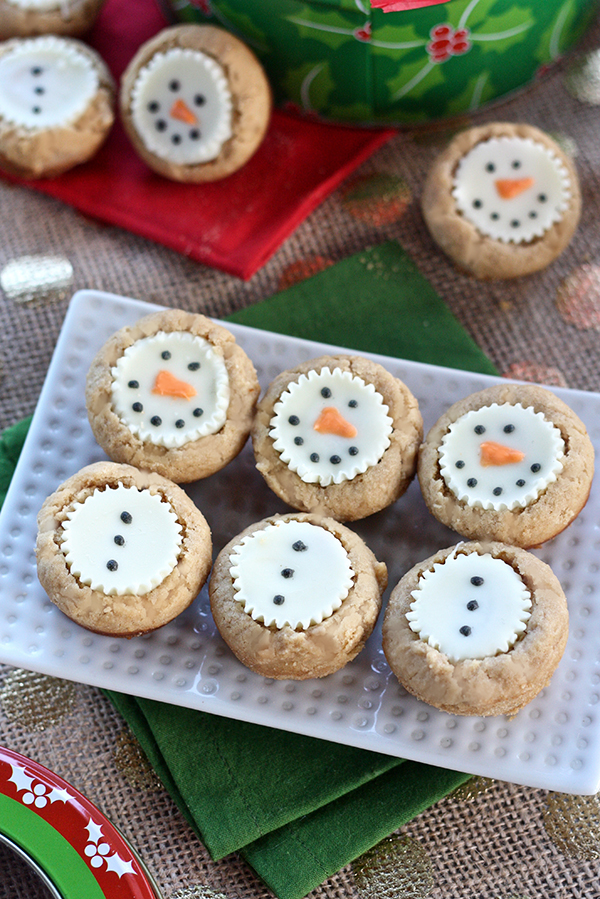 Also, congratulations to commenter #15, Anfal, for winning last week's Lion King tickets giveaway! Thanks for participating everyone :)