If you've been reading this blog for some time, you know how much I adore Halloween desserts. There are SO many options, both scary and creepy, that all get the imagination going. I love the googly-eye trend and obviously anything with teeth, so I was excited to give these monster cookies a try. To make them even more festive, I spiked the chocolate chip cookie recipe with some cinnamon and pumpkin pie spice, as well as using pumpkin spice chips in the dough as well. Oh, and plenty of orange sprinkles as well to add that extra touch of Halloween style.
The last time I played with googly eyes, I used the store-bought variety for these adorable under-the-sea treats. But this time around I wanted a bit more control with the size and shape of the eyes, so I made my own out of royal icing and chocolate chips. Totally not necessary, but I think the extra large size helped make them a lot more cute than creepy, which is my preference for all things Halloween. The teeth were also royal icing creations, but you could use cut up mini marshmallows (like I did for my vampire caramel apples) or almond slices. Although orthodontically  not the most ideal, I think the little fangs are pretty darn cute.
Rather than attempt a pumpkin chocolate chip cookie, which I've read is very challenging to make just right (and not too cakey), I picked up some Nestle's pumpkin spice chips to add some fall flavor. I used a chocolate chip cookie recipe from Sally's Baking Addiction that I've used before because they're known to be super soft, yet still a little chewy, which is perfect for a sandwich cookie. You don't want the cookies to be too crunchy or else all the filling will just ooze out the sides as you take a bite. I tried to make these smaller than what Sally recommends because with two cookies and a generous serving of chocolate ganache, they can be quite rich.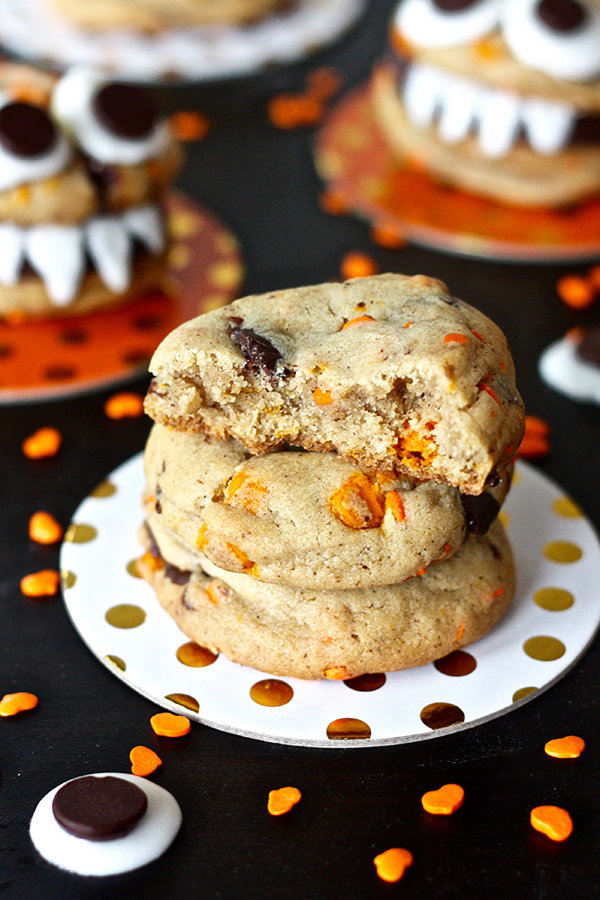 You can really use any cookie recipe you love, with whatever frosting in between, and even store-bought eyes and marshmallow teeth for a totally different cookie sandwich with a similar look. Take these adorably creepy little monsters and do with them what you wish – tis the season to be creative!
Monster Cookie Sandwiches
Ingredients:
for the homemade googly eyes and teeth:
2 cups powdered sugar
2-1/2 tbsp meringue powder
1/3 cup water (plus more for adjusting consistency)
Few drops vanilla extract
Large chocolate chips
for the pumpkin spice chocolate chip cookies:
3/4 cup unsalted butter, at room temperature
3/4 cup light brown sugar, packed
1/4 cup granulated sugar
1 large egg, at room temperature
2 tsp vanilla extract
2 cups all-purpose flour
2 tsp cornstarch
1 tsp baking soda
1/2 tsp salt
1 tsp ground cinnamon
1/2 tsp pumpkin pie spice
1 cup semi-sweet chocolate chips
1/2 cup pumpkin spice chips
1/4 cup orange sprinkles (if desired)
for the chocolate ganache:
1-1/2 cups dark chocolate, coarsely chopped
1 cup heavy cream
2 tbsp unsalted butter, at room temperature
Directions:
for the homemade googly eyes and teeth:
Mix together sugar, meringue powder, water, and vanilla until smooth (about 2 minutes). If icing is too thick, add more water in 1 tsp increments. If too thin, slowly add more powdered sugar. You want the icing to be fluid but still hold a firm peak.
Transfer icing to a piping bag fit with a small round tip, and pipe circles and fangs onto wax paper. Place chocolate chips in for the eyes. Allow the eyes and fangs to dry undisturbed at least overnight before removing.
for the pumpkin spice chocolate chip cookies:
In the bowl of an electric mixer, beat the butter and sugars on medium speed for about 2-3 minutes, until light and fluffy. Add the egg and vanilla and beat well, scraping down the sides of the bowl as necessary.
In a separate medium bowl, whisk together the flour, cornstarch, baking soda, salt, cinnamon, and pumpkin pie spice. With the mixer on low speed, slowly add the dry ingredients until just combined. Add the chocolate and pumpkin spice chips and mix for about 5 seconds until evenly distributed. Wrap dough in saran wrap and chill for at least 1 hour, or up to 2 days.
Remove cookie dough from the refrigerator and allow to sit at room temperature for 10 minutes. Preheat oven to 350F and line a large baking sheet with parchment paper or a silicone baking mat. Roll balls of dough, about 1/2 tablespoon of dough each, spread them out on the prepared pan, and bake for 8-9 minutes, until barely golden brown around the edges. Allow cookies to cool for 5 minutes on the cookie sheet, then transfer to a cooling rack to cool completely.
for the chocolate ganache:
Place chopped chocolate in a medium sized heat safe bowl and set aside. In a small saucepan over medium heat, heat the cream until it just starts to bubble. Immediately pour the cream over the chocolate and let stand for 2-3 minutes undisturbed until chocolate has softened.
Slowly whisk the mixture until smooth and the butter, whisking until the butter is completely incorporated. Transfer the ganache to the fridge to firm up for about an hour before piping. Then transfer the ganache to a piping bag with a large round tip and pipe mounds of ganache on half of your cooled cookies. Create sandwiches with the rest of the cookies, placing the top ones at a slight angle so more ganache is showing on one side.
Use a bit of leftover ganache or melted chocolate to secure the eyes and teeth to the cookie sandwiches. Transfer cookies to the fridge to firm up, but allow them to sit at room temperature for at least 20 minutes before serving.