For my first recipe of 2014 I couldn't help but try and give you something "healthy". But this recipe is still sweet tasting and rolled into little balls making them super cute, so they definitely still made the cut for Erica Sweet Tooth. As of last week I'm joining the masses by making resolutions to un-do what Thanksgiving and Christmas food did to my body. How could I help myself with things like crepe cakes and chocolate caramel tarts lying around?? So I've been fighting the crowds at the gym, getting reacquainted with MyFitnessPal, and getting a little creative with my snacks. To start I'm sharing these oat balls that are packed with healthy stuff to fill you up but plenty of yummy things too to help fend off cravings. I somehow suppressed the urge to dunk these cuties in chocolate and sprinkle them to death, and instead kept them plain to reduce the sugar. But I promise they're still delicious – I wouldn't dare share healthy-tasting treats here on the blog!
The flavor combination was inspired by a recent obsession of mine – vanilla espresso almond butter. I don't usually love almond butter, but when I saw a jar on sale with those delicious flavors, I gave it a try and rediscovered how yummy almond butter can be. So when I decided to make these oat balls, I used some of my vanilla espresso almond butter but also threw in extra vanilla extract and espresso powder which gave them great flavor and a little kick. They're the perfect snack to grab around 3PM when the day is crawling by or right before the gym – some fiber, protein, and a little caffeine all in one bite and you're good to go :) It's so hard to find snacks that are truly healthy, and it's great knowing you can easily make these at home in as little as 20 minutes. I've been enjoying these so much the past week and can't wait to try more flavor combinations!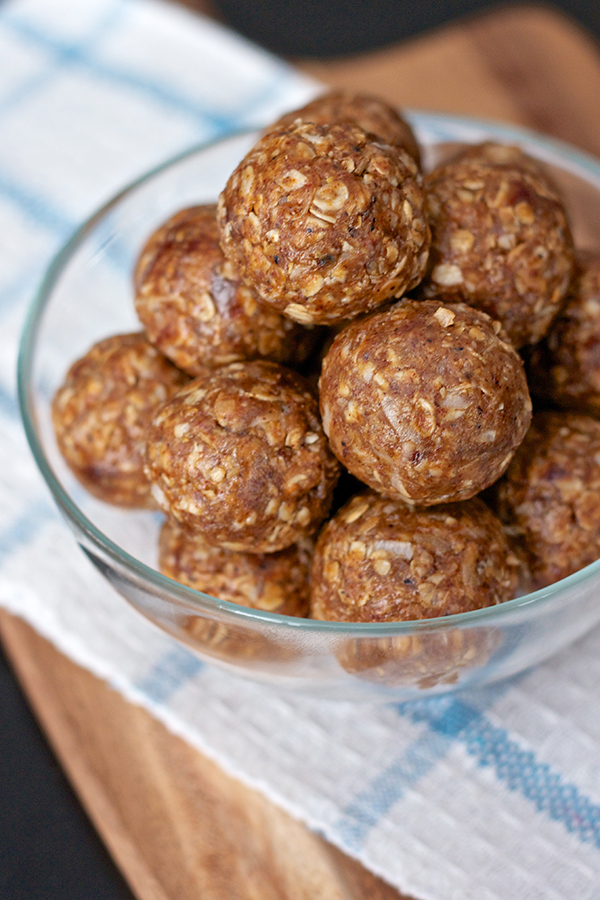 With oats, flaxseeds, dates, and almond butter there is plenty of good stuff crammed into each little ball, but also a dose of honey and coconut to keep things just sweet enough. Feel free to change the ingredients according to what you like, add other seeds or grains if you have them around, or try different mix-ins depending on your favorite flavor combinations! I loved that these were chewy with a little bit of crunch and enjoyed them straight from the fridge – but you can shift the proportion of grains to nut butter and honey if you want something with more or less crunch. Since they're no-bake, you don't have to worry too much about sticking to the recipe for scientific reasons, just play around and enjoy :)
Vanilla Espresso Energy Oat Balls
Ingredients:
1/2 cup almond butter (vanilla espresso flavor if you have it)
1/3 cup honey
2 tsp espresso powder
1-1/2 tsp vanilla extract
1 cups quick oats
1/4 cup finely chopped dates
3/4 cup sweetened flake coconut, chopped
1/4 cup ground flax seed
1/8 tsp salt
Directions:
Combine the almond butter and honey in a large microwave-safe bowl and microwave for 30 seconds. Add the espresso powder and vanilla extract and stir together until smooth.
Add the oats, dates, coconut, flax seed, and salt and mix until everything is evenly distributed. Roll mixture into 1" balls and place on a silpat, wax, or parchment paper-lined cookie sheet. Make sure to use your hands to compress them tightly so they maintain their shape. I used a small cookie scoop to measure and compress the balls.
Chill the balls for an hour in the fridge and put them in an airtight container either on the counter or in the fridge.