When I hosted a cookie-exchange party around Christmas last year Ryan declared his favorite cookie of the whole bunch to be the magic bars. Not my peppermint mocha creations or the fancy salted caramel sandwich cookies made by a friend,  but the age-old classic magic/seven layer bars that have been frequenting pot lucks and cookie exchanges for generations. I've only recently started to love coconut, so magic bars never really did it for me in the past, but I've come a long way and am now a magic bar fan as well. Plus, I love butterscotch chips and all the sweetness from the sweetened condensed milk and multitude of chips doesn't help. Since I'm not capable of just doing the normal thing and simply re-creating the bars for Ryan, I morphed the flavors into a cookie for a new spin. I'm pretty sure he still prefers the classic bar form with all their decadence and richness, but these cookies disappeared rather quickly from our kitchen nonetheless!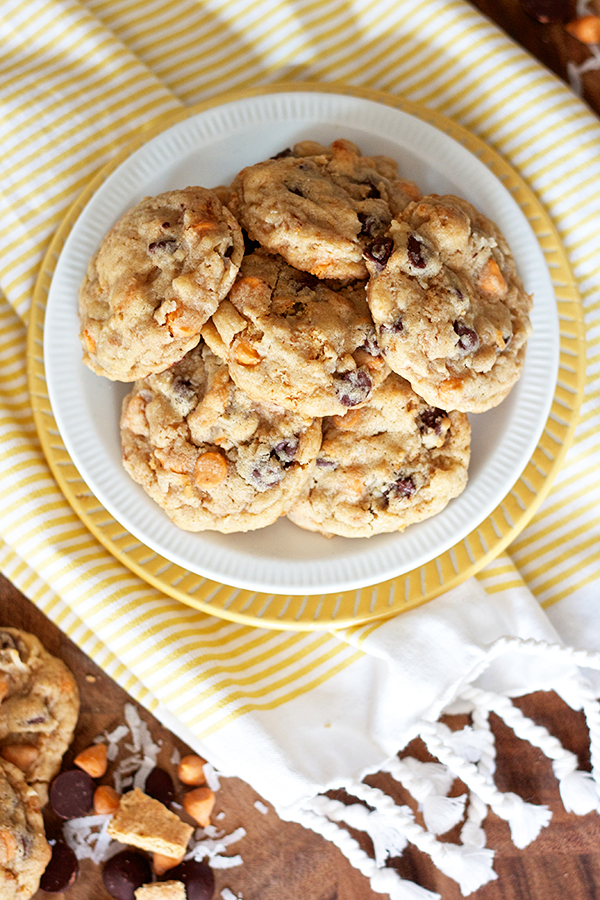 Whether you call them magic bars or seven layer bars, there is a common list of ingredients among all the different recipes – graham crackers, chocolate chips, butterscotch chips, coconut, walnuts or pecans, and sweetened condensed milk. We've got almost all of those components in these cookies, but swapped out the condensed milk for sugar and butter and mixed everything together into a chocolate chip cookie base. I also left out the nuts just because I didn't have them on hand, but they'd be a great addition! I really loved these cookies – they've got a lot of similarities to magic bars but are less dense (if you can even get away with saying that considering the one and a half sticks of butter) with plenty of cookie flavor. I always prefer cookies to bars – I can't resist a good chewy edge, so I liked that these cookies offered the flavors of magic bars in the medium of a cookie. Win, win!
Now that the temperatures have dropped I can't stay away from my oven and have had the urge to bake constantly. Since that's not good for anyone's waistline, I've been trying to keep myself in check, although these cookies were a great indulgence for some fall time baking. I was actually a bit worried last week because my dear, dear friend Ms. Sunny Yellow Kitchenaid Mixer was under the weather. She'd been a bit wonky over the past few months, making a lot of noise and being rather dramatic when things got tough (i.e. mixing cookie dough). So Ryan offered to try to tighten a few screws, which turned into him dissecting the poor thing and putting it all back together. But then she was completely broken and wouldn't turn on at all! Thankfully Ryan googled his way to a solution and fixed the problem, but I may or may have not shed a tear during the whole process. I just cannot live without my mixer! We've all recovered now and these cookies are a great celebration for my mixer and I alike. Now who's being dramatic?
If you're looking for a classic combination of flavors that will be an instant crowd pleaser, these cookies will make you very popular. But get started quickly – the dough has to be chilled in advance and I don't want you to miss out on pulling these out of your oven ASAP. Enjoy the recipe and long live my Kitchenaid!!
Magic Bar Cookies
Ingredients:
3/4 cup unsalted butter, at room temperature
3/4 cup light brown sugar
1/4 cup granulated sugar
1 large egg
2 tsp vanilla extract
1-1/2 cups all purpose flour
2 tsp cornstarch
1 tsp baking soda
1/8 tsp salt
1 cup roughly chopped graham crackers
1 cup semi-sweet chocolate chips
3/4 cup butterscotch chips
3/4 cup sweetened shredded coconut
1/2 cup roughly chopped walnuts (if desired - I omitted this addition)
Directions:
In the bowl of an electric mixer, beat together the butter and sugars on medium-high speed until light and fluffy, about 2-3 minutes. Add the egg and vanilla and continue beating until smooth.

In a medium bowl, whisk together the flour, cornstarch, baking soda, and salt. With the mixer on low speed, slowly add the dry ingredients in, and mix until just combined. Add the graham cracker crumbs, chocolate chips, butterscotch chips, and coconut and mix by hand with a rubber spatula until evenly incorporated. Wrap dough in plastic wrap and chill for 2 hours, or overnight.

Preheat the oven to 350 degrees and line two cookie sheets with parchment paper or a Silpat mat. Roll balls of dough (I used a 2" cookie scoop to measure them out) and place 2" apart on the prepared baking sheets. Use your palm to gently press down each ball to make them a bit flatter. Bake for 8-9 minutes, or until edges just start to brown. Allow cookies to cool 5 minutes on the pan, then transfer to a wire rack to cool completely. Don't worry if they looked underbaked, they'll continue to bake and harden as they cool.