When my friend Sara chose her BFF with a baking blog to be her maid of honor (me!), she had to know there would be a few special sweet touches at the various events leading up to the wedding. It's just what I do! I made some white chocolate popcorn that coordinated with her bachelorette theme and for the shower I probably overdid it. You saw the cookie favors I made last week (still awwwwww-ing over those), and today I'm featuring the cupcakes I made for the dessert spread at the shower. Our theme was a southern hat party with pink, mint green, and yellow being the main colors. I knew I wanted to do flower cupcakes because they are SO easy but when they're all displayed together, they make for such an beautiful presentation. Plus I knew I could easily make them match the color scheme, and I'm the queen of matchy-matchy when it comes to parties…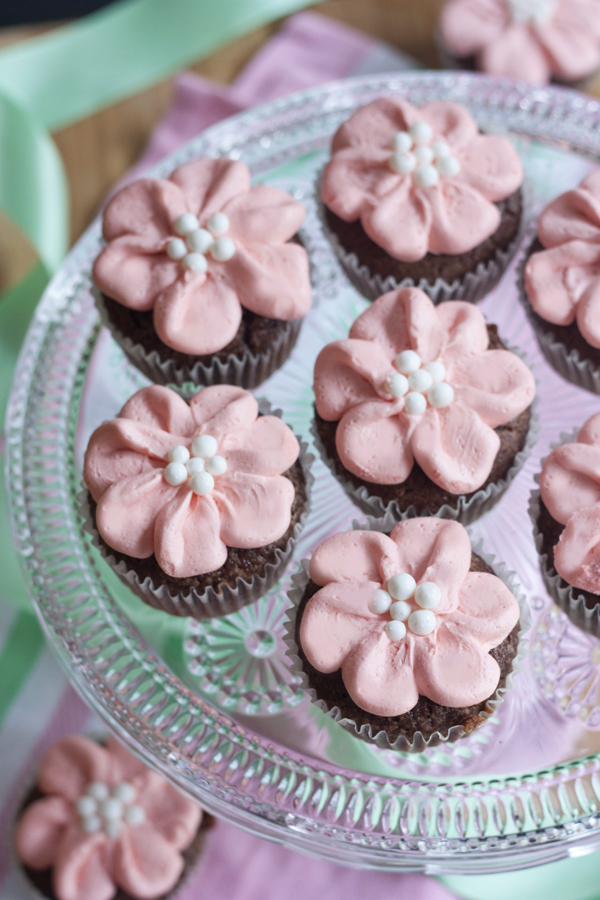 I didn't want to overload the title of this post with too many words, but really these should be called "Chocolate Maple Bourbon Cupcakes with Easy Maple Buttercream Flowers". I figured most of you are here for the pretty pictures anyway, so I chose to feature the decoration in the title rather than the actual cupcake flavor. Because the truth is you can use this technique with any cupcake/frosting combination! Sara has been recently obsessed with bourbon, specifically maple bourbon, and since that is a southern export, I knew I wanted to incorporate those flavors into the cupcakes I made. The cupcake recipe is actually an adaptation of the Hell's Kitchen Sink cupcakes I made last month, but I subbed the Guinness for maple bourbon and added a bit of maple syrup as well. The cupcakes had great spicy, boozy flavor with the hint of maple that really makes them special.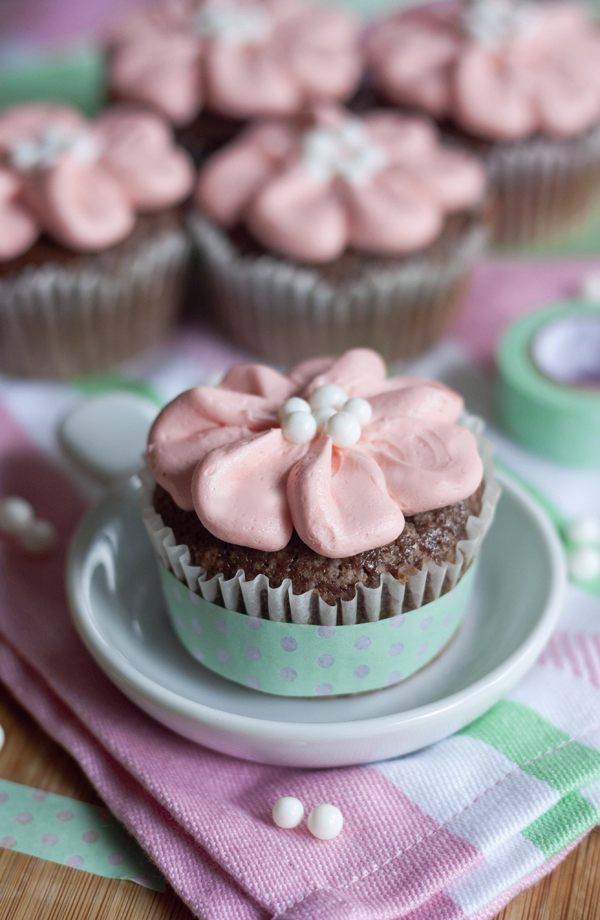 Usually you don't associate pretty pink flowers with bourbon, but for a southern-themed bridal shower it just sorta makes sense. I am obsessed with this flower-piping technique, and I've used it many times before. It puts just the right amount of frosting on the cupcake and is actually really easy to do. You do need a special petal frosting tip (I used this #127 from Wilton), but once you have that it's really pretty straightforward.  Watch this video tutorial by Savory Sweet Life for a visual reference on piping petals. Practice on a piece of wax paper a few times to get the hang of it, then you'll be a pro in no time. I kept it simple for the decorations with white sugar pearls and little touches of mint green washi tape. If I had more time, I would have loved to use the washi tape to make little leaves attached to toothpicks to stick into the cupcakes. But alas, time escaped me and I'm keeping that idea in mind for next time!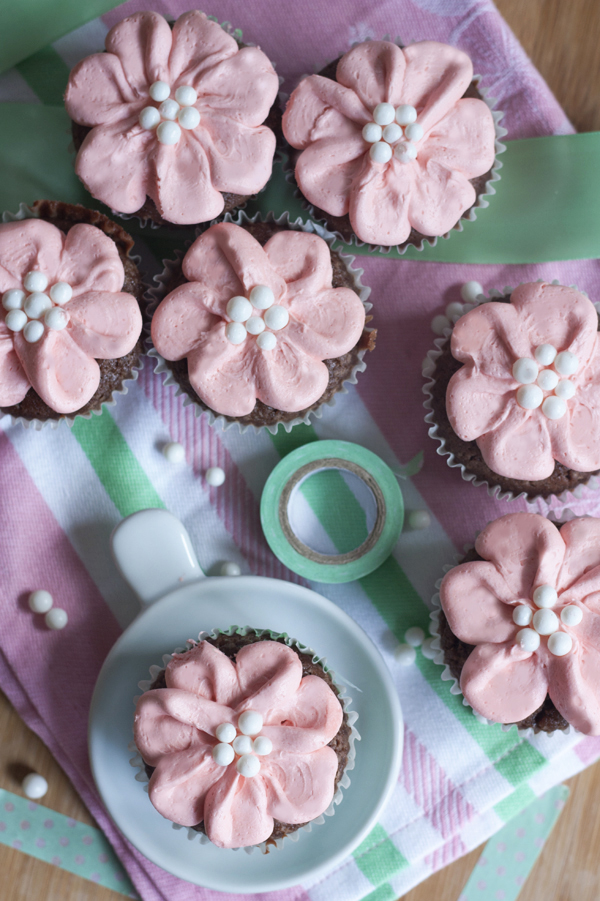 Here's the recipe for the chocolate maple bourbon cupcakes I made with maple buttercream, but like I said above, you could really make these flower cupcakes with any flavors you want. In case you have a southern-loving friend too though, these cupcakes with pretty flower decorations and a hint of booze are really perfect for a shower. Gotta love a girl who loves bourbon!
Chocolate Bourbon Maple Cupcakes
Ingredients:
for the chocolate maple bourbon cupcakes:
1/2 cup maple
1/2 cup unsalted butter
6 tbsp cocoa powder
1 cup all purpose flour
1 cup granulated sugar
1/4 tsp baking soda
1/8 tsp salt
1 egg
5 tbsp sour cream
3 tbsp maple syrup
for the maple buttercream flowers:
3/4 cup unsalted butter, at room temperature
3 cups powdered sugar
Pinch of salt
1/2 tsp maple extract
3 tbsp milk
Pink (or whatever color you want) gel food coloring
Sugar pearls, for decoration
Directions:
for the chocolate maple bourbon cupcakes:
Preheat the oven to 350 degrees and line 12 muffin tins with cupcake liners. Place the butter in a saucepan and bring to a simmer over medium heat. Remove from heat, stir in the bourbon and cocoa powder and whisk until smooth. Set aside to cool slightly.
In a medium bowl, whisk together the flour, sugar, baking soda, and salt. In the bowl of an electric mixer, beat together the eggs, sour cream, and maple syrup. Add the bourbon-chocolate mixture and continue to beat until well mixed. With the mixer on low speed, slowly add the flour mixture and mix until just incorporated. Divide the batter evenly among the cupcake liners, and bake for 15-17 minutes, or until a cake tester comes out clean. Allow cupcakes to cool in the pan for 5 minutes, then transfer to a wire rack to cool completely.
for the maple buttercream flowers:
In the bowl of an electric mixer, beat the butter on medium-high speed for 2-3 minutes, until light and fluffy. Reduce the speed to medium and slowly add the powdered sugar. Once all the powdered sugar has been incorporated, beat for another 2 minutes at medium-high. Add the salt, maple extract, milk, and a few drops of desired food coloring and beat again for another minute until smooth.
To pipe flowers, put a large petal tip in a piping bag and fill it 2/3 full with prepared frosting. Pipe a simple 6 or 7 petal flower on top of each cupcake. (I suggest watching this video tutorial by Savory Sweet Life). Place a few sugar pearls in the center of each flower.
*This recipe does well when doubled, even tripled, for a crowd.