I LOVE cereal. As in, whenever someone asks what few foods I would bring to a deserted island, cereal is always on my list. I could eat it for every meal (which I basically did in high school) and I joke that one of the reasons I get out of bed in the morning is just knowing there is cereal waiting for me. Something about my carb addiction, but also just the cold/crunchy combination and usually that my cereal of choice has some sort of sweetness in it. This blog isn't called Sweet Tooth for nothing – I crave it at every meal :) So it was really only a matter of time before I worked my beloved breakfast food into a treat here on the blog. Of course I've done Rice Krispie treats before (funfetti and cookie butter varieties have been my fave), but today we're featuring some even more exciting cereals straight from all of our childhood dreams. Lucky Charms, Trix, Fruit Loops, Honey Nut Cheerios, and Frosted Flakes Cupcakes for breakfast everyone – happy Tuesday!!
The real reason I put these cupcakes together was to go along with one of the Halloween costumes my friends and I did this year (yes, I had multiple costumes, I just love that holiday so much haha). I traveled to DC for Halloween weekend to have a mini-reunion with some girlfriends from college, and so of course we had to come up with coordinating costumes. We decided on cereal character costumes (scroll down for the pic – aren't we cute??) and donned our Toucan Sam, Lucky Leprechaun, Buzz the Bee, Trix Rabbit, and Tony the Tiger costumes to a friends house party. I may or may not have recommended the costume idea just for an excuse to buy all the cereals and make these cupcakes. I mean seriously, when's the last time you had Fruit Loops – I was so excited! If you make these cupcakes you obviously don't have to go out and get all of the cereals I chose (Trix are really hard to track down in the city btw), but I clearly wanted to go all out. The result was such a fun combination of colors and flavors and made our costumes that much sweeter.
I kept things simple with the cupcakes by just using a yellow cake mix from a box, but then divided my vanilla buttercream into 5 bowls and added ground cereal bits to each batch. This really added so much great cereal flavor to the cupcakes, and made the frostings all sorts of funky but fun colors. I'm always willing to cut corners with boxed cake mixes, but homemade frosting makes such a difference to me! I added extra cereal to the tops for decoration of course, but you have to be careful to wait to do this shortly before serving the cupcakes or the cereal will go stale. I had no choice but to decorate them early (I lugged them on the train from NY to DC) and found that after throwing them in the fridge for a few hours the cereal did crisp up again. But for best results, just add the cereal right before serving. It was such an easy way to decorate the cupcakes, no fancy piping skills necessary, but I still love the way they came out. I couldn't choose a favorite! But of course I had a slight preference for the Frosted Flakes one just because Tony was my costume for the night. They're grrrrrrrrrrrreat!!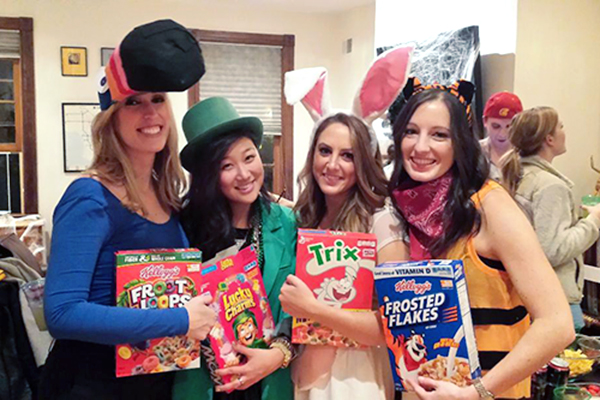 Again this recipe is really adaptable – use whatever cereal you want, as many different flavors as you want, and have fun! There's nothing more fun than sugary cereals that remind us all of our childhoods and the accompanying breakdowns in the cereal aisle begging parents for the Lucky Charms instead of Raisin Bran. Today I can't handle quite so much sweetness in the morning, but I enjoyed being extremely rebellious in the grocery store a few weeks ago loading up on all the good stuff! The best part of this whole costume idea really was having an excuse to buy all the cereal (great party snack!), and then being forced to have the leftovers for breakfast the next day. I highly recommend this group costume if you're already brainstorming for Halloween 2015 :)
Breakfast Cereal Cupcakes
Directions:
Bake the cupcakes according to the package's instructions and allow cupcakes to cool completely once baked.
Prepare vanilla buttercream, or use your favorite store-bought variety (homemade is sooo much better though!). If you're using only one kind of cereal for your cupcakes, go ahead and add the ground cereal crumbs to the mixer once the buttercream is made. You want your crumbs to be very fine so they don't clog your piping bag and so the frosting doesn't appear too "chunky".
If you're doing 5 flavors of cereal like I did (or whatever number you'd like), you'll have to grind up all the cereal separately so you have about 3 tablespoons of each one. Then divide the plain buttercream into 5 bowls, and add one type of cereal crumbs to each. I then put the frostings all in separate piping bags with the corner snipped off, and did a simple swirl of frosting on each cupcake. Add the extra cereal for decoration right before serving, or else the cereal will get soggy and stale from the frosting. Eat the leftover cereal for breakfast :)