Today's treat is a combination of two of my most popular treats – Santa Hat Brownie Bites + Strawberry Brownie Kabobs = Santa Hat Brownie Kabobs! I've been envisioning these for awhile now, and they're just as easy and adorable as I thought they'd be. There's something about treats on a stick that increase their cuteness factor by like a million percent, and also make them perfect for parties. I had no idea what a hit the kabobs would be at our housewarming party last year, seeing as they were so simple, but sometimes it's the most basic of desserts that are the most popular. And it certainly doesn't get more simple than these – just brownie bites, cut up marshmallows and mini marshmallows with strawberries all skewered together!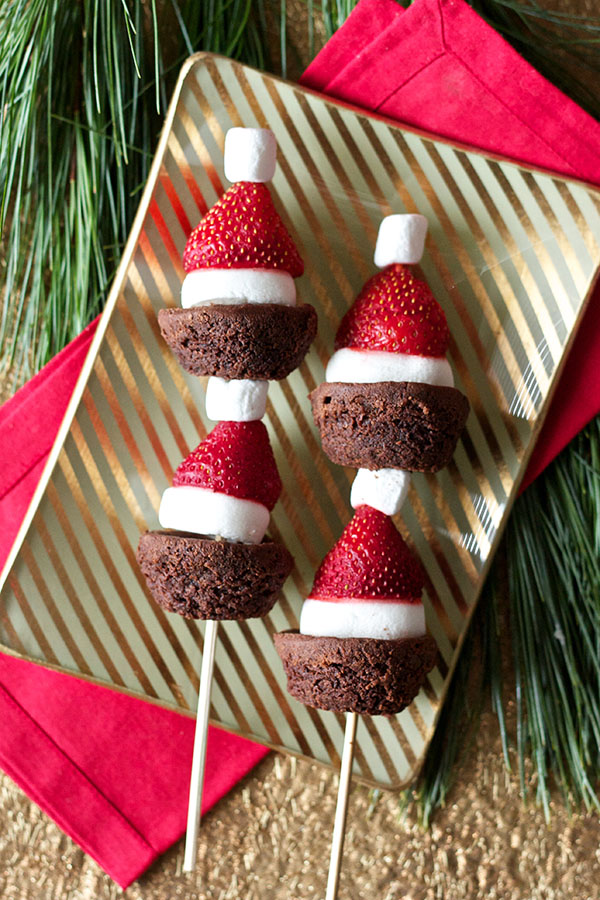 You can use your favorite brownie recipe here, use a boxed mix, or even easier – just buy a box of brownie bites. And if brownies aren't your thing try any other sort of cake-like morsel for your kabobs, I think cubes of pound cake or cheesecake would be great substitutions as well. You could jazz things up with melted white chocolate and sprinkles, or use chocolate covered strawberries for the hats too. I kept things as simple as can be just to show that with only a few ingredients and no baking skills necessary, you can make a Christmas party-ready treat in no time. (Also, let's face it – I've been really busy baking for the holidays and I appreciated how these could be totally cute without much work. Lazy for the win!) The fact that marshmallows are used for the hat fluff instead of frosting or whipped cream makes them less messy but just as sweet.
I know this is a busy time of year for everyone, and there's a lot of pressure to think of great gifts, write thoughtful cards, and bring the best dish to the potluck ugly Christmas sweater party this weekend. Haha, ok maybe not everyone has an ugly Christmas sweater party to attend, but I promise no matter what kind of festive gathering you've got going on, these kabobs will be a sure hit! Put them together in no time and be sure to be on Santa's good list :)
Strawberry Santa Hat Brownie Kabobs
Ingredients:
1 box brownie mix
2 16-oz packages of large strawberries
24 large marshmallows
48 mini marhsmallows
Wooden skewers, cut in half
Directions:
Preheat oven to 350 degrees and spray mini muffin tins with non-stick spray. Prepare the brownie batter according to the package's instructions and divide batter among muffin tins. Bake for 15-20 minutes, or until cake tester comes out clean. Allow brownies to cool in the pan for 5 minutes, then transfer to a wire rack to cool completely.
Clean, dry, and cut the strawberries so both ends are flat and the larger part of the strawberry is about the circumference of a regular marshmallow. Cut the larger marshmallows in half and use your fingers to flatten and widen them a bit. Layer the mini marshmallows, strawberries, marshmallow-hales, and brownies on the skewers. Serve in the fridge until ready to serve. Don't make these more than 1 day in advance or the strawberries will start to liquify onto the marshmallows.