I have been a baking machine the past few weeks, but you wouldn't know it based on this blog! This is high season for baking, and I've certainly been keeping my oven busy, and finally I got around to snapping some photos of my creations. So far this month I've made decorated sugar cookies, M&M chocolate chip cookies, a peppermint bundt cake, and these adorable cupcakes. It's hard not to want to make ALL THE THINGS around the holidays, but I try to limit my list only to a few classics and one or two new endeavors. This one was a bit of a risk, but I'm SO happy with how they turned out – just look how cute!!
These reindeer cupcake were inspired by all the cute unicorn cupcakes and cakes I've seen around the past year. I actually decorated an ornament as a unicorn for a contest at work, and when I saw a reindeer cake on Instagram with a similar esthetic, I was inspired to try the look on cupcakes too. I didn't make these too elaborate – I could have added little chocolate ears and some decorative frosting rosettes for flair – but the simplicity of them is pretty charming. The antlers are obviously pretzels that I strategically broke, the eyes are made from melted chocolate that I piped on a piece of wax paper and let dry, and the noses are plain red M&M's. I could have mixed it up and did some brown noses too but I bought the holiday pack and only had green and red so Rudolphs all around it was!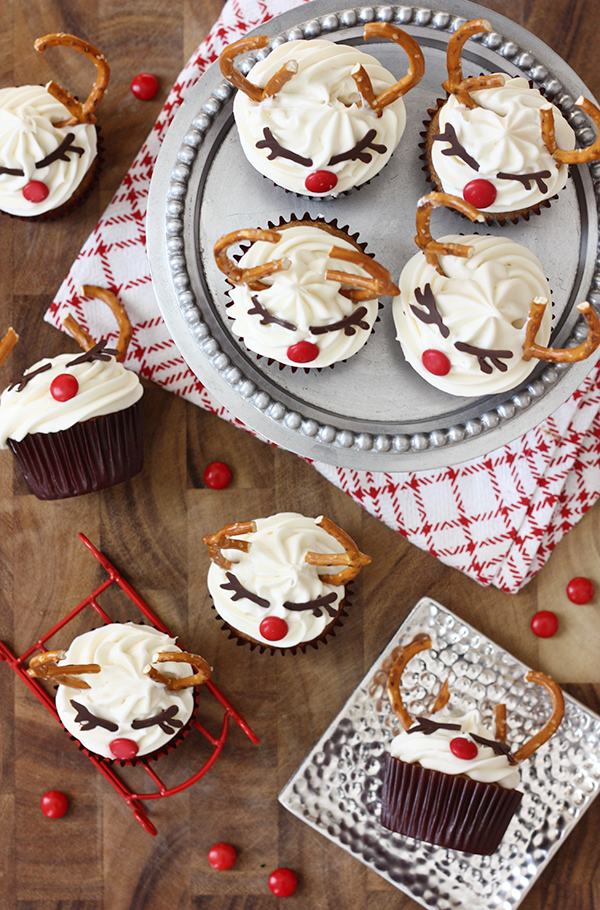 You could use any cupcake and frosting recipe you want, but I opted for carrot cake with cream cheese frosting. I thought the carrot cake was a clever nod to the carrots we all leave for Santa's reindeers and the cinnamon-y spicy flavor seemed appropriate for the holidays too. The cream cheese frosting isn't the best for piping tall swirls, but that's one of my favorite parts of carrot cake so I didn't want to substitute. These are definitely easier to put together than the Christmas tree cupcakes I made last year, and a mix of them would be totally adorable on a platter! What are you baking this holiday season??
Reindeer Cupcakes
Ingredients:
for the cupcakes:
2-1/2 cups all purpose flour
1-1/4 tsp baking powder
1 tsp baking soda
1-1/4 tsp ground cinnamon
1/2 tsp grated nutmeg
1/2 tsp ground ginger
1/8 tsp ground cloves
1/2 tsp salt
12 oz carrots, peeled
1-1/2 cups granulated sugar
1/2 cup light brown sugar
4 large eggs
1-1/2 cups canola or vegetable oil
for the cream cheese frosting:
12 oz cream cheese, cold
6 tbsp unsalted butter, at room temperature
1 tbsp vanilla extract
4 cups powdered sugar
for decoration:
Large pretzels
Red and/or brown M&Ms
Semisweet chocolate chips, melted
Directions:
Preheat oven to 350 degrees, line muffin pan with liners.
In a medium bowl, whisk together flour, baking powder, baking soda, spices, and salt. In a food processor fitted with a shredding disk and shred the carrots. Transfer the carrots to the bowl with the dry ingredients and set aside. Rinse out the bowl of the food processor and fit with the metal blade.
Process the sugars and eggs until frothy and combined, about 20 seconds. With the machine running, add the oil into the feed tube and continue to process until mixture is light in color and combined.
Transfer the mixture to a large mixing bowl and stir in the carrots and dry ingredients until completely incorporated. Divide the batter among muffin cups and bake 20-24 minutes or until cake tester comes out clean. Cool cupcakes in muffin pan for 5 minutes, then transfer to a wire rack to cool completely.
For the frosting, cream together the cream cheese and butter in an electric mixer until smooth and creamy, about 2-3 minutes. Add the vanilla extract and gradually add the powdered sugar until well-combined. Beat until smooth for about 2 minutes. Load frosting into a piping bag fitted with a large star tip and pipe swirls on each cupcake.
To make the eyes, lay out a piece of wax paper and melt the chocolate chips in a Ziploc bag in the microwave or a disposable piping bag. Snip the corner of the bag and pipe eyelash shapes onto a piece of wax paper. Place the wax paper into the fridge for 5 minutes to allow the chocolate to set.
Add the pretzel pieces as antlers, the chocolate eyelash pieces, and M&M's for the noses. Enjoy!