Last weekend kicked off the 2018 wedding season for Ryan and I – we have a lot of close friends getting married this year so it's sure to be a fun summer! Along with all these weddings comes a number of bachelor and bachelorette parties for us too. It seems like over the past few years bachelorette parties have evolved to be much more than just a weekend out in NYC that I had 5 years ago. For my friend Pamela's bachelorette party in Vegas last month, we had a packed itinerary for the weekend, coordinated outfits, several hashtags, and even an overall theme for the weekend: unicorns! Pamela is one of my best friends from dental school and even though her bachelorette was across the country, I knew I wanted to bring something sweet to celebrate. So these ADORABLE unicorn Oreos made their journey with me from Connecticut to Nevada with only a few horn causalities along the way.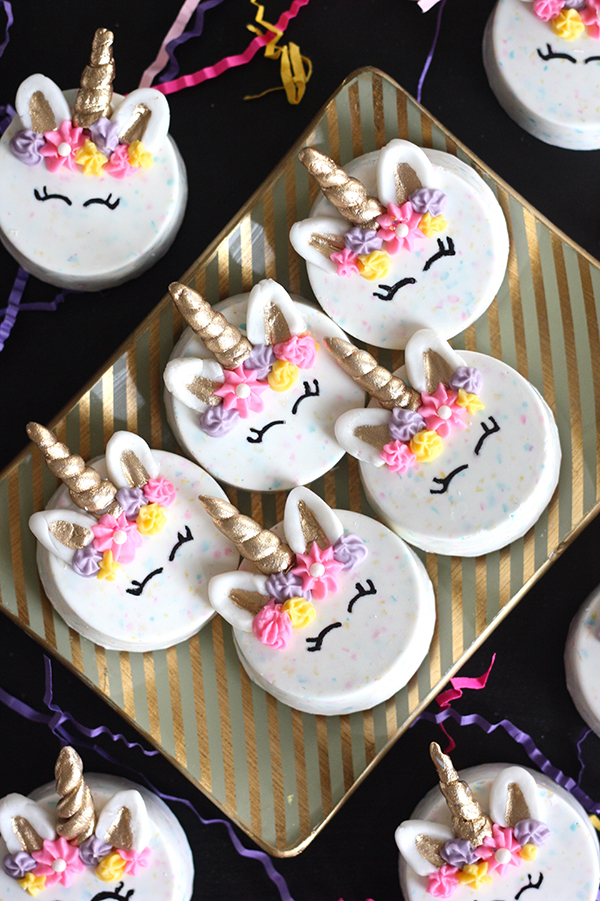 These just may be one of my favorite creations EVER. I couldn't believe how well they turned out, they were almost too pretty to eat. This was the first time I've used gold highlighter dust before and I was so impressed with the sparkle and pigmentation of the gold – it was so pretty!! I also knew this would be a sturdy treat that would travel well compared to something like cupcakes or cake pops, and I just used bubble wrap to gently support the horns for the plane ride. These treats combine everything I love about baking – creativity, artistry, and something really, really cute and delicious that can be enjoyed by my friends!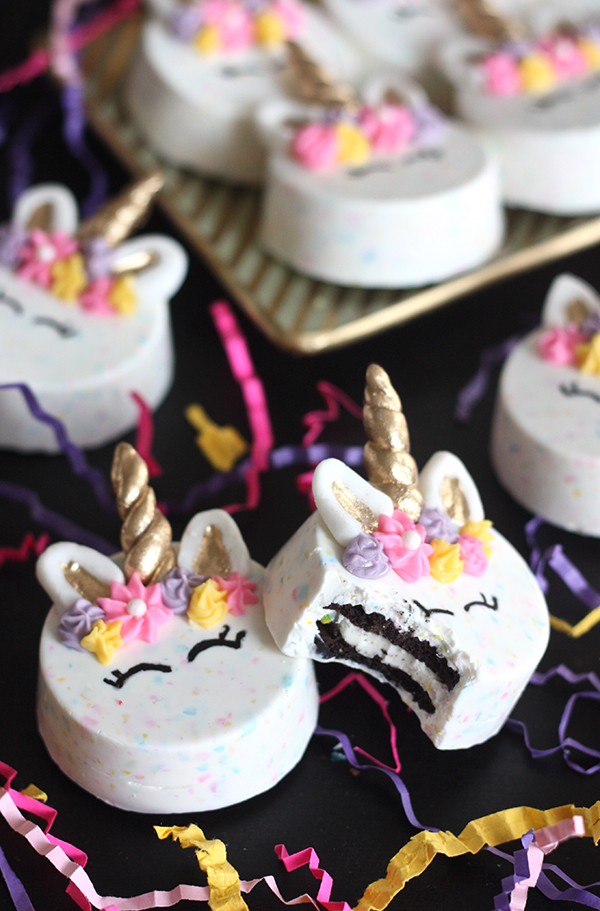 To make these, I used a candy mold and the white Wilton candy melts that have little pastel sprinkles mixed in for some extra sparkle. I followed this Youtube video on making the horns (although I used toothpicks instead of a larger dowel since these were mini) and painted them as well as the inner ears with gold highlighter dust. I whipped up some royal icing in several colors and just piped them on in various floral shapes. Royal icing is great in this case because it dries hard so I didn't have to worry about the flowers getting squished in transit. I drew on the eyes with an edible marker and voila – unicorn chocolate-covered Oreos! I could have tried to figure out how to make these a bit more risqué for a bachelorette party, but I was enamored with how cute they were, so I decided to just keep them PG (I'll save my phallic-shaped baking endeavors for another time).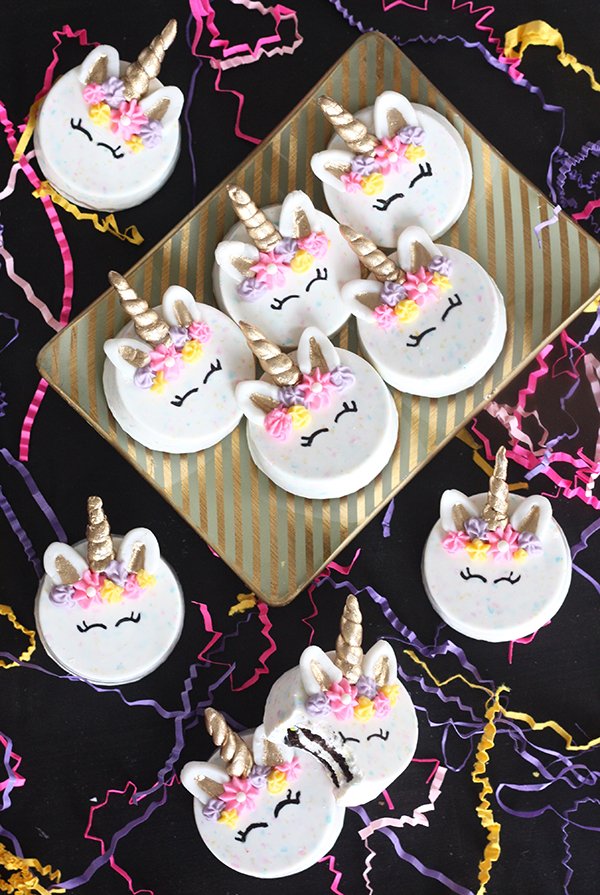 With that being said, these would be totally adorable for a kid's birthday party and even though they look very technical, you can totally make these! The flowers could be made from store-bought colored fondant instead of royal icing if you wanted to keep things simple (they sell little cutters and fondant isn't too different than play-doh). Just give yourself a few days to spread out the steps because the horns/ears and flowers all need quite a bit of time to set completely. I am loving the unicorn trend that's been going on and can't wait to make these again some day!
Unicorn Oreos
Directions:
To cover the Oreos in chocolate, melt half of the candy melts in a microwave-safe bowl in 30 second intervals at half power, stirring in between each interval, until full melted. Fill up the candy molds halfway with melted chocolate, then place an Oreo in each well. Cover the Oreos with more melted chocolate and use an offset spatula or knife to scrape off the excess chocolate. Place in the fridge for 10 minutes for chocolate to set completely, then pop out the Oreos and repeat again. You'll need to save some of the candy melts to attach the horns and ears after everything is set and dry.
For the unicorn horns take pieces of fondant and roll out long snake shapes. I set up a block of Styrofoam nearby to put my finished horns in to get them set for painting. Twist the snakes of fondant around a toothpick in the shape of a unicorn horn (I found this Youtube video helpful) and stick into the styrofoam. For the ears, I rolled out the fondant and cut out triangle shapes and then used my fingers to shape them a bit so they were slightly curved. In a small bowl, add a splash of vodka and some of the gold highlighter dust to make the gold "paint". Use a small paintbrush to paint the horns completely and the inner parts of the unicorn ears. Allow them to dry overnight.
Melt a bit more of the white candy melts to attach the horns and ears to the chocolate-covered Oreos. Place in the fridge for 10 minutes to allow the chocolate to set. Don't be frugal with the amount of white chocolate you use to secure the horn – you want to make sure it's on there good and you can cover any excess with flowers!
Mix up the royal icing according to the recipe's instructions and divide into 3 piping bags with small star tips. Add rosettes and swirls of royal icing in the shape of random flowers to make a flower crown along the horn and ears. The royal icing will need to set overnight before packaging or serving. I waited until the royal icing was set before drawing on the eyes so I didn't accidentally squish any of the flowers with my hand. The Oreos can be stored in an airtight container at room temperature for quite a bit, I made mine about a week in advance and they were great!