For those of you who've been reading my blog for awhile, or know me in real-life, you'll know that I have quite a special relationship with my little brother Scott. I've written about him and his disabilities before (notably in this Skittles Cake post and this Disney Princess Cupcakes one too) and I've definitely shared his absolute addiction to all things peanut butter with birthday treats like PB Scooby Doo Cookies and Peanut Butter Cup Ice Cream Sandwiches.
Well, turns out my little brother isn't so little anymore. Not only is he 21 and has a beard, but he's also now a high school graduate!! Scott has attended a special needs high school for the past 7 years and his graduation was a big deal for our whole family, and definitely for him as well. If you thought I obsessed about my wedding, you should have listened to him talk about his graduation party for the past year. He was even wondering who would be the photographer (that'd be me) and DJ (Ryan) for the big event. So of course I had to step up my game for the party of the year to honor my favorite brother in the whole wide world with these fluffernutter brownie cupcakes and peanut butter cup graduation pops.
Scott is probably one of the pickiest eaters known to man, and he's all about consistency through the years. He's been eating peanut butter and fluff sandwiches for lunch at school for as long as I can remember. If there are a few things you can always count on being stocked in my parents house its definitely JIF peanut butter and marshmallow fluff. Food of champions, right? Well he's certainly a champion in my mind, so I transformed his favorite sandwich into frosting set atop a brownie cupcake. The two-toned technique is something I did years ago with these Pink Lemonade Cupcakes, and I have been dying to use it again. It creates such a cute look on the cupcakes and ensures you get a little bit of peanut butter and fluff in every bite, just like a proper fluffernutter sandwich.
Since he loves peanut butter so much, I couldn't not make Bakerella's famous graduation candy pops using miniature Reese's and chocolate squares for the party as well. They're so easy to make (check out her instructions here) and they are such a big hit with guests. I used yellow candy buttons and sour straws for the tassels since his school colors are blue and yellow and thus made for the color theme of the party.  My mom also picked up some last-minute graduation cupcake toppers from Party City to make them festive, but you could make your own toppers for any occasion or just keep them plain. These mini cupcakes were so yummy, dangerously addicting, and disappeared very quickly at the party. Seems like Scott isn't the only one who loves the fluffernutter combination!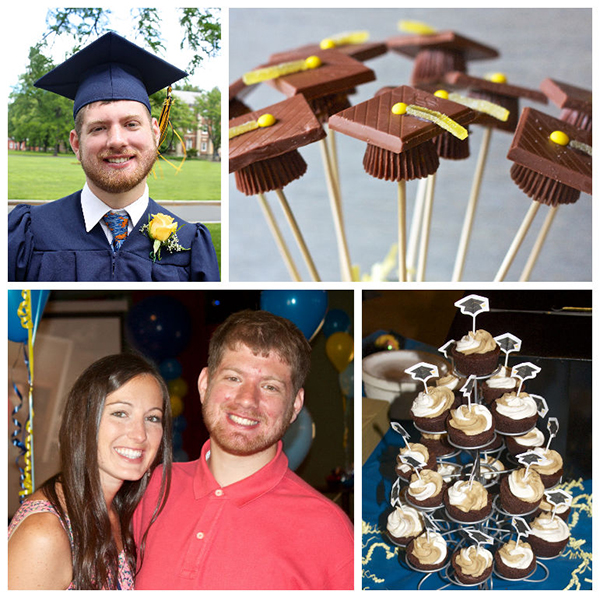 Scott had the time of his life at the party, as you can see with his ear-to-ear grin above (he's not one to smile naturally for photos, so this means it's the real deal). He was a total social butterfly enjoying the company of all his guests, he danced up a storm with his friends, and we like to think it all lived up to his expectations of a party on-par with my wedding last summer. My family is so, so proud of Scott and the man he's become thanks to the support of all of his teachers, friends, and mentors. He may be picky with his food and extremely stubborn with sharing the TV at home, but he's hilarious, can make anyone smile, and probably loves me more than anyone else in the world. How could a sister ask for anything else?? Okay, maybe some more fluffernutter brownie cupcakes if he wouldn't mind sharing…
Fluffernutter Brownie Cupcakes
Ingredients:
for the brownie cupcakes:
1 box brownie mix (or your favorite homemade version)
for the marshmallow frosting:
1/2 cup unsalted butter, at room temperature
1 cup marshmallow fluff
1 tsp vanilla extract
1 cups confectioners sugar
for the peanut butter frosting:
3/4 cup unsalted butter, at room temperature
1/2 cup creamy peanut butter
1 tbsp vanilla extract
2-1/4 cups confectioners' sugar
1-1/2 tbsp milk
Directions:
Preheat the oven to 350 degrees and grease a mini muffin pan with non-stick cooking spray. Prepare the brownie batter according to the package's instructions. Divide the batter into 36 of the muffin wells, filling them about 3/4 of the way full. Bake for 15-20 min, or until cake tester comes out clean. Allow brownies to cool in the pan for 5 minutes, then transfer to a wire rack to cool completely.
For the marshmallow frosting, beat the butter in the bowl of an electric mixer until light and fluffy. Add the marshmallow fluff and vanilla extract, and continue beating for another 2 minutes. Add the confectioners sugar and beat until smooth. Then add the vanilla extract and mix again for 1-2 minutes. Transfer frosting into a piping bag so it's half-full and clean out the bowl of your mixer to make the peanut butter frosting.
For the peanut butter frosting, beat together the butter and peanut butter in the bowl of an electric mixer on medium-high speed for 2-3 minutes, until light and fluffy. Add the vanilla and beat until incorporated. Reduce the mixer's speed and slowly add the sugar. Once the sugar is incorporated, increase the speed to medium and beat the frosting for another 2 minutes. Add the milk and beat again until smooth. Transfer this frosting to a separate piping bag so it's half-full.
Snip the tops of the piping bags and fit them both into a 3rd piping bag fit with a open star tip, side-by-side. Secure the top of the bag with a rubber band or clip and apply even pressure with 2 hands to ensure both flavors come out equally. Pipe swirls atop each mini brownie cupcake. (Check out this post on Good Life Eats for a more visual tutorial of this technique!)