Today is Ryan's birthday – yayyyy happiest of birthdays to my wonderful husband! It's so rare I'm actually timely with posts, but I guess it's kind of lying today since I made this baklava a few months ago for our annviersary. Either way, this post is dedicated to him since baklava is something he's been begging me to make for years. YEARS! (Speaking of years, my 5th blogoversary was a few weeks ago. Remember how I'm not usually very timely with posts? Oh well…) Anyway, Ryan has had a list of random desserts he's wanted me to make for him – cream puffs and bread pudding to name a few – and I've gotten a habit of trying them out just around a special occasion involving him. Last year for his birthday I actually wimped out a bit and had baklava ordered to his office via Seamless, but this year I'm posting his very own baklava recipe on his big day! Granted there is no baklava to be eaten today, but he is getting one of the best burgers in NYC tonight, so I doubt there will be much complaining.
Just like creams puffs and bread pudding, I've never really been quite as mesmerized by baklava as Ryan. I'm always more tempted by the chocolate offerings, and I've never been a huge fan of honey anyway. But honey roasted peanuts, peanut butter, and chocolate in baklava? I could definitely get into that. Plus, I love phyllo dough! Baklava is traditionally made by layering phyllo dough with honey and some kind of nuts (walnuts, pistachios, pecans), but I switched things up for my version to include peanut butter, peanuts, and mini chocolate chips for my peanut butter-obsessed husband. I felt like I was still kind of staying true to the original essence of baklava since we're using nuts and a lot of honey. It's just so beautiful (in a beautifully messy way) how it all bakes up with those pretty, flaky tops and the intricate layers stacked on top of each other. Despite its beauty, be warned – this dessert is not for the faint of sweet tooth-heart. It's rich, decadent, and like all baklava recipes, quite sweet! But who doesn't want an overly peanut buttery, sweet, and chocolately treat for their birthday??
Making the baklava was actually pretty fun. It's repetitive, like making a lasagna, and I got to use phyllo dough which is something relatively new to me. All of the components are layered together (it's a bit of a process, I hope I outlined it well enough below for you to understand!) and then after the baklava is baked, a mixture of honey, sugar, and water is poured over the entire thing. That's what gives the baklava it's sticky, gooey, wonderful appearance and taste when everything's all done. The hardest thing was waiting for the entire pan to cool completely before digging in – you have to wait a few hours! But fortunately I was able to keep Ryan at bay before revealing this beauty, I don't know if he would have been so patient just waiting around the apartment :)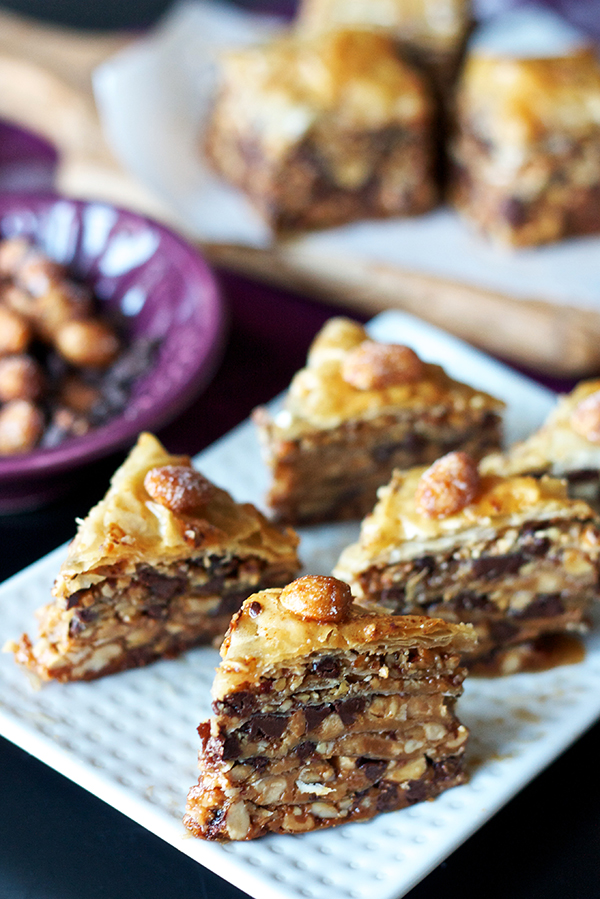 If you have a baklava-lover in your family, or a peanut butter-aholic that would like to try something different, this baklava recipe is perfect. It's easy from a preparation standpoint – just layering pre-made dough with a bunch of yummy mix-ins, and it delivers hugely in taste and presentation. Ryan loved it and now I have his new and updated list of requests to work on for our next holiday together. Happy birthday, Ry – love you more than all the peanut butter and chocolate in the world!! (and if you know me, that's saying a lot…)
Chocolate Peanut Butter Baklava
Ingredients:
1/2 pack frozen phyllo dough (1 roll from a 2 roll box), defrosted
8 tbsp (1 stick) unsalted butter, melted
1 cup creamy peanut butter
1 cup mini chocolate chips
3/4 cup chopped honey roasted peanuts
1 cup sugar
1 cup water
1/2 cup honey
1 teaspoon vanilla
Directions:
For this recipe, you want everything all ready to go before you start assembling. First, preheat your oven to 350 degrees and spray an 8x8 (or 9x9) pan with nonstick cooking spray or butter. Place melted butter in a bowl and have a pastry brush nearby. Microwave peanut butter for 30 seconds in the microwave (you want it liquidy, so maybe more than 30 seconds depending on the consistency) and set aside. Place the chopped peanuts another bowl and mix in the chocolate chips.
Unwrap the roll of phyllo dough onto a cutting board and cut it in half, so it is the size of your prepared pan. Cover the phyllo dough with a layer of plastic wrap and place a damp kitchen towel over the top - it's important to keep any dough you're not actively using covered or it will dry out quickly!
Uncover the phyllo and brush the top sheet with melted butter. Grab it with your fingers, along with the sheet under it (so you're taking 2 sheets) and place the 2 sheets into the pan, butter side down. Repeat two more times, so you have six sheets of phyllo in the pan.
Pour about 2-3 tablespoons of peanut butter over the top and spread. Sprinkle with the mixture of peanuts and chocolate chips.Butter another top sheet of phyllo and grab the one below it (so you have 2 sheets) and place them, butter side down, on top of the peanut butter layer. Pour another 2-3 tablespoons of peanut butter over the top and spread evenly. Sprinkle more peanuts and chocolate chips on top. Repeat this about four more times, or until you are out of peanut butter.
Butter another phyllo sheet and grab the one below it (so you have two sheets) and place them, butter side down, on top the peanut butter layer. Repeat this two times, so you have 6 layers on top of your last peanut butter layer. Butter the top of the baklava. Before baking, use a sharp knife to cut your baklava into diamonds (or squares if you don't want to be as traditional).
Bake about 45 minutes, until the baklava is golden brown. While the baklava is baking, combine the water, sugar, honey, and vanilla in a saucepan and bring to a boil over medium heat. Then reduce the heat to low until the baklava is done baking. When the baklava is done, pour the honey mixture on top, making sure to get into all of the nooks and crannies. Let cool completely, uncovered, for several hours until enjoying.