Halloween's over and it's time to start baking with the other orange vegetable – carrots!! I love, love carrot cake and all the variations of the flavors, especially when cream cheese frosting is involved in any form (just don't put in any raisins, ewww). You still get all the spiciness in these treats as you do with pumpkin-flavored ones, but it's a bit sweeter and pairs so well with the tangy cream cheese. I loved the Strawberry Shortcake Whoopie Pies I made this summer, and have been waiting to try another whoopie pie variation that was a bit more seasonally appropriate. I'm actually not totally sure what the season for carrots are, and people love making carrot treats for Easter, but I think it's also a great flavor for autumn and Thanksgiving too. There may not be any bunnies jumping around, but I have a feeling the Pilgrims probably liked their fair share of carrots too!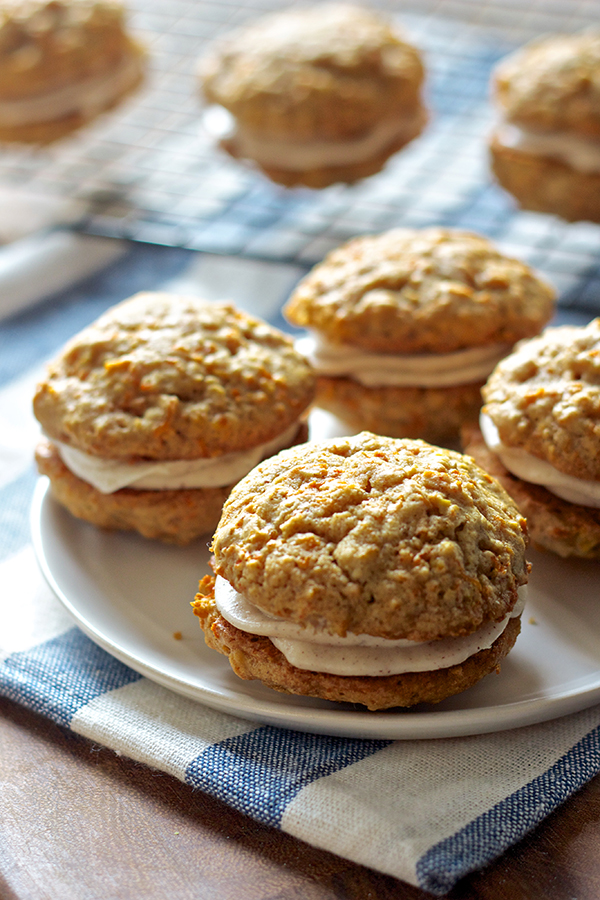 One of my favorite parts of whoopie pies is the fact that they're such a portable and easy-to-eat treat. They're low maintenance, no need for fancy decoration on top, and still deliver the same cakey/frosting combination without all the fuss of a cupcake. And while I strived for perfectly smooth and domed tops with my last whoopie pies, I totally embraced the more bumpy look of these guys. Goes with the "rustic", homey theme I associate with carrot cake, and almost makes them look healthy and wholesome. Carrots are vegetables after all, so I see no reason not to eat these for breakfast. The cinnamon cream cheese frosting is the perfect combination of sweet, tart, and spicy and I was certainly guilty of many licks of the bowl when these were all done. I made my whoopie pies a little smaller than your usual ones, which was pretty dangerous because I definitely felt like I could easily throw back three or four in one sitting! Altogether, a very delicious and irresistible combination.
With November brings the start of the biggest and most exciting baking season of the year, but it also brings daylight savings and thus every food bloggers' biggest enemy – early sunsets. Our sacred, beloved natural light disappears even before I walk out of work, so the available photographing time continues to dwindle as winter approaches. Good thing I'm crazy over backlit food photos these days, because even though the sun isn't shining as brightly, I love the mood of these more shadowy shots. Be prepared for more of these as I continue to be desperate for some sunshine! Fortunately these whoopie pies are a treat that freeze well, so if you don't have time to photograph them like I did, you can prep them one day, freeze them until the weekend, let them thaw, and snap some shots with all the midday Saturday sun you could ever want. Or you could just make and proceed to immediately devour them like a normal, non-blogging person :)
Carrot Cake Whoopie Pies
Yield: About 16 small whoopie pies
Ingredients:
for the whoopie pies:
1-1/2 cups all purpose flour
1/2 tsp baking soda
1/2 tsp baking powder
1/4 tsp salt
1/2 tsp cinnamon
1/4 tsp ground ginger
1/4 tsp ground nutmeg
1 cup light brown sugar
1/2 cup unsalted butter, at room temperature
1 large egg, at room temperature
1 tsp vanilla extract
1 cup old-fashioned oats
1 cup grated carrots
for the cinnamon cream cheese frosting:
6 oz cream cheese, cold
3 tbsp unsalted butter, at room temperature
1/2 tbsp vanilla extract
2 cups powdered sugar
1 /2 tsp cinnamon
Directions:
Preheat the oven to 350 degrees and line 2 baking sheets with parchment paper or Silpat mats. In a bowl, whisk together the flour, baking soda, baking powder, salt, cinnamon, ginger, and nutmeg. Set aside.
In the bowl of an electric mixer, beat together the butter and brown sugar on medium-high speed until light and fluffy, 2-3 minutes. Add the egg and vanilla and continue to beat until smooth (scraping the sides of the bowl as necessary).
Reduce the mixer speed to low and slowly add the dry ingredients until just combined. Add the oats and grated carrots and incorporate evenly with a rubber spatula.
Use a small ice cream scoop to make about 1 tablespoon-sized mounds of dough and place them on the prepared baking sheets, leaving about 2" between each cookie. Bake, rotating pans halfway through, about 14 minutes total, or until cookies are just lightly browned. Let the cookies cool on the pan for 5 minutes, then transfer to a wire rack to cool completely.
For the cinnamon cream cheese frosting, in the bowl of an electric mixer, beat together the cream cheese and butter on medium-high speed until smooth, about 2-3 minutes. Add the vanilla extract and continue to beat. Reduce the speed to low and slowly add the powdered sugar until all is incorporated, then increase the speed back to medium-high and beat for another 3-4 minutes. Add the cinnamon and beat until evenly distributed.
Load frosting into a piping bag and match up whoopie pie cookies based on size. Pipe a circle of frosting onto half of the cookies, and sandwich them with their cookie match. Serve immediately, store in an airtight container in the fridge for up to 2 days, or freeze them like I did for up to one month.