A few years ago I bought a mini cheesecake pan and I made these amazing strawberry cheesecakes, but somehow it wasn't until recently that I busted out that pan again! Usually I don't buy pans that serve such limited purposes (you guys have seen the size of my kitchen…), but mini cheesecakes are just so damn cute I couldn't NOT own one. Of course you can always bake mini cheesecakes in cupcake liners instead, but I love the clean look from the shape of these and the their bite-sized proportions. So for the NYC-themed dinner party I alluded to last week, I also made two kinds of cheesecakes for the dessert spread. Lemon cheesecake with berry topping for a more traditional flavor and Oreo/salted caramel for a trendier version. Little Italy better watch out, these little cheesecakes were A-MAZ-ING!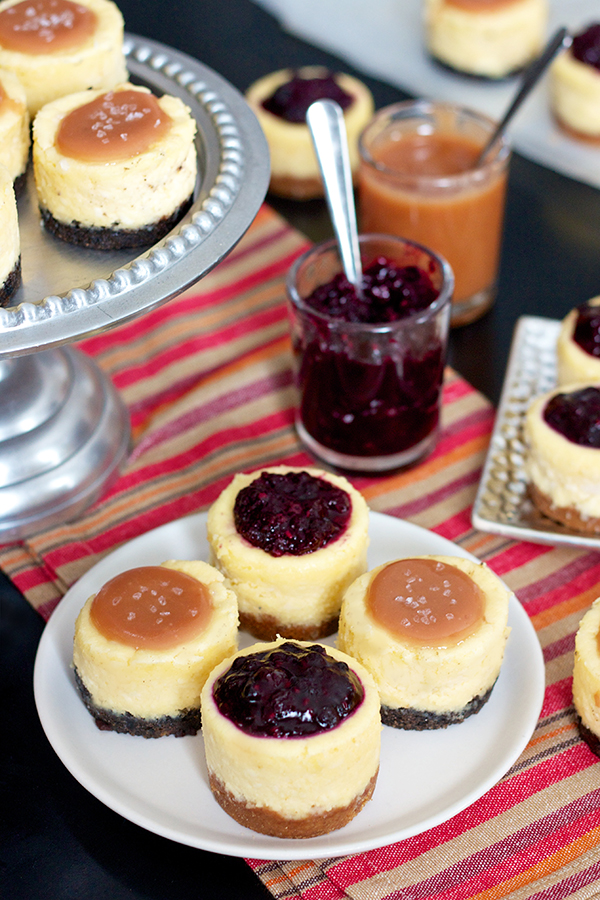 As I've said before, Ryan can be a harsh critic of my creations, probably because of the amount of sweets I'm always forcing him to eat, and he usually doesn't hold back if he isn't overly impressed with something I make. I appreciate his honesty, and it just makes me SO excited when he loves something I make because I know it's for real. He claimed these cheesecakes were the best things I've ever made. EVER!! And everyone at the dinner party said again and again how delicious they were. So while they might just look like innocent little cheesecakes with a  bit of fancy up top, they're actually packing tons of flavor that will impress all of your loved ones and friends. It worked for me, hopefully your experience with these will be just as rewarding!
Although I thought for sure the salted caramel version would be hands-down my favorite, it wasn't as clear a winner as I would have predicted. The lemon/berry one was so tart and refreshing, especially mixed with the cream cheese, I liked it just as much as the caramel! I couldn't choose a favorite, they were both great for different reasons. I made both the berry topping and salted caramel sauce from scratch, which I think made these really special, but they could easily be swapped out for store-bought if you're in a pinch. I also chose to do an Oreo crust for the salted caramel ones because I love a good chocolate crust, but graham cracker would have been just as delicious for these too. Just go ahead and make the cheesecake base and use your imagination to create whatever combination of crusts, flavors, and toppings you love! They will be a big hit, I promise :)
Again, if you don't have a mini cheesecake pan you can always bake these in mini or regular muffin liners instead. Here's the pan I have that I love, but it's definitely not a necessity. Lemon, caramel, berry – whatever your flavor preference, and whatever shape they end up being, you must make these cheesecakes!! C'mon guys, Ryan said they're the BEST ever.
Mini Cheesecakes
Yield: 20 mini cheesecakes
Ingredients:
for the graham cracker crust:
12 graham crackers (about 1-1/2 cups ground)
1/3 cup unsalted butter, melted
*1/3 cup crushed Oreos
for the cheesecake:
16 oz cream cheese, at room temperature
1/4 cup sour cream
3/4 cup granulated sugar
2 large eggs, at room temperature
1 large egg yolk, at room temperature
2 tsp vanilla extract
**2 tsp lemon zest
1/4 tsp salt
*for the salted caramel topping:
1/2 cup granulated sugar
1/2 tbsp light corn syrup
1/8 cup water
1/4 cup heavy cream, heated until warm
1/2 tsp fine grain sea salt, plus more for sprinkling at the end
1/2 tsp pure vanilla extract
**for the berry topping:
1-1/2 cups fresh or frozen berries (if frozen, thaw first)
3 tbsp granulated sugar
1-1/2 tsp cornstarch
1 tbsp water
1/2 tbsp freshly squeezed lemon juice
*for the salted caramel flavor
**for the lemon berry flavor
Directions:
for the graham cracker crust:
In a food processor, pulse the graham crackers until finely ground. If you're doing the Oreo flavor, add the Oreos and pulse until well mixed. Transfer to a medium bowl and add melted butter and mix until smooth. Divide evenly among the mini cheesecake molds and use your fingers or a spoon to compress the crumbs to form a crust. Set aside.
for the cheesecake:
Preheat the oven to 325 degrees. In the bowl of an electric mixer, beat together the cream cheese and sour cream until smooth. With the speed on low, slowly add the sugar. Add the eggs and egg yolk one at a time, and beat until smooth, scraping down the sides of the bowl as necessary. Add the vanilla extract, lemon zest (if doing the lemon berry flavor), and salt and mix again until combined. Distribute the cheesecake evenly among the molds.
Bake for 15-18 minutes. Mine puffed up a lot and then fell after cooling, but this created the perfect little well for the toppings. Let the cheesecakes cool in the pan to room temperature, then transfer to the fridge to chill completely. Once they've been chilled for at least 30 minutes in the fridge, release the cheesecakes from the mold.
*for the salted caramel sauce:
In a medium saucepan, combine the sugar, corn syrup, and water. If you want to use a candy thermometer (I like using it with caramel to make me feel better about the whole process), place it in the pan so the tip is submerged.
Heat the mixture over medium-high heat, stirring constantly, until the sugar dissolves and the mixture is bubbling. Once the mixture is boiling, leave it alone and allow it to boil undisturbed until it turns a deep amber color (about 350 degrees on the thermometer). Your thermometer might be off, so even if it says 350 degrees, you really want to judge by color - here's a good picture of what you're looking for. Once it reaches that color/temperature, immediately remove it from the heat and slowly and carefully pour the hot cream into the caramel. It will bubble up furiously, but this is normal. Use a rubber spatula or wooden spoon to stir the mixture until smooth. Stir in the salt and vanilla extract. Allow the caramel to cool to room temperature, then place about 1-2 tbsp onto each cheesecake. Sprinkle with sea salt. Store in the fridge until ready to serve.
**for the berry topping:
Combine the berries and sugar in a saucepan over medium-high heat. Cook, stirring occasionally, for a few minutes. In a small bowl mix together the cornstarch, water, and lemon juice and whisk until smooth. Add the cornstarch mixture to the blueberry mixture. Bring to a boil, then reduce the heat to a simmer and cook for 2-5 minutes more. Remove from heat and chill in the fridge until ready to use. Once topping is chilled, place about 1-2 tbsp onto each cheesecake. Store in the fridge until ready to serve.
*for the salted caramel flavor
**for the lemon berry flavor