Now that I don't walk past at least 3 Starbucks on my way to work every morning, I've been making a lot more coffee at home. Which is great for my wallet, but I do miss my special caffeinated treats every once in awhile. We have a Keurig and a French press, but it's never quite the same. Until recently! We got a Nespresso machine, and now I can make Americanos in my own kitchen without an extra stop on my commute. (There needs to be more drive-through Starbucks in central CT though, just saying…) I was also given some samples of espresso pods to try from the company Gourmesso and I was immediately inspired to make a cake. Gourmesso is a European company that makes espresso pods that are compatible with Nespresso machines and are made from fair-trade coffee beans with all sorts of varieties and flavors. I used a few of their Soffio Caramello pods to deepen the flavor of this delicious chocolate bundt cake, and also incorporated the caramel flavors further with a salted caramel glaze. I always add espresso powder to my chocolate cakes, so this was another great way to add some coffee flavor and make the chocolate even more decadent.
I made this cake to bring when we visited my Grandma around Christmas time. I was baking A LOT those days, and wasn't really in the mood to do something crazy, but knowing how much she loves chocolate, I didn't want to show up empty handed. That's why bundt cakes are so great – they're simple to make but still look very impressive and can serve a big group. It's always a bit nerve-wracking when you're inverting the pan and hoping everything comes out in one piece, but I had no problems with this recipe so that's a good sign for you too! Oh, and I used a boxed mix for this cake. Yup, I was definitely feeling a bit lazy when I made this. But with a few tweaks the box mix is transformed into something really special, and you'll save yourself a few steps along the way. The glaze is a bit more involved since it's basically a modified caramel sauce from scratch, but if you just follow the instructions step by step, you'll have no problem at all.
I realize last week I also posted a salty chocolate treat, but recently I can't get enough of the salty/sweet combination. You'll see the flavors of salted caramel, espresso, and chocolate together a lot for a reason – they all complement each other so wonderfully, and this cake will prove that! Thanks to Gourmesso for providing me with the espresso for this recipe, I'm very excited to continue drinking and baking with their great variety of espresso products. I'm definitely a convert, so please check them out if you're an espresso lover too.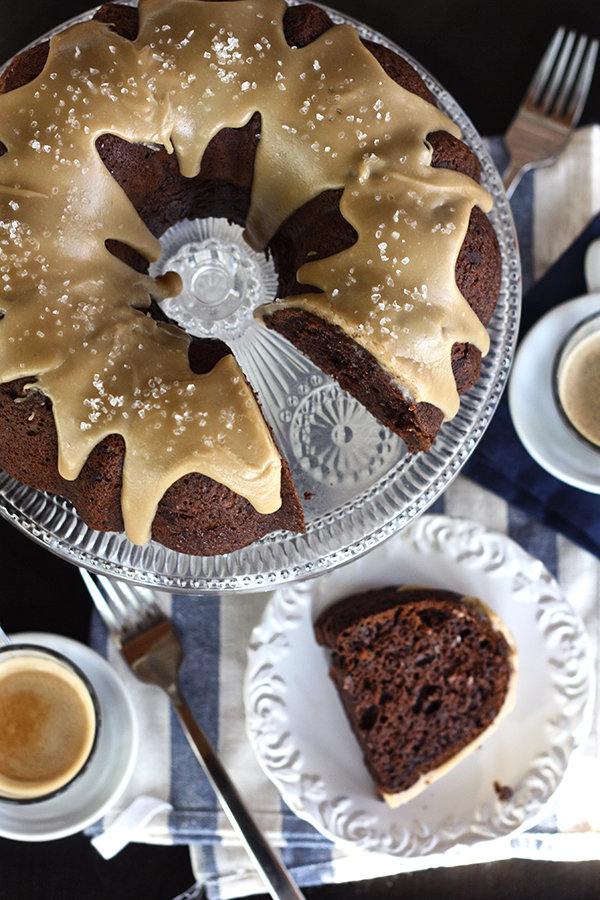 Salted Caramel Chocolate Espresso Bundt Cake
Ingredients:
for the chocolate espresso bundt cake:
1 box Devil's food cake mix
1 box instant chocolate pudding mix (3.4 ounce box)
1 cup plain Greek yogurt
4 large eggs
1/2 cup vegetable oil
1/2 cup espresso, cooled*
1/2 cup water
1 cup semisweet chocolate chips
for the salted caramel glaze:
5 tbsp unsalted butter
1/2 cup light brown sugar, packed
1/3 cup heavy cream
1/8 tsp salt
1/4 tsp vanilla extract
2/3 cup powdered sugar
Sea salt for sprinkling
*If you don't have an espresso machine, just mix 1 tsp of espresso powder with 1/2 cup of boiling water and stir until dissolved
Directions:
for the chocolate espresso bundt cake:
Preheat oven to 350 degrees and generously spray a 12 cup bundt pan with nonstick spray. In a large mixing bowl, combine the cake mix, pudding mix, yogurt, eggs, oil, espresso, and water. Beat on low for 1 minute and then beat 2 minutes on medium. Add the chocolate chips and incorporate with a rubber spatula until evenly distributed. Transfer batter to prepared pan and spread evenly with a spatula. Bake for 45-50 minutes, or until a cake tester comes out clean. Allow cake to cool in the pan for 20 minutes, then gently invert onto a wire rack to cool completely.
for the salted caramel glaze:
Combine the butter, brown sugar, heavy cream and salt in a medium saucepan and heat over medium-high heat until the mixture begins to boil, stirring constantly. Once the mixture starts to boil, allow it to boil as you continue to stir for one minute (time it!). After one minute, remove from heat and stir in the vanilla extract. Then add the powdered sugar and whisk until smooth. You can add more powdered sugar if you'd like a thicker glaze, or a splash of cream if you want it thinner. Pour caramel glaze over cooled bundt cake and sprinkle with sea salt.