Last week we had our first coating of snow here in Connecticut and after that morning commute I already declared I was done with winter. Granted my commute is 8 minutes, the accumulation was less than 2″, and I drive an SUV with 4-wheel drive, I still hate it! Life in NYC during the winter definitely had its perks – no shoveling, no scraping the ice off windshields, no risking your life on the dangerous icy roads. And although I don't miss some of the blisteringly cold morning walks to the subway, I really think the snowy weather is much more annoying in the suburbs. And after a strangely warm December, we are just starting to suffer the blistering cold that New Englanders expect this time of year. No more holiday lights, cheery carols, or countdowns to the new year to make the cold weather bearable, just strict resolutions and sub-freezing temps. Am I whiney? YES. Does this complaining help anything? NO. But I did make some hot chocolate on sticks to help us all feel a bit better about the reality of January!
As you may have already guessed, I made these last month as Christmas gifts for a bunch of the girls at work but am sharing them with you a little late. You see variations of "hot chocolate on a stick" all over blogs, and it really is an ingenious idea. Good quality dark chocolate, sugar, and sea salt are mixed together and set on wooden spoons so you can just add warm milk for a decadent, homemade winter treat. I love the idea of using the wooden spoons instead of lollipop sticks too so the mixing is even easier, and it makes them really adorable for gifting. I originally planned on making some homemade marshmallows to go along with these which would have been amazing, but the holiday craziness got the best of me and I never got a chance. Either way they made really cute gifts, especially paired with personalized mugs and some festive decorations.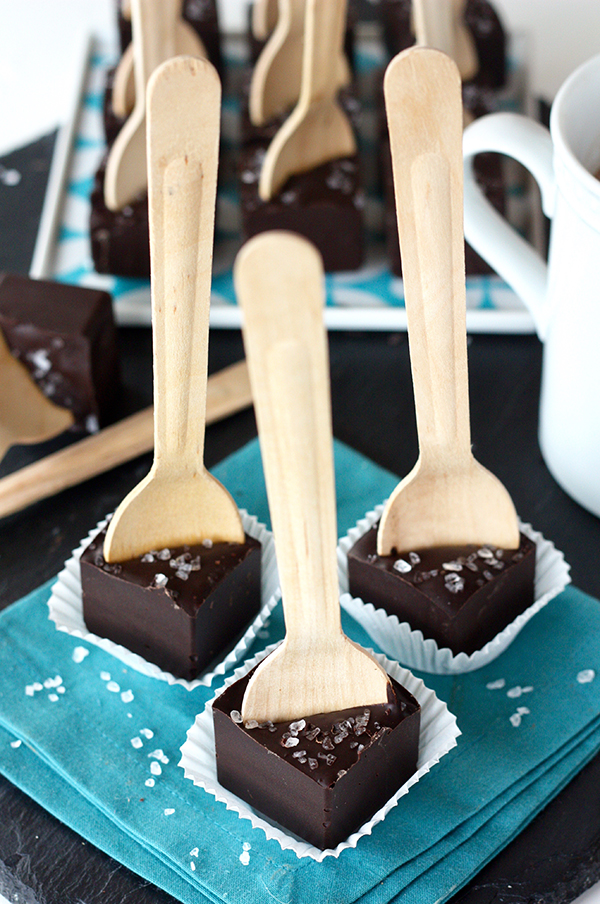 Even if it's not Christmas these still make great gifts for a winter themed birthday party, sleepover, or Valentine's Day too. As long as it's cold outside, everyone wants hot chocolate, especially if it's homemade! I decided to do these with all dark chocolate and a sprinkling of sea salt to make them a bit more sophisticated than your average hot chocolate. If you like a sweeter hot chocolate, use a mixture of semisweet and milk chocolate, or just add a bit of sugar to your dark chocolate batch. We have just about 3 tough months of winter ahead, and I'm definitely going to need all the hot chocolate I can get!
Sea Salt Dark Hot Chocolate on a Stick
Yield: 16 hot chocolate sticks
Ingredients:
16 oz good quality chocolate, chopped (I used 72% cacao)
1/3 cup cocoa powder (I used Hershey's Special Dark)
3/4 cup + 2 tbsp powdered sugar
1/8 tsp salt
Sea salt for sprinkling
Wooden spoons
Silicone ice cube tray
Directions:
In a large bowl, melt the chocolate in a double boiler or in the microwave in 30 second intervals until completely smooth. Add the cocoa powder and powdered sugar and keep mixing until well combined.
Transfer chocolate to a piping bag or ziploc bag with the corner snipped off and fill the molds almost to the top with chocolate. Tap the molds on the counter to evenly distribute the chocolate. Sprinkle with sea salt and gently insert a spoon into each mold. Transfer molds to the fridge to speed up the setting of the chocolate, it should take about 30 minutes.
Once set, gently remove the chocolate/spoons from the mold. They can be wrapped individually and stored at room temperature. To prepare the hot chocolate drink, place the hot chocolate stick into about 6-8 ounces of hot milk and stir until melted. If you're feeling extra decadent you can also add some half and half!