STRAWBERRY SEASON!! When you're an avid baker, it's certainly something to celebrate. I have been obsessing over how pretty the strawberries have been in the grocery store, and so of course I jumped at the chance to make something fancy with them. I'm still enamored with the naked layer cake look, so I decided to make another naked strawberry layer cake, but this time with sponge cake layers and a more rustic design on top. Thankfully even though it looks fancy, naked cakes are some of the easiest ones to make – this one included!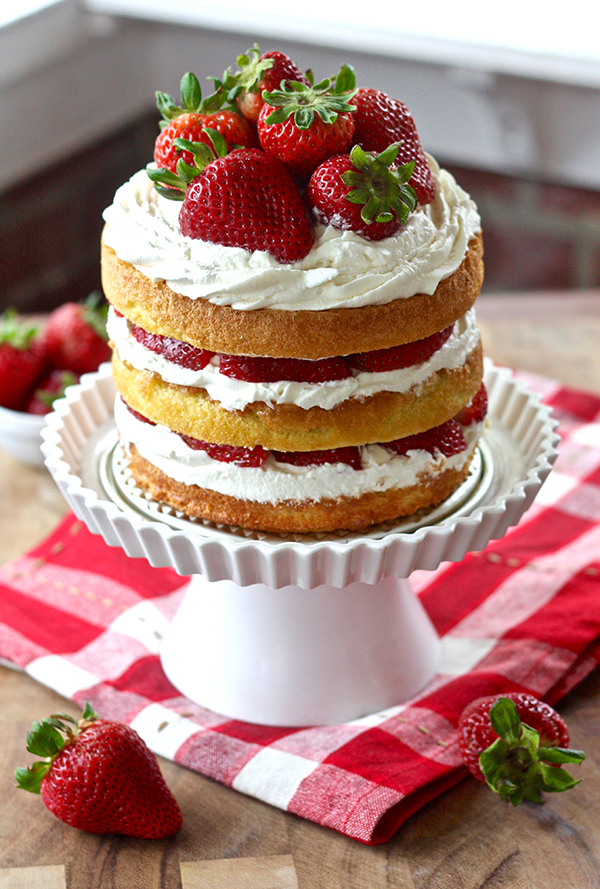 My parents didn't do a lot of homemade baking growing up, but one dessert that we often had was strawberry shortcakes. We bought the sponge cakes that came in the little packages by the produce section and definitely used Cool Whip instead of real whipped cream, but I loved it all just the same. I made this cake for my Dad's birthday last weekend as an ode to our family favorite, but with a homemade Sweet Tooth spin. And since it was just a birthday celebration with our immediate family, I opted for a 6″ cake with three layers to get maximum height and drama without making a ginormous cake. I loved the way it came out!
I tried a from-scratch sponge cake recipe for this creation, but you could very well use a vanilla cake mix to achieve a similar look and taste. And as I mentioned above, I don't discriminate against Cool Whip if that's your thing. But a few minutes in a mixer with just a bit of sugar and vanilla makes for some pretty special homemade whipped cream! Give it a try and let those beautiful strawberries shine as they should this time of year :)
Strawberry Shortcake Layer Cake
Ingredients:
for the sponge cake:
6 eggs, at room temperature
3/4 cup of granulated sugar
1 tsp vanilla extract
2 tsp lemon zest
1 cup all purpose flour
2 tbsp unsalted butter, melted
for the sweetened whipped cream:
2 cups heavy whipping cream
1/4 cup powdered sugar
1/2 tsp vanilla extract
1 lb fresh strawberries, sliced
Directions:
for the sponge cake:
Preheat the oven to 350 degrees and spray 3, 6-inch round cake pans with non-stick spray.
In the bowl of an electric mixer, beat together the eggs, sugar, vanilla, and lemon zest. Beat for about 10 minutes on medium-high speed, until the mixture becomes pale in color and has almost tripled in volume.
Slowly add the flour and use a rubber spatula to gently fold it in evenly. Then add the melted butter and also gently fold. Divide the batter evenly among the 3 cake pans and gently tap the pans on the counter to release any large air bubbles.
Bake the cakes for 15-20 minutes, or until a cake tester comes out clean and the edges start to separate from the pan. Allow the cakes to cool in the pan for 5 minutes, then transfer to a wire rack to cool completely.
for the sweetened whipped cream:
Place whipping cream in the bowl of an electric mixer fit with the whisk attachment and beat on high speed until stiff peaks form. Add the powdered sugar and vanilla extract and beat again for another minute. Transfer whipped cream to a piping bag fit with a large star tip.
Place one layer of cake on your desired cake plate, then pipe a ring of whipped cream along the edge and fill it in with more whipped cream. Arrange a layer of sliced strawberries on top of the whipped cream and repeat with the next cake layer. I chose to decorate the top with whole strawberries - but you could do sliced too!