I may have gone 100% over the top with this one, but I just couldn't stop myself once the idea got into my head. A party dip for your New Year's Eve party that looks like a disco ball! I really wanted to make something cute and festive for New Year's since I've ignored the holiday on the blog the past few years, and this is what I came up with. It's funfetti cheesecake dip (sprinkles for extra celebration!) shaped into a ball, and covered with silver-dusted fondant squares to resemble the famous Times Square ball. I styled it served on a shiny silver platter with a sequined table cloth, and now all that's missing is the champagne!
I wanted to make something that would be perfect to bring to a New Year's Eve party and please a large crowd of nibblers. To be honest, my favorite way to celebrate NYE is just at a house party with friends, sipping champagne, playing games, and ringing in the new year casually. And of course you need plenty of great finger food for that type of party, and this dip would definitely make the cut. Last year I celebrated with Ryan at a fancy restaurant in Cape Town overlooking fireworks, which was certainly memorable, but sometimes a night in with friends can be just as great. This year we're getting fancy again and going to an event with a group of friends that includes filet and lobster, a cigar bar, and I'm guessing no funfetti dip shaped like a disco ball. But hopefully the open bar and band will help make up for that!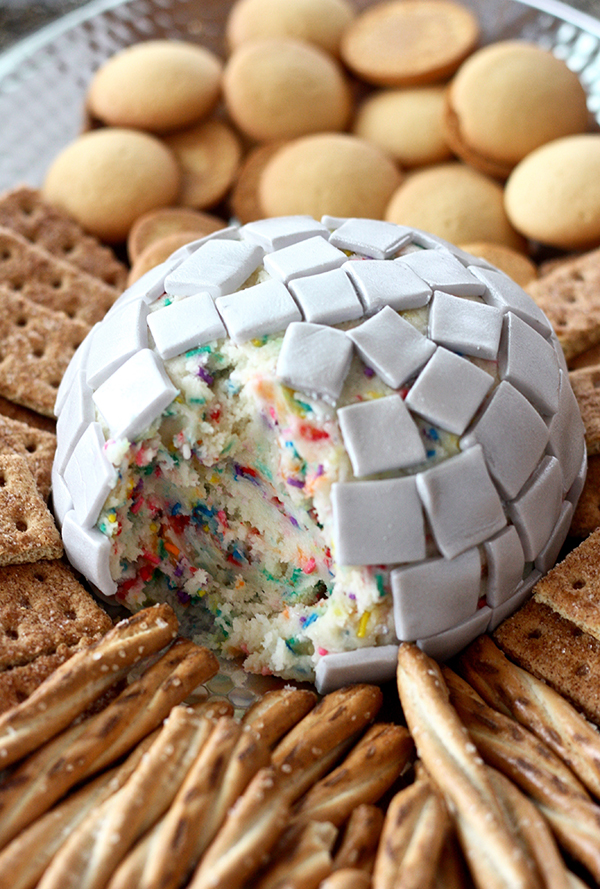 However you're planning to ring in 2016, I hope it's a happy and safe one. I know very few of you are going to bust out your fondant rollers to make a disco ball dip for Thursday night, but just in case – here's some inspiration. I dyed white store-bought fondant grey with a drop of black food coloring, and then rolled it out, cut squares, arranged them on the ball of dip, and painted the squares with some silver luster to give it shine. If you use your imagination and squint just right it definitely looks like a disco ball, or if you have Star Wars on your mind it might be more Death Star-esque, or even an igloo per Ryan. But even if you forgo the disco decoration and serve up the funfetti cheesecake dip on its own, I promise it will still be a huge hit and the sprinkles add enough pizzazz to celebrate 2016!
Disco Ball Funfetti Cheesecake Dip
Ingredients:
for the funfetti cheesecake dip:
8 oz cream cheese
1/2 cup unsalted butter, at room temperature
1-1/2 cups Funfetti cake mix
3/4 cup powdered sugar
1/2 tsp vanilla extract
1/3 cup milk
3/4 cup rainbow sprinkles
for the disco decoration:
White fondant (I used store bought)
Black food coloring
Silver luster dust
Clear vanilla extract
Directions:
In the bowl of an electric mixer, beat together the cream cheese and butter until smooth and fluffy. Add the cake mix, powdered sugar, vanilla extract, and milk and beat for about 1-2 minutes until everything is well mixed. Add the sprinkles and mix again until just distributed evenly.
Transfer the dip to a piece of plastic wrap, form a rough ball shape, and wrap tightly. Store in the freezer for about an hour to firm up, this will allow you to form a ball shape as best as possible.
While the dip is firming up, prepare the fondant decorations. Add a drop of black coloring to the white fondant and work the dough until the color is evenly distributed. I like to wear rubber gloves when doing this otherwise you'll get food coloring all over your hands. Dust a surface lightly with powdered sugar and roll out the fondant so that it's about 1/4" thick. Use a sharp knife to cut out squares of grey fondant, you'll need mostly one size but a handful of smaller ones for the top layers.
Transfer the chilled dip to your desired serving platter and start arranging the grey tiles of fondant on top, starting with a ring around the bottom. Keep adding squares until you cover the entire ball of dip. I used smaller squares for the top to mimic an actual disco ball.
In a small bowl mix together a few drops of clear vanilla extract with some silver luster dust. Use a paint brush to apply the luster dust on all of the gray squares to add some shine. Store in the fridge until ready to enjoy, and serve with pretzels, cookies, and/or graham crackers.