I couldn't get through the holiday season this year without at least one post to celebrate Piper's first Christmas! Our little puppy is now almost 5 months old and growing like a weed. She looks SO different from the last post I featured her in, but still unbelievably cute. We're getting a lot more sleep, she doesn't nip hardly at all, she knows a few tricks, and she's completely potty trained – Merry Christmas to us! When I got an email from Cookie Cutter Kingdom asking if I was interested in trying out any of their cookie cutters, I jumped at the opportunity to order a custom cookie cutter for Piper. I've seen homemade dog treat recipes online before and I was excited to try one for myself, and now that I had the custom cutter, it was only a matter of time before I lunged into full crazy dog lady mode.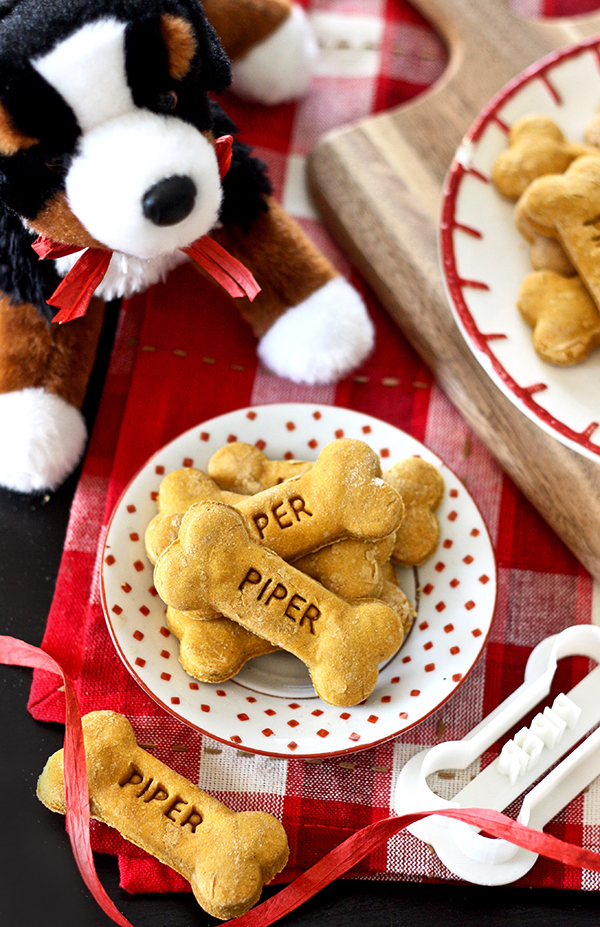 Ryan and I are pretty picky with what kind of food Piper gets, and we like to know all of the ingredients in the food she eats. So being able to make treats that I had complete control over (and could customize with her name!), and that she also LOVED, was such a success for me. There are only 4 simple ingredients involved, and they're all safe and healthy for dogs – whole wheat flour, pumpkin puree, eggs, and peanut butter. Just make sure the peanut butter you use doesn't have any sugar substitutes and you're good to go for most dogs without allergies. I tried the cookies myself and the lack of sugar makes them quite unappealing to humans, but Piper went crazy for them. She's learned sit, paw, down, and stay so far – and yummy treats help motivate her to learn more and more! She's 100% food-driven so that definitely makes training a bit easier. Here she is staying in "down" for her photoshoot and looking so freakin' adorable I could eat her.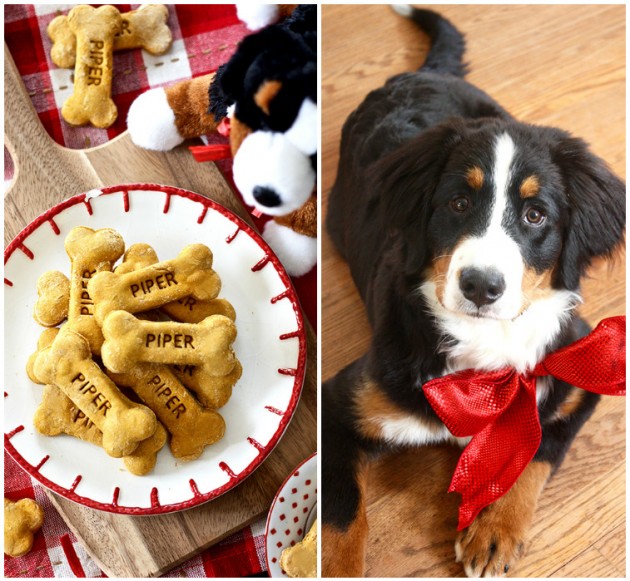 If you're a crazy dog person like I am now, you're going to have to get a custom cookie cutter for your puppy. They don't have Bernese Mountain Dog cutters yet, but you have to check to see if your breed made the cut. If not, the dog bone one I used or a paw cutter are still great options. The company uses 3D printers to make the cookie cutters, so they're completely customizable. I had so much fun with these, and it just makes perfect sense that the furry daughter of a dessert blogger has her own custom cookie cutter. I realize I'm sharing these with you a bit late for Christmas treats, but keep them in mind for next year or a birthday! Piper certainly won't be forgotten when Santa comes to town later this week :)
Homemade Cut-Out Dog Treats
Ingredients:
2/3 cup pumpkin puree
1/4 cup peanut butter
2 large eggs
3 cups whole wheat flour
Directions:
Preheat oven to 350 degrees and line 2 baking sheets with parchment paper of a Silpat mat.
In the bowl of an electric mixer, beat pumpkin puree, peanut butter, and eggs on medium high speed until fluffy, about 2-3 minutes. With the mixer on low speed, add the flour and beat until just incorporated.
Lightly flour a working surface and knead the dough until it comes together. Roll out dough so it is 1/4" thick and cut with cookie cutters. Place on a prepared baking sheet, leaving about 1" in between each cookie. Bake for 20 minutes, or until edges just start to turn brown. Cool on the pan for 5 minutes, then transfer to a wire rack to cool completely.