Oh hi, remember me!? It's be a tough few weeks in my personal and professional life, but nothing makes me feel more like myself than getting in the kitchen and baking something sweet. I finally have free time now that my oral board exam is over, and I'm hoping to get back into the swing of things with semi-regular posting. If anything, at least this post is an excuse to share a photo of Piper! This weekend marks the one year anniversary of bringing her home, so I thought it would be fitting to share these "pupcakes" I made over the summer for her first birthday.
Bernese mountain dogs don't do very well in the heat (hello, giant fluffball!), so she is certainly happy the temperatures have slowly been dropping recently. Since her birthday falls right in the dog days of summer (July 31), I thought a frozen treat would be right up her alley. But not just a simple cup of doggy ice cream for my puppy – an ice cream cupcake with dog-friendly frosting, peanut butter drizzle, and even a decorative sprinkle of crushed up treats. Can you tell by her smile that she was excited??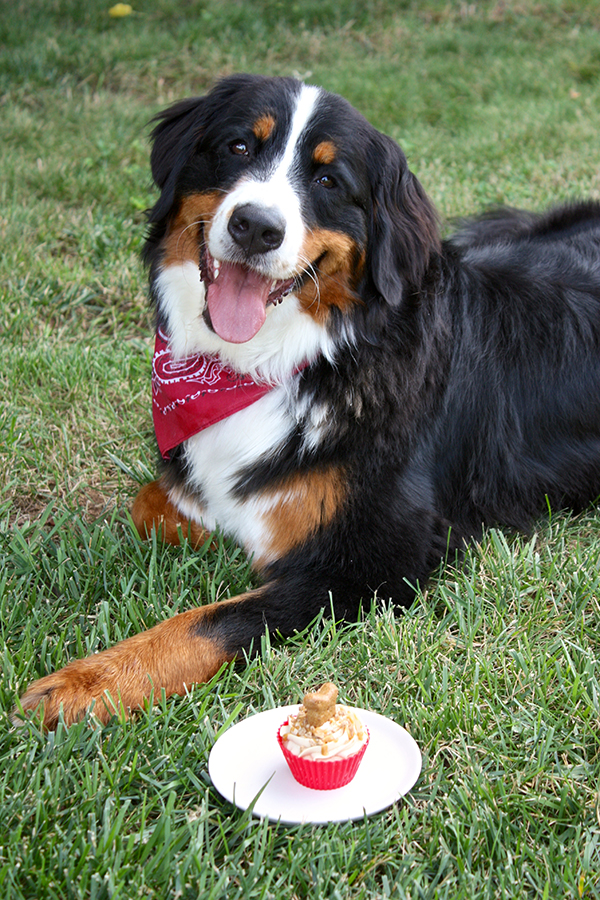 Also, let's be real – the only way I captured the above photo was because Ryan was right behind me dangling a treat over my head and the camera. Maybe it's some sort of torture to tempt her for a beauty shot, but look how pretty she looks! #worthit. And she got the chance to devour that treat shortly after, so no complaints. If you have a furry friend to celebrate, I highly recommend this fun treat. We couldn't imagine life without our sweet girl Piper one year later, and we're happy to celebrate her any way we can!
Peanut Butter Ice Cream "Pupcakes"
Ingredients:
for the peanut butter dog-friendly ice cream:
32 oz plain Greek yogurt
2 tbsp all-natural peanut butter
Single serving sweet potato baby food
for the dog-friendly frosting:
8 oz cream cheese
1/2 all-natural peanut butter
for decoration:
3 tbsp all-natural peanut butter
8 dog bone treats, divided
Directions:
for the peanut butter dog-friendly ice cream:
Make sure your ice cream maker has been in the freezer for at least 8 hours. Beat together the yogurt, peanut butter, and sweet potato baby food until smooth. Transfer to the ice cream maker and process the mixture for 25 minutes, or according to the manufacturer's directions. Portion the "ice cream" into 12 silicone baking cups and place in the freezer overnight.
for the dog-friendly frosting:
In the bowl of an electric mixer, beat together the cream cheese and peanut butter until smooth and creamy. Transfer frosting to a piping bag fit with a large star tip and top each cupcake with a swirl of frosting.
for decoration:
Melt the peanut butter in the microwave for about 30 seconds and drizzle over each cupcake. Crush up 2 dog treats and sprinkle while the drizzle is still wet. Cut the remaining dog treats in half, and insert a half bone into the frosting of each cupcake. Store in the freezer until ready to serve. I recommend popping the ice cream out of the mold before serving to your dog - you don't want them to accidentally ingest that!