This dessert is almost too embarrassingly easy to share here, but I have a feeling a number of you will appreciate the simplicity of this treat as much as I did. I know I say it every single summer, but any dessert that doesn't involve turning on my oven in the summertime is one I love. For the first time in our adult lives, Ryan and I have a grill at our house, and we're quickly becoming BBQ-addicts. We're working on our skills, getting acquainted with this new form of cooking, and loving hanging out in the backyard with Piper as we prepare dinner, rather than sweating together inside. Now we totally get what all the grilling hype is about! And it comes as no surprise that I quickly found a dessert that could be prepared with this new-found love of ours, enter: grilled s'mores banana boats.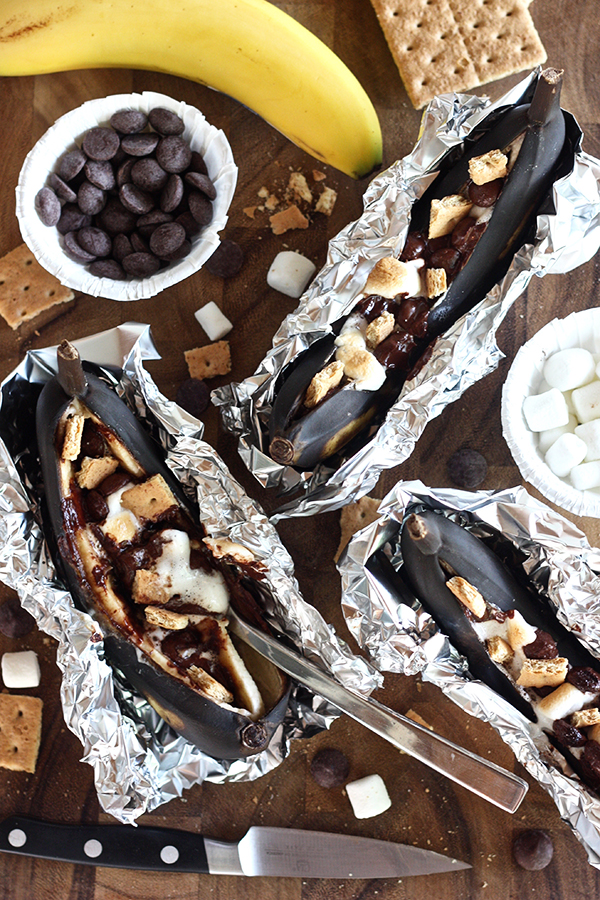 Of course roasting big marshmallows over the open grill flame to make actual s'mores is pretty amazing, but we're taking it one step further here by adding the taste and fun of grilled bananas. A banana is cut down the middle (but not all the way through) and then gently pried open a bit to squeeze in a layer of chocolate chips, mini marshmallows, and then a few more chocolate chips too. I made little stabilizing boats out of tinfoil to steady the bananas on the grill so they didn't fall over. A few minutes with the grill lid closed turns these bright yellow boats into dark, charred, melty pockets of deliciousness. If you love the taste of roasted bananas, this dessert will be right up your alley!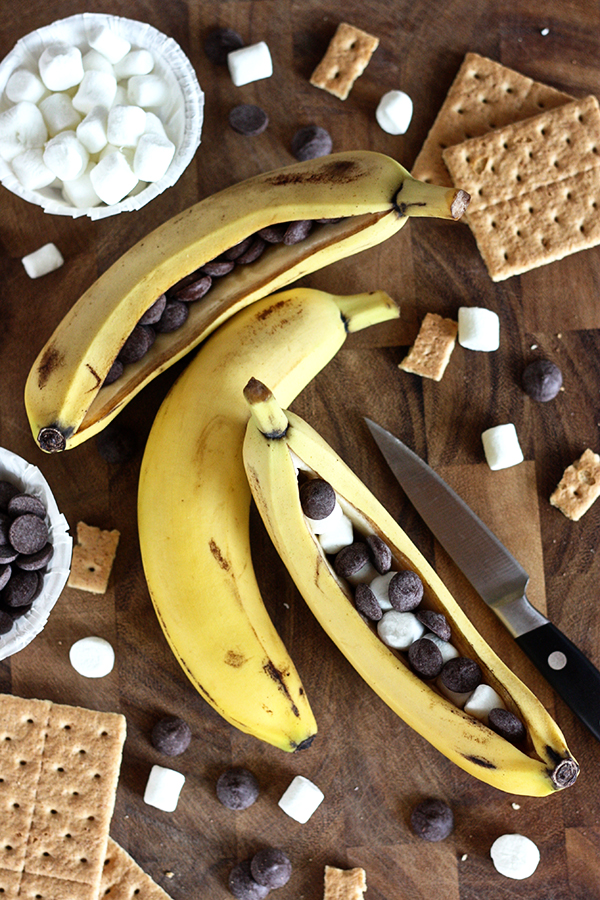 The chocolate chips melted very nicely and the marshmallows even toasted a bit to get some of that beautiful golden color we all crave with s'mores. I added graham cracker bits on at the end for a little crunch, and served them in bowls with spoons and a side of vanilla ice cream (not pictured!). If you're grilling up dinner this weekend, grab a few bananas and some s'mores toppings because this dessert is SO easy and perfect for rounding out a delicious meal enjoyed outside. I'm all about no-fuss recipes in the summer, and this one ranks up there as one of most non-fussiest ever.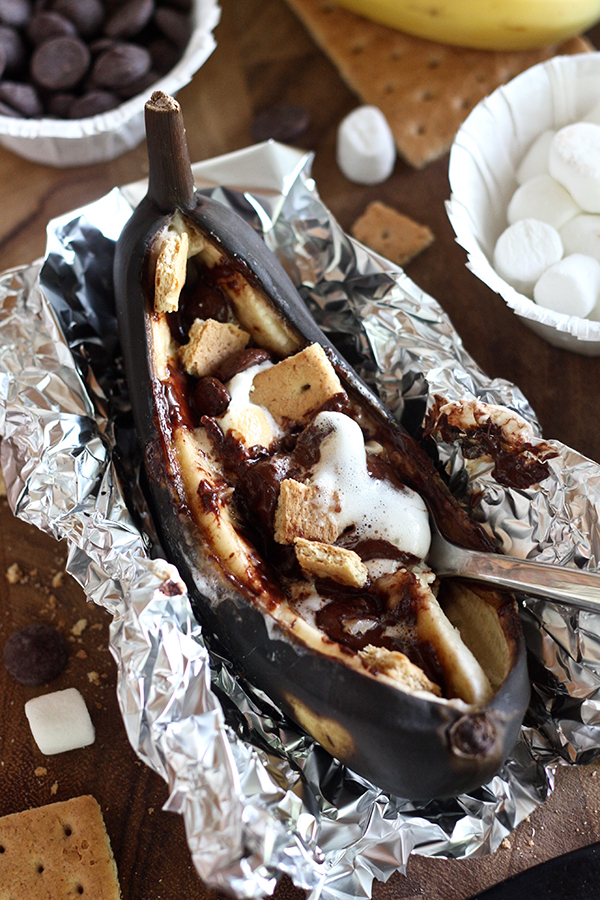 Grilled S'Mores Banana Boats
Ingredients:
4 medium bananas
1 cup chocolate chips
1 cup mini marshmallows
2 graham crackers, chopped
Vanilla ice cream, if desired
Directions:
Preheat your grill to medium high heat. Slice each banana length-wise to make a deep slit in each one, without cutting all the way through the banana. Use your fingers to gentry pry open the banana a bit more and stuff in a layer of chocolate chips towards the bottom. Add another layer of mini marshmallows, followed by a few more chocolate chips. Repeat with the remaining bananas.
Use tinfoil to create a little stand for each banana so they will sit flat on the grill. Gently place each banana onto the grill, place the cover down, and allow them to cook for about 5 minutes. You want the peel to turn black, the chocolate chips to be melty, and the marshmallows slightly golden brown. Transfer cooked bananas from their tinfoil stands to separate plates with tongs, and top with chopped graham crackers and a scoop of vanilla ice cream.