Every July I celebrate the abundance of peaches and nectarines with a complete over-indulgence of all stone fruits for as many weeks as possible. But somehow there are very few peach recipes featured here on the blog. Most likely because I prefer to eat my peaches and nectarines straight from the fridge, but with enough crumb topping I will happily eat peaches in bar form as well. Not surprisingly I also enjoyed these bars the most after they chilled in the fridge for a day, but they could also be enjoyed warm or at room temperature with a scoop of vanilla ice cream!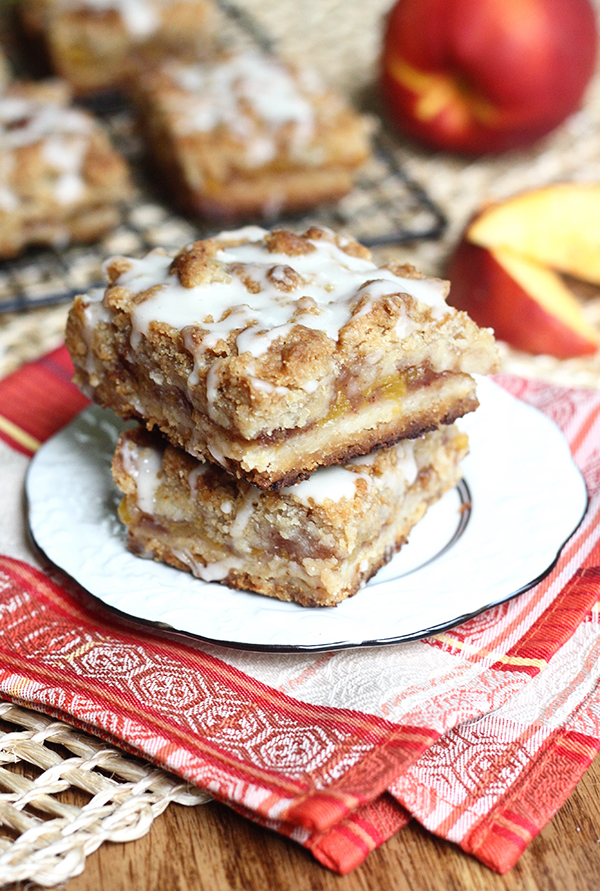 Baking with seasonal produce is always a favorite of mine, particularly if I can get the fruit locally. Although I haven't been berry or fruit picking yet this summer, I especially love baking with fruit I picked myself! This summer Ryan and I are doing a CSA from a local farm, but only vegetables are provided. Looking forward to making some zucchini bread soon with the over-abundance of squash and zucchini that July and August bring. The peaches I used to make these bars came from the grocery store, but next time I'm going peach picking and throwing together another batch of these!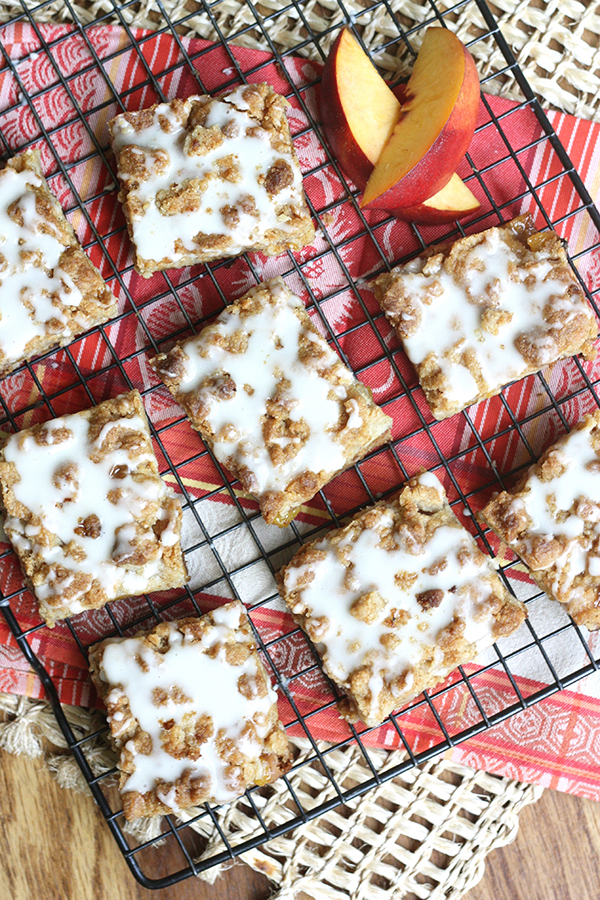 Showing up to a summer BBQ with a platter of peach crumb bars will always be well received, especially if you have a pint of vanilla ice cream in tow as well. I was randomly in the mood to bake last weekend (I definitely don't bake as often as I used to!!) and made these for a casual family BBQ. They were easy to put together, featured seasonal fruit, and made the perfect sweet treat for the end of an al-fresco summer meal. Grab some peaches from a tree, a farm stand, or a grocery store and celebrate the deliciousness of summer peaches at your next gathering!
Peach Crumb Bars
Ingredients:
for the crust:
1 cup all purpose flour
1/2 cup powdered sugar
1/4 tsp salt
1/2 cup unsalted butter, melted
for the crumb topping:
1 cup all purpose flour
1/2 cup light brown sugar
1/8 tsp salt
6 tbsp unsalted butter, melted
1/2 tsp pure vanilla extract
for the peach layer:
2-1/2 cups peach chunks (from about 4 large peaches)
1/3 cup light brown sugar
3 tbsp cornstarch
3/4 tsp cinnamon
pinch of salt
for the glaze:
1 cup powdered sugar
1 tsp pure vanilla extract
pinch of salt
6 tsp milk
Directions:
Preheat the oven to 350 degrees and line an 8"x8" pan with parchment paper.
For the crust, whisk together the flour, powdered sugar, and salt in a medium bowl. Stir in the melted butter and mix just until no more streaks of flour remain. Transfer dough to the prepared pan and pat it down until it's distributed evenly onto the bottom of the pan. Bake for 12-14 minutes, turning the pan halfway through, until lightly browned around the edges. Allow the crust to cool for at least 15 minutes while preparing the rest of the recipe.
While the crust is baking, prepare the topping by mixing together the flour, brown sugar, and salt in a medium mixing bowl. Stir in the melted butter and vanilla extract until just combined. Set aside.
Peel and cut the peaches into 1/2" chunks. Add the brown sugar, cornstarch, cinnamon and salt and stir until evenly coated. Pour the peach layer evenly over the top of the baked crust and sprinkle the topping over the peach layer. Bake for 45-50 minutes or until the topping has browned and the peaches are bubbly. Cool completely before adding the glaze.
For the glaze, mix the powdered sugar, vanilla extract, and salt together until well combined. Add the milk and stir. Spoon the glaze over the cooled bars. Store the bars in an airtight container for up to 3 days.