Today marks the 10th (!!!) anniversary of my first blog post here on Erica's Sweet Tooth. Let's not focus on the fact that this is also my first blog post of 2019, because I couldn't let this huge milestone pass without recognition here on the blog. Ten years ago I was gearing up for my first big exam in dental school and decided to start a dessert blog to feature some of the recipes I had been busy baking in an effort to procrastinate. That first post featured white chocolate craisin cookies with some real amateur food photography (that I thought was STUNNING at the time) and even a snapshot of some of my biochemistry notes. And here I am now, 455 posts later – married to my boyfriend from those days, mother to a 3-week year old perfect baby boy (more on that another time), and a pediatric dentist with my very own practice aptly named Sweet Tooth. It's been a wild and very "sweet" 10 years and I'm so thankful to have all these posts, recipes, and memories to reflect back on through my blog!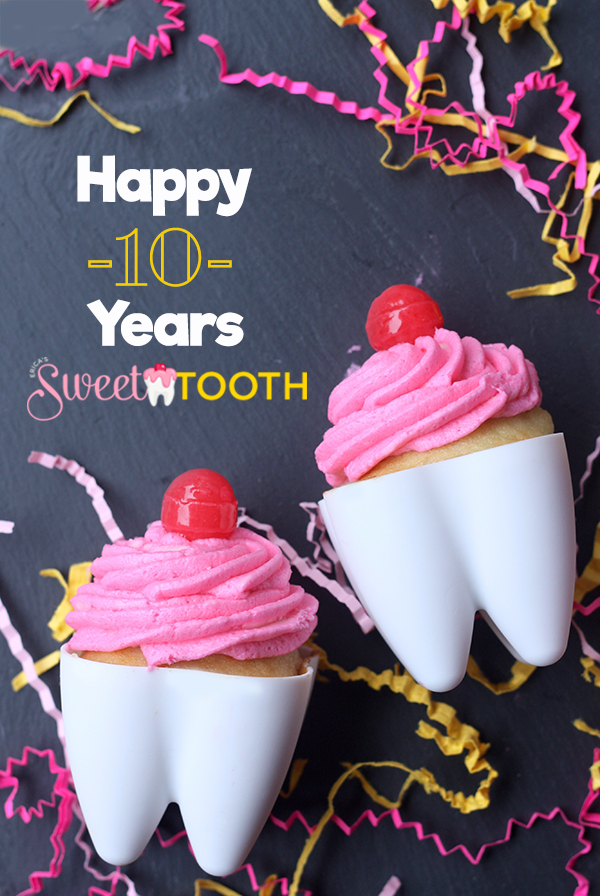 And just like I started this blog right before my first big exam of dental school, I'm throwing up this post on my newborn baby's 3 week "birthday". Because who doesn't bake tooth-shaped cupcakes that look like your blog's logo in between nursing sessions during maternity leave?? Thankfully I followed a wonderful recipe from Christina of Dessert for Two for small batch funfetti cupcakes (it only yields a total of 4 cupcakes) so the task wasn't too daunting. Someone gifted me these tooth shaped silicone cupcake liners years ago, and I thought they would be a perfect way to honor Sweet Tooth's 10th blogoversary. So I whipped up the funfetti cake batter, a few swirls of pink frosting, and stuck cherry Dum-dums in for decoration. I dusted off my Canon and snapped a few photos to honor the occasion – I really missed the whole process!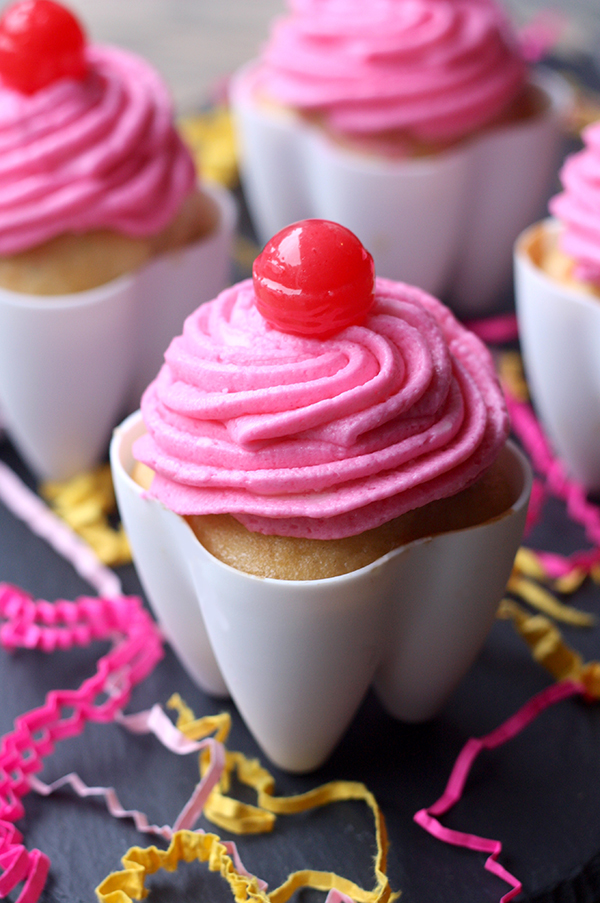 Even though I've been less than active with posting on the blog, I still find myself baking in the kitchen constantly. I bake for my staff's birthdays, my family and friends, and sometimes just because, but I rarely get around to taking staged photos to share here. Since I've stepped back, I've noticed the blogging world has changed dramatically since Instagram has taken off, but I never want this blog to go anywhere.  I truly love scrolling through my site, referring back to old recipes, and I can't believe all the great content I've created over the past 10 years. So you may still see me pop on here every now and then with a new post if I find the time between work, motherhood, and everything else that keeps me busy these days! Thank you for reading, for supporting me and this little space on the internet, and for all the love and comments – it's been such a fun part of my life these past 10 years, I couldn't imagine my life without Sweet Tooth!
Small Batch Funfetti Cupcakes
Ingredients:
for the funfetti cupcakes:
1/4 cup vegetable oil
1/4 cup granulated sugar
1/2 teaspoon vanilla extract
1 large egg white
2 tbsp sour cream
6 tbsp all purpose flour
1/2 tsp baking powder
Pinch of salt
2 tbsp rainbow sprinkles
for the buttercream frosting:
4 tbsp unsalted butter, at room temperature
1 cup powdered sugar
1 tbsp heavy cream
1/2 tsp vanilla extract
4 cherry Dum-dum lollipops, for decoration
Directions:
for the funfetti cupcakes:
Preheat the oven to 350 and line four muffin tins with cupcake liners (or use silicone liners like I did). In a medium bowl, whisk together the oil, sugar, and vanilla extract. Add the egg white and sour cream and whisk until well combined.
Sprinkle the flour, baking powder, salt and sprinkles evenly over the batter, and then stir until just combined. Divide the batter evenly among the liners, and bake for 17-20 minutes, or until a cake tester comes out clean.
for the buttercream frosting:
In the bowl of an electric mixer, beat the butter and powdered sugar together until light and fluffy, about 2-3 minutes. Add the heavy cream and vanilla extract and continue to beat for another minute until smooth. Add more cream, if necessary. Once cupcakes are cooled, transfer frosting to a piping bag fit with a large star tip and decorate with swirls of frosting. Stick a Dum-dum lollipop into each frosting swirl for decoration if desired.