Before I jump head first into holiday baking, I just couldn't wait any longer to share the latest version of my beloved cookie stack cakes. Actually it's not exactly the "latest" because I made this cake for a friend's birthday back in September, but Halloween and Thanksgiving have hogged a lot of my blog attention since then. Growing up we were never allowed to put the Christmas tree up until after my Mom's birthday (December 5th – happy birthday Mom!), so I'm honoring my family's tradition this week as an excuse to share a birthday cake instead of a holiday treat. With plenty of sprinkles and sugar, it is definitely still festive enough for this time of year, especially if you just switch up the color of the sprinkles for whatever holiday you're celebrating!
This is my third cookie stack cake creation – the first being my M&M cookie stack cake and the second was the caramelized banana cookie stack cake that I still dream about. I can't recommend this whole concept enough for parties and celebrations, it's all the deliciousness of a cookie with frosting made with total party-worthy presentation. I've realized recently that I definitely prefer cookies and brownies over cake and cupcakes, so this idea of a cookie cake is definitely right up my alley. Plus when you slice this baby you get such a great cookie to frosting ratio that can't be compared to traditional cookie cakes. Rustic looking cakes are all the rage these days anyway, so this style of naked stacked cookies is as trendy as it is yummy!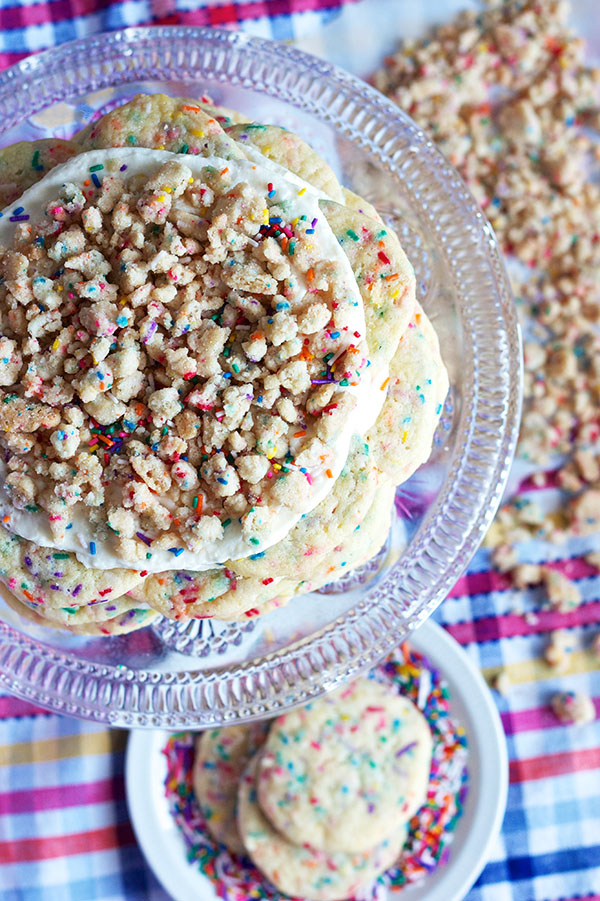 The beautiful crumbs you see on top of my cake aren't cookie crumbs, but actually Momofuku Birthday Cake crumbs that I made at home. I've had the Momofuku Milk Bar Cookbook for years and love looking through it, but this was my first time actually trying one of the recipes. Usually I'm too intimidated or don't have the particular ingredients on hand to tackle a Milk Bar recipe, but I took some baby steps and tried the cake crumbs for my cake topping. OMG! I'm so silly for not trying this sooner – they were amazinggg, definitely the showstopper of this cookie cake in my opinion. I love Momofuku's birthday cake truffles and their original birthday cake that features these crumbles, so it was an easy choice to try at home. Thankfully the recipe doesn't call for anything too weird, and they definitely have the distinctive box mix flavor Christina Tosi tried so hard to emulate (clear imitation vanilla extract may be the secret!). Thankfully the recipe made more crumbles than I needed for the topping because I couldn't stop snacking on them!
The cookies themselves are a soft bake sugar cookie recipe made into funfetti with the addition of plenty of sprinkles. The recipe comes from Sally of Sally's Baking Addiction so you know it's good! And the cookies definitely bake up softly so there's no issues cutting through a big stack of them. There's a lot of sweetness going on here as well, so I went with a simple whipped vanilla buttercream that is a little lighter than an average frosting. Ryan still thinks these cakes look messy and more specifically, like "unicorn poop", but they always get rave reviews whenever I bring them to a party and I love that it's crazy, colorful, and imperfect. With some green and red sprinkles it'd be the perfect Charlie Brown cookie cake for your Christmas spread!
Funfetti Cookie Stack Cake
Ingredients:
for the funfetti cookies:
1 cup unsalted butter, at room temperature
1-1/2 cup granulated sugar
2 large eggs, at room temperature
2 tsp vanilla extract
3 cups all-purpose flour
1/2 tsp salt
2 tsp baking powder
1 tsp baking soda
2 tsp cream of tartar
1 cup sprinkles
for the whipped vanilla buttercream:
1-1/2 cups + 2 tbsp unsalted butter, at room temperature
3 cups confectioners sugar
Pinch of salt
2 tbsp vanilla extract
2 tbsp heavy cream
for the birthday cake crumbs:
1/2 cup granulated sugar
1 1/2 tbsp packed light brown sugar
3/4 cup cake flour
1/2 tsp baking powder
1/2 tsp salt
2 tbsp rainbow sprinkles
1/4 cup vegetable oil
1 tbsp clear imitation vanilla extract
Directions:
for the funfetti cookies:
In the bowl of an electric mixer, beat the butter for about one minute. Add the sugar and continue to beat on medium-high speed until light and fluffy, about 2-3 minutes. Mix in egg and vanilla. Scrape down the sides as needed and beat until well incorporated.
In a medium size bowl, whisk together the flour, salt, baking powder, baking soda, and cream of tartar. With the mixer running on low speed, slowly add the dry ingredients to the wet ingredients. Add the sprinkles and fold in gently with a rubber spatula by hand.
Scoop about 2 tbsp balls of dough and roll into balls. One of Sally's great tips is to make sure the balls are taller, rather than wide so they don't spread too much. Chill the balls of dough on the cookie sheet for at least 2 hours and up to 48 hours in the refrigerator.
Preheat oven to 350 degrees and line baking sheets with a Silpat mat or parchment paper. Bake chilled cookie dough balls for 8 minutes. The cookies will appear undone and very soft. Allow the cookies to cool on the cookie sheets for 5 minutes, then move to wire rack to cool completely.
for the whipped vanilla buttercream:
In the bowl of an electric mixer fitted with a whisk attachment, whip the butter on medium-high speed until smooth. Add the confectioners sugar and mix on medium-low until incorporated.
Add the salt salt and vanilla and beat again on medium-high speed until smooth, about 2-3 minutes. Mix in the heavy cream and beat until just incorporated. Then, increase the mixer speed to high and whip until light and fluffy, scraping down the bowl as necessary, for about 5 minutes.
Transfer frosting to a decorating bag fit with a large round tip or a ziploc bag with the corner snipped off.
for the birthday cake crumbs:
Preheat the oven to 300 degrees and line a baking sheet with a Silpat mat or parchment paper.
In the bowl of a stand mixer fitted with the paddle attachment, combine the sugars, flour, baking powder, salt, and sprinkles on low speed until combined. With the mixer still on low speed, slowly add the oil and vanilla and continue mixing until the mixture resembles small pebbles.
Carefully spread the clusters in a thin layer on the prepared baking sheet and bake them for about 15-20 minutes, breaking up occasionally. Let them cool completely on the pan before using.
for assembly:
See the recipe instructions from this post to see a crude diagram of how to construct the stack. Basically you choose your serving platter and start with a circle of cookies and one in the middle. Add a ring of frosting, and then create another circle of cookies offset by one half cookie. Continue layering until all of your cookies are used up and you're happy with the shape of the cake. You can cut or trim cookies as you wish to make them fit nicely in a circle. Top the cake with a smothering of frosting and pile on the cake crumbs and extra sprinkles. You'll probably have extra crumbs, but they store really well in an airtight container at room temperature for up to one week, or in the freezer for up to one month. I'm sure you'll find another great use for them!