Although our schedules don't always line up, if Ryan and I are eating dinner together at home, we're having red wine, and we're probably having chocolate afterward too.  It might not be the most healthful of habits, but we love whoever said that a bit of red wine and dark chocolate are good for you, because we've surely taken it to heart.  A few weeks ago we took a trip to San Francisco, Sonoma, and Napa and drank more than the recommended amount of wine and had the perfectly healthy amount of fun.  We were joined by a group of my friends and I was practically in heaven with the beautiful weather, lots of great wine, and quality time with some of my favorite people.  The fact that Ryan and I squeezed in a chocolate tasting too made it truly heavenly!  So today I'm commemorating our trip and love for wine and chocolate with these dark chocolate truffles made from ganache infused with Cabernet Sauvignon, one of our favorite varietals.
I actually made these truffles two ways to help show off the versatility of chocolate ganache that allows you to enjoy the flavor of good quality chocolate in either a rustic or elegant way. Ganache is simply a term for the combination of chopped chocolate and hot cream that can be used when it's warm and melty to drizzle over a cake, when it's slightly cooled to be piped onto cupcakes, or when it's chilled to a semi-solid to be rolled into truffles.  The truffles in the forefront in the photo above were made by lining chocolate molds with melted chocolate and then filling those shells with creamy ganache.  The ones in the back are made of pure ganache that's been chilled thoroughly, rolled into balls, and covered in sprinkles.  You'll find both versions referred to as "truffles", but they're definitely different as you can see here.  I'm not sure which one I prefer – I love how fancy the ones made in molds are and the bit of crunch from the chocolate exterior, but there's something about a simple rolled truffle that really make them special too.  Maybe I'll just have one of each, please!
Whenever I make truffles (such as these almond joy truffles or dark chocolate blueberry truffles), I always reach for the highest quality chocolate I can find/afford.  Since the ingredient list is so simple, it's important to choose ingredients with tons of great flavor so the chocolate can really shine.  I was fortunate enough to be sent a sample of craft chocolate from Bar & Bean to use for these truffles, and all of the bars they sent me are made from small batch artisan chocolate makers in the US.  I learned that for a grocery store brand to call their product "chocolate", they only need 10% of it to actually be chocolate.  That's crazy!  Craft chocolate strives to make the cacao shine, rather than masking it with sugars and other sweeteners.  Instead of corn syrup, some of these bars had hints of things like sea salt, pumpkin seeds, and chile – very interesting and all very, very delicious!  I love learning about chocolate, especially when it involves taste testing, and turning the chocolate into these truffles with a splash of red wine was a great way to test them out.  We enjoyed a chocolate tasting from Wine Country Chocolates while on the west coast (pictured below!) that were all yummy, but I must say these homemade ones definitely gave them a run for their money :)  Using the craft chocolate probably had a lot to do with that!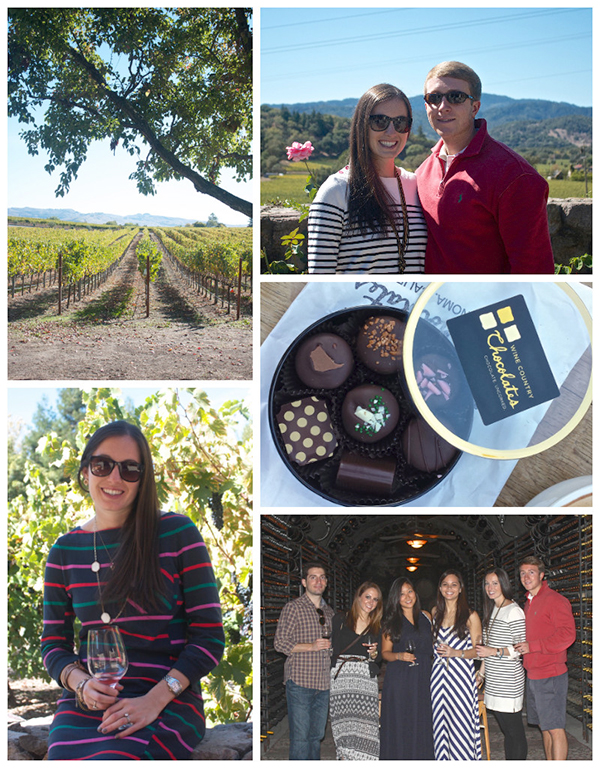 In addition to sending me a gift of 5 craft chocolate bars, Bar & Bean has also generously donated a Baker's Set ($40 value!) to be given away to one of you!!   And just in case you're not the lucky winner, Bar & Bean is offering a 10% discount to Sweet Tooth readers – just use the code "craft" during checkout.
Giveaway Details:
Like my page on Facebook and/or follow me on BlogLovin'
Leave a comment on this post and make sure to leave a valid email address so I can message you if you win.  Don't worry, it won't be made public!
You may enter one day every day until the contest ends
Giveaway limited to US readers (sorry international friends!)
Contest ends Monday October 28th at 5PM EST.  That's National Chocolate Day!!  And Ryan's birthday :)  I'll announce the winner in next Tuesday's post.  Good luck!!
Dark Chocolate Cabernet Truffles
Ingredients:
9 oz semi-sweet or dark chocolate (If you're choosing to make the truffles in a chocolate mold, you'll need another 16oz of chocolate to make the chocolate shells)
1/2 cup heavy cream
5 tbsp red wine, I used Cabernet Sauvignon
Few drops red food coloring, if desired,
Chocolate sprinkles
Directions:
If you're making the chocolate truffles in molds, first melt 10 oz of the extra chocolate in the microwave in 30 second intervals, mixing well between each until totally smooth. Use a spoon or pastry brush to line the sides and bottom of the molds with chocolate, then transfer to the fridge to set while you make the Cabernet ganache. (See the photos/instructions from Sprinkle Bakes for a really good tutorial on this!). And here's a link to the mold I used for these from Amazon
For the ganache, chop the 9 oz dark chocolate and set aside in a medium bowl. Over medium heat, in a small saucepan warm the heavy cream until bubbles just start to form. Once you see bubbles, pour the cream over the chopped chocolate and stir until completely smooth and melted. Add red wine and food coloring and mix until incorporated. Transfer ganache to the fridge to chill.
If you're making the truffles in molds, you'll only need the ganache to chill for 5-10 minutes so it's at room temperature. Then spoon ganache into the chocolate shells, but not all the way to the top. You have to leave room for more melted chocolate so the truffle is completely sealed. Melt the remaining 6 oz of chocolate in the microwave and top the ganache with the melted chocolate to seal the truffles. Return them to the fridge until set, then gently unmold the truffles by pressing from the bottom. Store in the fridge until ready to serve, then allow them to sit at room temperature for about 10 minutes before eating.
If you're making the freeform ganache truffles, the ganache should chill in the fridge for at least 2 hours. Once chilled, use a small ice cream scoop to portion out the truffles and use your hands to form them into balls. I like to return them to the fridge for another 20 minutes or so and then roll them again so they get a nice rounded shape (but I can never get them perfect!). After rolling them the second time, roll each truffles in chocolate sprinkles (or cocoa powder, or nothing) and return to the fridge. Just like the other form of truffles, take them out about 10 minutes before serving to allow them to come to room temperature without softening up too much.
You can clearly see the difference between the two kinds of truffles in this photo from my mandatory take-a-bite-of-the-dessert-and-photograph-it shot below. Mmmmm, strictly business here.  The ganache stays a creamier texture inside the chocolate shell in one and the other is a more solid consistency throughout.  Both good in their own way and even better together :)