Today you're going to have to run to your nearest grocery store, pharmacy, or closet candy-selling facility and grab up a bag of discount candy corn because you have to make these! It's like a crazy cool science experiment that melted candy corn, peanut butter, and crushed cereal make a concoction so close to Butterfinger candy it's ridiculous. I felt like a magician making these, but the truth is almost every other food blogger has done it and revealed their secrets already. So this post-Halloween season I've jumped on board and joined the leagues of magic candy makers and now you can too!
I'm not sure if these truly count as homemade since all I did was take one kind of candy and turn it into another type of candy, but I'll take what I can get here. Candy corn is probably the most artificial and processed candy out there as well, so let's not get too excited about ourselves thinking we're wholesome with these, but it's still pretty cool! The one thing that always threw me off when I saw this idea on other blogs is that they're described as spot on taste-wise, but not texture-wise. The bloggers said their truffles/bark/bars were soft and chewy, rather than having the quintessential crispy crunch of Butterfingers. Turns out adding crushed up cereal such as Frosted Flakes or Corn Flakes helps give these bars just the right amount of crunch so this homemade version is practically a duplicate of the store-bought kind!  And I got to make mine into cute little cubes with fancy chocolate drizzles on top :)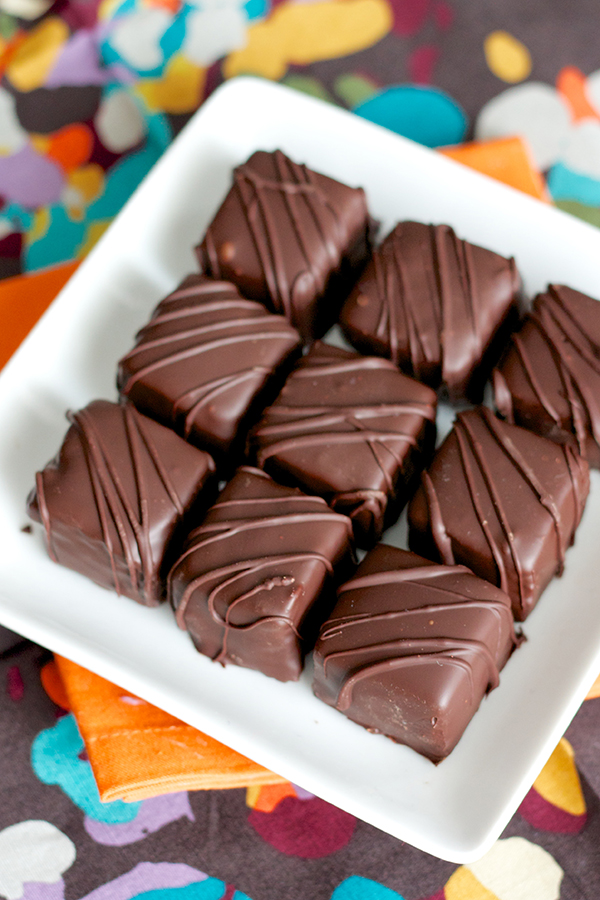 I'm sure you've had plenty of candy in the past week or so, but if there's room in your tummy for one more sweet I highly recommend having some fun with whatever candy corn you can find and whipping up a batch of these. And if you're one of those crazy people with "leftover" Halloween candy, transform your candy corn into something even more delicious and impress your family and friends with this magical recipe.
Homemade Butterfinger Bars
Ingredients:
3 cups candy corn
1-1/2 cups creamy peanut butter
1 cup crushed Frosted Flakes or Corn Flakes
Milk or semisweet chocolate chips or melting chocolate for dipping
Directions:
Place candy corn in a microwave-safe bowl and melt in 30 second intervals, stirring well between each interval, until completely smooth. Add the peanut butter and cereal and mix until well incorporated. You'll need your muscles for this, but you can also return the mixture to the microwave for 15 seconds to soften it up again if it gets too hard to stir.
Line an 8x8" pan with parchment paper or wax paper and transfer mixture into prepared pan. Use a spatula to smooth the top and transfer to the fridge for an hour to allow the mixture to set. Once set, remove the wax paper from the pan and use a sharp knife or pizza cutter to cut into desired shapes (I chose little cubes).
Melt the chocolate in the microwave in 30 second intervals until completely smooth. Dip each cube into the chocolate and transfer to a wax paper-lined cookie sheet. Once all are dipped and the chocolate is set, drizzle with leftover chocolate for decoration. Store at room temperature in an airtight container or store in the fridge (but if you choose the fridge, just let the bars sit out at room temp for 10 minutes before serving so no one breaks a tooth).