I always opted for candy over popcorn at the movie theater growing up, but with these peanut butter popcorn balls – you get both! Reese's Pieces are one of my favorite candies, and I definitely don't bake with them enough. I think this might actually be my first recipe here on the blog that actually features them – the horror! And speaking of horrors, these popcorn balls are such a fun Halloween treat. The Reese's pieces just happen to be great fall colors and popcorn balls are a classic trick-or-treating treat. I definitely would opt for the Reese's cup over a popcorn ball in the candy offerings time after time growing up, but if these were offered, I might just have to break my straight candy addiction with a little salty, crunchy, popcorn-on-a-stick treat.
Making popcorn at home is something I've really been enjoying the past year. I use my big soup pot, coconut oil, and white kernels to make a big batch of popcorn almost weekly for snacking. Usually I add a bit of cinnamon sugar and store them it all in a ziploc bag for the week, but of course I had to go a little more gourmet for the blog, and a little more indulgent for a Halloween post! For these, peanut butter is added to a homemade caramel sauce and the Reese's pieces are mixed in at the end. Then once the mixture is cool enough to handle, mini popcorn balls are formed. And if you're feeling really sassy like I was, festive straws or lollipop sticks are added to make them popcorn pops instead! My favorite part is that the heat of the caramel sauce melted most of the Reese's pieces as they were being mixed in, so the flavor of the candy is distributed throughout with bits of hard candy shell sprinkled throughout. They add just the right amount of crispy crunch and of course the seasonally-appropriate burst of color.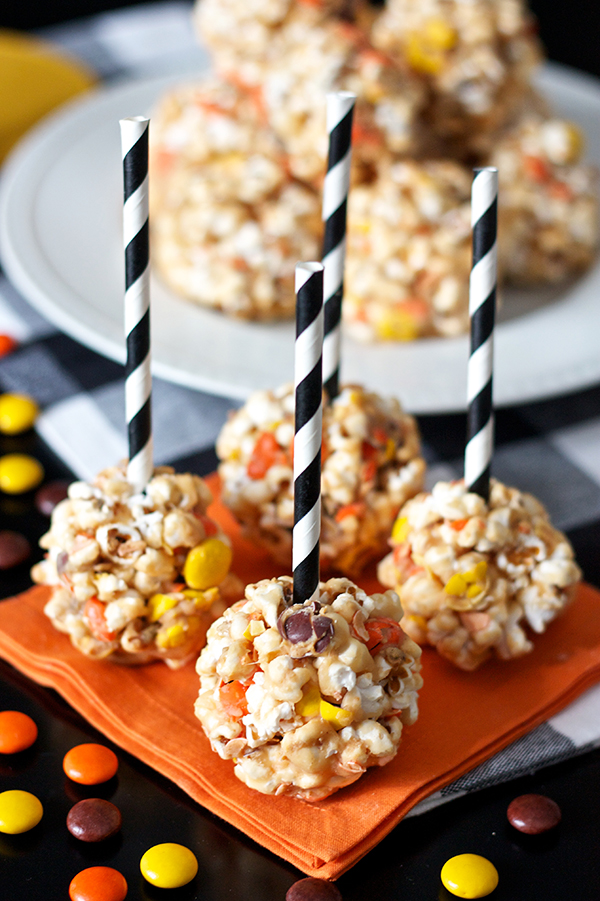 I've said over and over here on the blog how much I love baking around Halloween time. This year things have been crazy busy and I haven't been as immersed in orange and black treats as I'd like, but I've been able to sneak in a few fun things. There are so many themes and characters (and teeth and fangs!) for Halloween that the possibilities are endless. And then there's all the leftover candy that makes for an entire separate heap of fun recipes too. Which reminds me, you could totally throw in whatever type of peanut butter candy or chopped candy bars that you like in these – just check out the rejects from your kids' piles and let them shine with these popcorn balls. Oh, and these are definitely not dentist-approved, so please be careful not to rip any fillings out as you enjoy these :) Happy Halloween!
Peanut Butter Popcorn Balls
Yield: About 20 small popcorn balls
Ingredients:
9 cups popped popcorn
1 cup sugar
1/3 cup light corn syrup
1/3 cup water
1/4 cup butter
1/2 tsp salt
1 tsp vanilla
1/3 cup creamy peanut butter
1-1/2 cups Reese's pieces candy
Directions:
Place your popcorn in a large, oven-safe pan and keep your popped popcorn warm by placing it in a 200 degree oven while you prepare the rest of the recipe.
In a medium saucepan fit with a candy thermometer, combine the sugar, corn syrup, water, butter, and salt. Cook over medium heat, stirring constantly, until mixture comes to a boil. Then allow the mixture to continue to boil without stirring it at all, until the mixture reaches 270F on the candy thermometer. Remove from heat and add the vanilla and peanut butter, stirring until smooth. Pour the caramel over the popcorn, sprinkle on the Reese's pieces, and stir to evenly coat the popcorn.
Allow mixture to cool until it's safe to touch, then use buttered hands to form popcorn balls (or you can invest in this useful but totally unnecessary popcorn ball maker). Place prepared balls on a wax-paper lined cookie sheet. If you're using straws or lollipop sticks, add them now while the mixture is still warm. Store in an airtight container at room temperature for up to 3 days.
How cute are they dressed with a bow? Wrapped in some seran wrap, these would make great gifts or trick-or-treats!