Ahhhh, I just CANNOT wrap my head around the fact that Thanksgiving is next week. I guess I should have had a feeling the end of November is getting close since yesterday I had to bust out my big, puffy jacket. Things just don't quite feel the same this year since Ryan and I are celebrating a bit differently this holiday season. For Thanksgiving we're actually having my family visit and watching the Macy's Thanksgiving Day Parade during brunch at a restaurant overlooking Columbus Circle. And then for Christmas and New Year's we'll be in South Africa on vacation which will certainly be unconventional! So yes, probably no big turkey dinner for us next Thursday, but I couldn't not make one of my favorite Thanksgiving sides – sweet potato casserole. But of course instead of actual casserole, we've got all the flavors made into cupcakes instead!
I can remember last year as we were eating the sweet potato casserole I prepared at Thanksgiving dinner, Ryan and I agreed that although it was insanely delicious, it really had no right being considered a vegetable side anymore. With all the brown sugar, butter, streusel, and marshmallows involved it seemed a lot more like a dessert. So it's no surprise these flavors all work well together in an actual dessert! Sweet potatoes are similar to carrots and pumpkin in that they make great additions to baked goods, and pair really nicely with cinnamon and brown sugar. Although I usually reserve streusel topping for muffins, I thought adding a layer of buttery, cinnamon crumbs on top of the cupcakes couldn't hurt, and would emulate the casserole I love so much even more. The frosting is a homemade marshmallow frosting that's piped into swirls and toasted because 1) it looks pretty and 2) I love using my kitchen torch! The resulting combination was fantastic and the slight crunch of the streusel with the pillowy marshmallow frosting was heavenly.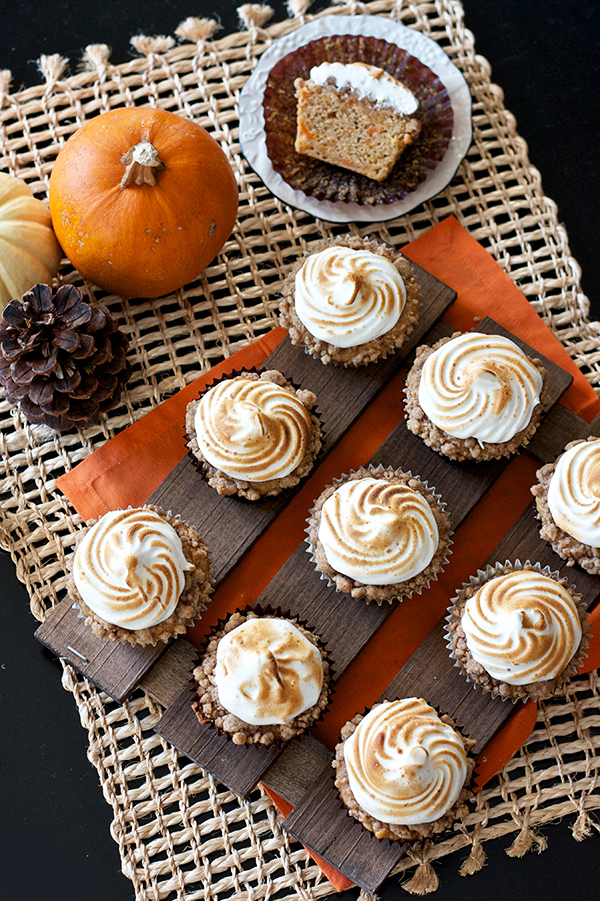 This was my first time baking with sweet potatoes and I loved it. If you're looking for a fun twist on a Thanksgiving classic for dessert next week, definitely consider these cupcakes! They were a huge hit with my friends and I know your family will love them too. Make sure you eat lots of turkey for me this year, and I'll be sure to give Snoopy a high five for all of you as he rolls by our breakfast window :)
Sweet Potato Casserole Cupcakes
Ingredients:
for the cinnamon streusel:
1 cup all purpose flour
1/2 cup brown sugar, packed
1/2 cup (1 stick) unsalted butter, cut into small pieces
1-1/2 tsp ground cinnamon
for the cupcakes:
2 cups all purpose flour
2 tsp baking powder
1/2 tsp baking soda
1/4 tsp salt
1 tsp ground cinnamon
1 cup (2 sticks) unsalted butter, at room temperature
1-1/2 cups brown sugar, packed
3 large eggs
2 cups sweet potato puree (from 2 medium baked sweet potatoes)
6 tbsp maple syrup
1/2 tsp vanilla extract
for the marshmallow frosting:
6 large egg whites, at room temperature
1-1/2 cup sugar
1/4 + 1/8 tsp cream of tartar
1-1/2 tsp vanilla extract
Directions:
Preheat oven to 350 degrees and line 24 muffin tins with cupcake liners.
For the streusel, combine all of the ingredients in a large bowl and use your fingers, a pastry cutter, or 2 forks to combine everything until the mixture resembles coarse crumbs. Another option is putting all of the ingredients in a food processor or blender for a few pulses until coarse crumbs are formed. Place the streusel in the fridge while you make the cupcake batter.
In a large bowl, whisk together the flour, baking powder, baking soda, salt, and ground cinnamon. Set aside. In the bowl of an electric mixer, beat together the butter and brown sugar on medium-high speed for 2-3 minutes, until light and fluffy. Beat in the eggs one at a time, scraping the sides of the bowl as necessary. Add the sweet potato puree, maple syrup, and vanilla and continue to beat until well combined.
With the mixer on low speed, slowly add the dry ingredients until just incorporated. Evenly distribute the batter among the 24 cupcake liners, so they are about 2/3 of the way full. Top each one with a layer of streusel so the batter is completely covered for maximum streusel per cupcake. Bake cupcakes for about 18 minutes, rotating the pans halfway through, or until cake tester comes out clean. Let the cupcakes cool in the pan for 5 minutes then transfer to a wire rack to cool completely.
For the marshmallow frosting, combine the egg whites, sugar and cream of tartar in your mixer bowl set over a pan of a few inches of simmering water. Heat the mixture, whisking frequently, until it reaches 160 degrees on a candy or kitchen thermometer. Transfer the mixture to an electric mixer fitted with the whisk attachment. Start the speed at low, and increase until medium-high until stiff, glossy peaks form. Mix in the vanilla and beat until well combined.
Transfer frosting to a piping bag fit with a large star tip and pipe swirls on each cooled cupcake. Use a kitchen torch to lightly toast the marshmallow - careful not to burn the cupcake wrappers!