Everyone has their own little way to decompress after a long week. And although I always appreciate a good yoga sesh or vegging out on the couch watching Bravo marathons, I discovered this past weekend that piping simple designs of royal icing onto sugar cookies can be just what the doctor ordered. It's repetitive, it's therapeutic, and it's not very complicated so there's nothing to get stressed out about. (Unless you're making these while watching March Madness, then that's a whole 'nother story…) And omigosh they're so pretty!! I was able to create a beautiful shade of robin egg blue by mixing a few drops of aqua, turquoise, and green food coloring and the brown speckles are simple to do but so impressive. Food can truly be art, and artful food doesn't have to be complicated – I promise!
After missing the opportunity to bake something for St. Patrick's Day last week, I couldn't let Easter pass me by or else I'd probably be kicked out of the blogosphere completely. So I brainstormed a treat that wouldn't be too time consuming on my end, but still live up to all the pastel beauty that I've seen all over blogs the past few days. I could have done all different colors and designs with these cookies, but I was so grateful for my decision to keep things simple with this batch and accept a monochromatic scheme that I think turned out very elegant. I mean, it's hard to go wrong when you're working with Tiffany blue :) The cookies themselves are also speckled thanks to some finely chopped chocolate that adds a subtle rich flavor to the cookies. And to mimic the Robin's egg candy these cookies resemble, I also added some malted milk powder to the batter to make them even more Easter-y. With just a few tweaks of my favorite sugar cookie recipe, they've got that malted milk candy taste in cookie form.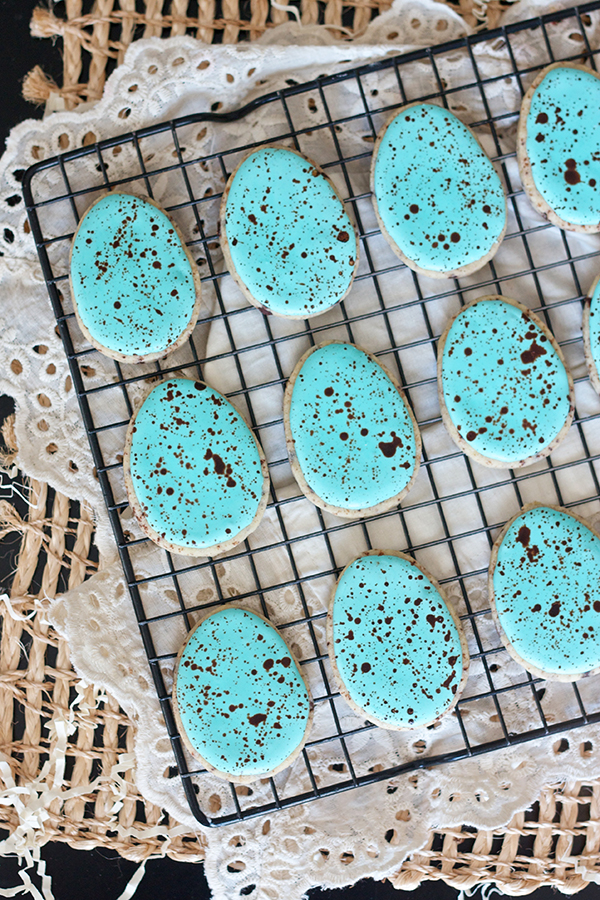 If you're new to decorating with royal icing, this is a great design to start with! It doesn't get much simpler than one color of icing with only one consistency piped in a simple shape. For these I used Sugarbelle's method of "20 second icing" so that you don't have to do a thicker consistency outline of the shape and then go back and fill it in with thinner flood icing. It's a one-step process that saves time and effort, but also creates such a beautiful, seamless layer of icing that's the perfect vehicle for speckling. And I had so much fun with the speckles too! I followed the method from Bake at 350, and after some practice on a piece of parchment paper, I had a blast sprinkling these cookies with speckles. The result is very organic and pretty accurate! You don't have to be a perfectionist with these either, the more imperfect they are, the more they look like real eggs :)
If you love malted milk robin eggs this time of year (or Whoppers year round!), you're going to love these cookies. And if you're not a big malted milk fan, just make traditional sugar cookies shaped like eggs instead and still decorate them with this great technique! They're almost too pretty to eat, but I'm sure you can convince someone to give them a try. Happy Spring!!
Malted Milk Speckled Egg Cookies
Yield: About 50 small egg cookies
Ingredients:
for the speckled malted milk cookies:
3/4 cup unsalted butter, at room temperature
1 cup granulated sugar
1 eggs
1 egg yolks
2-1/2 tsp vanilla extract
1-3/4 cups flour
1/4 cup + 2 tbsp malted milk powder
1/2 tsp salt
1/2 tsp baking powder
1/4 cup semisweet chocolate, chopped finely
for the royal icing:
2 cups powdered sugar
2-1/2 tbsp meringue powder (available at craft stores)
1/3 cup water + more for thinning consistency
1/4 tsp vanilla extract
Aqua, turquoise, and green food coloring
2 drops brown food coloring + 1 tbsp water
Directions:
for the speckled malted milk cookies:
In the bowl of an electric mixer, beat together butter and sugar for about 2 minutes, until light and fluffy. Add the egg and egg yolk and beat until smooth, and then add the vanilla.
In a separate bowl, sift together the flour, malted milk powder, salt, and baking powder. With the mixer on low speed, slowly add the flour mixture and beat until just combined. Add the finely chopped chocolate and fold in by hand with a rubber spatula until evenly distributed. Wrap dough in saran wrap and chill in the fridge for an hour (or more).
Preheat oven to 350 degrees. On a lightly floured surface, roll out dough and cut desired egg shapes, placing them about 1 inch apart on a cookie sheet. Bake for 8-9 minutes - they may seem underbaked but this ensures that they're soft! Transfer to a wire rack and allow cookies to completely cool before decorating.
for the royal icing:
In the bowl of an electric mixer, mix together the powdered sugar, meringue powder, water, and vanilla until smooth (about 2 minutes). To achieve the 20 second icing, keep adding water 1 tbsp at a time until a ribbon of icing drizzled over the bowl disappears/"melts" back into the bowl of icing in about 20 seconds. It's somewhere between the consistency of outlining royal icing and flood icing if you've made royal icing before. Keep adding water until you're happy with the consistency, and make sure to beat well in between each addition.
Add desired food coloring (to get this robin egg blue, I did a few drops of turquoise, a few of aqua, and one drop of leaf green) and beat until evenly colored. Transfer icing to a plastic squeeze bottle or piping bag fit with a #2 round tip. Cover all of your eggs with icing and allow them to dry uncovered for at least 6-8 hours.
To speckle, place the dried cookies on a large sheet of parchment paper and mix together the brown food coloring and tablespoon of water in a small bowl. It's best to have a glove handy so you don't dye your fingertip brown. Dip a small paintbrush in the food coloring/water and flick the mixture onto the cookies using one of your fingertips. Rotate the direction of your finger to make sure you get all of the cookies evenly. Have fun with this! (And try not to make a huge mess...)
Allow the speckles to dry for another two hours before storing in an airtight container at room temperature for up to two weeks.