Somehow it's September, schools are back in session, and I went an entire summer without one ice cream, frozen yogurt, or popsicle recipe here on the blog. The horror!!! I couldn't let the entire season pass by without at least one frozen treat (we still have a few days until the "official" last day of summer, right??), so here we are. It is 90 degrees today here so I'm definitely in the mood for a popsicle, despite what the calendar may say. And when it's an easy recipe like this that's relatively healthy too, I say bring it on. Plus with berries still affordable and towards the end of their season, you have to celebrate them while you still can!
Of course I opted for a popsicle recipe rather than an ice cream one to round up summer 2015 because you really can't come up with easier recipes than popsicle ones. In this case it's basically a sweetened smoothie poured into molds and left to freeze to deliciousness. I've been waiting to share the news until Ryan gave his notice at his current job, but I'm back in Connecticut and finally working as an official pediatric dentist! So needless to say things have been very, very busy with adjusting to a new job, finding a new place to live, a new car, and getting ready to bring a brand new puppy home soon to our suburban life! Baking has certainly taken a back seat as we've tried to get settled, but I can pull off a popsicle recipe even at the busiest of times. We are somewhat depressed to leave our exciting lives in New York City, but I will always cherish our two years there and all of the memories. But I definitely won't miss the lack of air conditioning in our tiny south-facing apartment, thank goodness for popsicles!!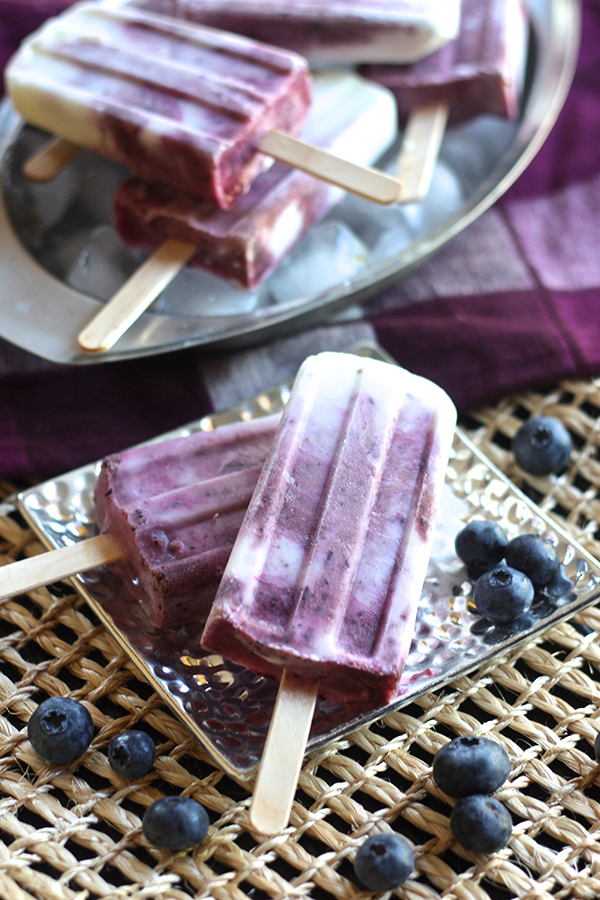 With Labor Day approaching and a beautiful forecast ahead for the weekend (at least for the Northeast!), it's the perfect time for a batch of blueberry yogurt popsicles. They're tangy and sweet with plenty of fresh blueberry flavor and creamy yogurt texture. And could the color be more beautiful?? I love the swirled look for these, but you could also do layers instead like my poptail (popsicle cocktail) recipe from last summer. Do you forgive me for my lack of summery frozen posts this year?? I promise these popsicles will make up for it!
Blueberry Yogurt Popsicles
Ingredients:
2 cups fresh blueberries
2 tbsp honey
1/2 lemon
1/2 cup water
1/2 cup granulated sugar
1 1/2 cups plain Greek yogurt
Directions:
Place blueberries in blender and squeeze half the lemon over it. Add the honey and blend until smooth. If you have some stubborn blueberry skins that you'd like to exclude from your popsicles, run the mixture through a fine mesh sieve before adding to the molds.
Place water and sugar in a medium saucepan and heat over medium-high heat until it comes to a boil and the sugar is fully dissolved. Allow the syrup to simmer for another 5 minutes. Chill the mixture in the fridge until room temperature, or place the bowl in an ice bath (this works very well!). Once the syrup is chilled, add the yogurt and mix until smooth.
To assemble popsicles, alternate pouring layers of the yogurt and berry mixtures into each mold until there's about 1/4" from the tops (I used this mold and I love its classic look!). Use a long skewer or knife to swirl the mixtures together. Freeze the pops for about 45 minutes, until they're just starting to set, then insert the sticks and freeze again until solid, about 4 hours.