There are times when I share a dessert immediately after making it (usually seasonal stuff– I don't make my holiday treats too far in advance), and then there are times when somehow a recipe goes almost a whole entire YEAR without making it live on the blog. This popcorn I'm sharing today is one of the latter. I remember specifically because this was my contribution to the Superbowl party we went to last year (along with the football cookie dough dip as well, duhhh) and I'm a little embarrassed that it's only now making it in front of your eyes. But that being said, I guess it's also good timing since now you too can make it for the Superbowl – it's such a great party snack!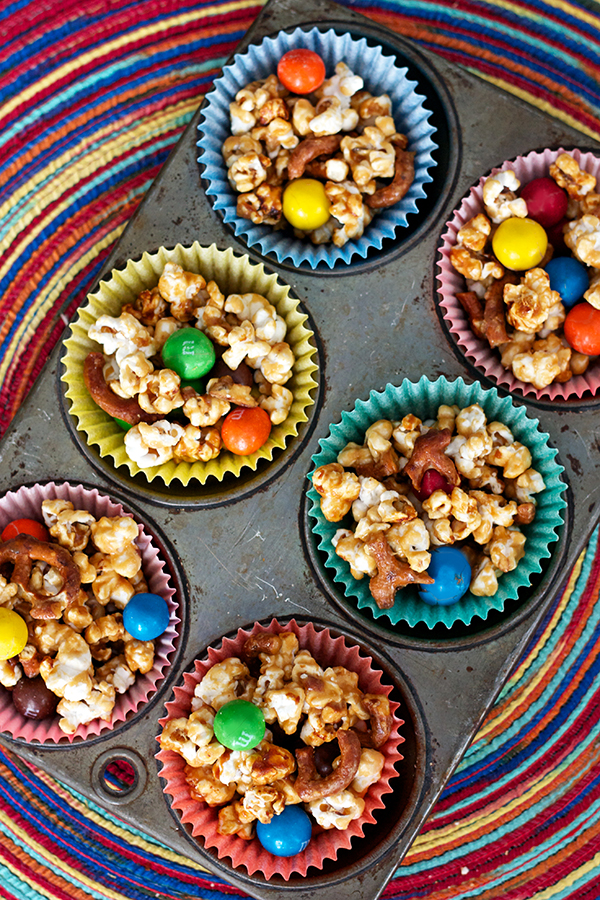 Caramel can be rather intimidating, but I've really become comfortable with this method of caramel-making and I want to encourage you to try it too. I've tried a few methods including burning the sugar first, using a candy thermometer, but this method of using corn syrup and timing the boiling has proven to be both easy and repeatedly successful. It's not nearly as terrifying as you might think it is, and the result is totally worth it. Once the caramel is poured over the mixture of popcorn and pretzels, everything is baked in a low-heat oven to get the caramel corn crispy and crunchy. If you skipped this step you'd have more of a gooey popcorn mixture, so the baking is definitely necessary for that classic caramel corn crunch!
As a dentist I definitely shouldn't be condoning the intake of caramel corn, but it's just sooooo darn good. Especially when it's extra-salted and mixed with pretzels and pretzel M&M's. There's nothing like the sweet and salty combination of chocolate, caramel, and pretzels – making this popcorn completely addicting. The recipe yields a lot so it's perfect for parties and you can swap out the colored M&M's or add coordinating sprinkles to match your team's colors. Ryan's a huge Patriots fan so we're pretty amped up for the Superbowl this year, and you can bet any treat I make for next weekend's party will definitely be red, white, and blue. Go Pats!!
Salted Pretzel Caramel Popcorn
Ingredients:
12 cups popped popcorn
2 cups pretzels, chopped roughly
1 cup packed light brown sugar
1/2 cup light corn syrup
1/2 cup unsalted butter
1/2 tsp salt
1/2 tsp baking soda
1 tsp vanilla extract
1 cup pretzel M&M's
Directions:
Preheat oven to 250 degrees and spray a large pan with non-stick spray. Throw the popcorn and chopped pretzels into the pan and set aside.
In a medium saucepan, combine the brown sugar, corn syrup, butter, and salt. Heat over medium heat until it begins to boil, whisking constantly. Then put your whisk down and allow the mixture to boil over medium heat for about 5 minutes. You want the caramel to turn a nice golden amber color, but not too dark.
Once golden brown color is achieved, remove from the heat and stir in the baking soda (the mixture may foam, but that's fine!). Stir in the vanilla extract.
Working quickly, pour warm syrup over the popcorn and pretzels. Toss everything together with a large spoon until the popcorn is evenly coated with caramel. Bake for 20 minutes, then remove and toss. Return to the oven to bake for another 20 minutes. Once done, toss everything one more time and allow the mixture to cool for 10 minutes. Then add the pretzel M&M's and let everything cool completely before packaging or serving. Store in an airtight container or bag for up to 4 days at room temperature.