As much as I love summer, living in a tiny apartment with a tiny AC unit makes life for a food blogger difficult at times. Whenever I use the oven I heat up the whole place and make any 80 degree day basically unbearable. I obviously still do it, but it's not very comfortable. But all for the love of sugar, baked goods must prevail! Especially those that don't involve ovens in the first place, such as rice krispie treats. A few burners is all you need, and soon enough you'll have an unbelievable batch of rice krispie treats with only a few drops of sweat lost.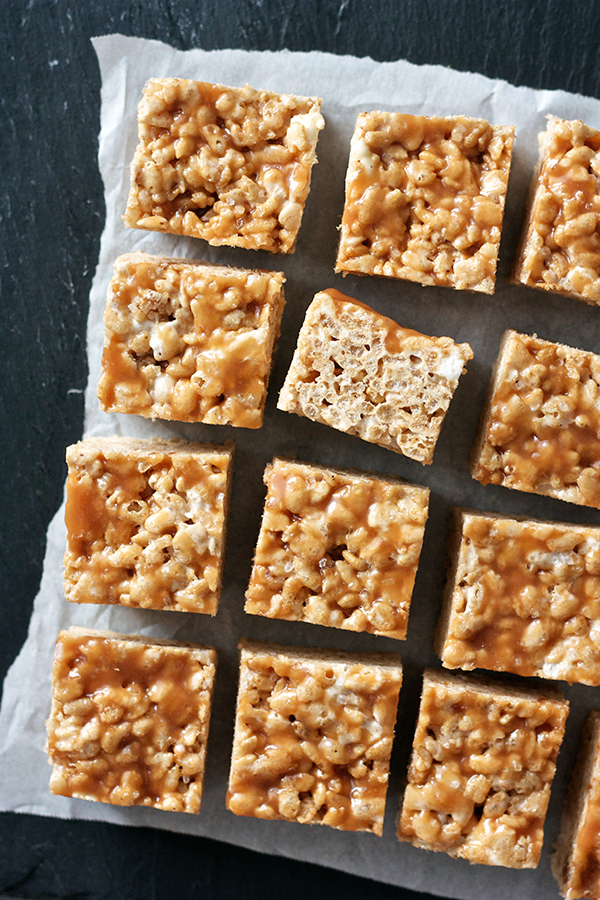 I've never been a huge fan of rice krispie treats, growing up I never reached for them at bake sales, and always preferred brownies or cookies. But now that I've been introduced to the world of flavored rice krispie treats, I can't seem to get enough. Funfetti, peanut butter, cookie butter, Nutella, and now brown butter AND salted caramel! I think we have almost all the trendy flavors covered on the blog here now. I used some leftover salted caramel sauce that I had from my mini salted caramel cheesecakes, but you could definitely sub in a store-bought variety here. Don't skimp on the salt though – that flavor totally elevates them from your average neighborhood bake sale! The brown butter also helps, adding a nuttiness that definitely complements the caramel and cuts a bit of the sugary-ness.
I've survived two of my crazy travel weeks so far – made it to Seattle, Portland, and Miami and back to NYC all in one piece. My five hour delay on Sunday was less than desirable, but I've been having a blast seeing friends on all coasts and celebrating all sorts of stuff. Chicago's up next tomorrow! I brought these rice krispie treats to Miami for a bachelorette party, although I reheated them after photographing and shaped them into something a bit more appropriate for the occasion (but def not PG blog appropriate!!). So that's a fun fact to keep in mind – you can always microwave a batch of rice krispie treats and shape them into whatever you want! Hopefully you choose something a bit less phallic, unless you also have a salted caramel-loving bride-to-be friend also, in which case I highly recommend it :)
For some reason it's actually freeeeeezing in NYC today (highs in the 50s, brrrrr), so I'm going to take this opportunity to roast vegetables for dinner and bake something in the oven tonight. Another batch of rice krispie treats will have to wait. But keep these in mind for those super hot days – these treats are amazinggg and so easy to make, so you're still going to have to give them a try!
Salted Caramel Rice Krispie Treats
Ingredients:
1/2 cup unsalted butter
8 cups (1 10-oz bag) mini marshmallows
8 cups Rice Krispies cereal
1/4 tsp salt + coarse salt for sprinkling on top
3/4 cup salted caramel sauce (or store-bought), divided and at room temperature
Directions:
Spray an 8x8" baking pan liberally with non-stick spray.
In a large pot, melt the butter over medium-low heat. Stir frequently as the butter melts and then browns. As soon as the butter turns a nutty color and has a nutty aroma, turn off the heat. You want to keep a close eye on the butter because once it turns brown it will burn quickly after that! With the heat off, add the marshmallows. If the heat from the butter is not enough to melt the marshmallows, turn the burner back on low until the mixture is smooth.
Remove the pot from the stove and stir in the cereal and 1/2 cup of the salted caramel. Use a rubber spatula to evenly incorporate everything, then press into prepared pan. Drizzle the remaining 1/4 cup of salted caramel over the treats and sprinkle with coarse salt. Let the treats firm up at room temperature for about 30 minutes, or 10 minutes in the fridge, before cutting into squares and serving.