Let the holiday baking begin!  I'm always a bit overwhelmed this time of year because there are a million things I want to buy, and decorate, and bake, but somehow the time flies by so quickly. But I've bit somewhat organized this season and have some great treats to share with you. Starting with this pound cake recipe that has a festive surprise inside! I saw this pumpkin loaf cake a few years ago, and always wanted to try a variety for myself. Since I thought just a plain white eggnog cake would be kind of boring (but delicious, as I will attest later), I wanted to try and be super fancy-schmancy with a Christmas tree buried inside! Pound cake will never be called boring again :)
The trick to making a "surprise inside" loaf cake is that you actually have to make two loaves and bake the first one twice. First, an entire pound cake dyed green is baked, then cut into slices that are then cut with a Christmas tree cookie cutter to make a stack of cut-outs the length of the loaf. After you make the non-dyed pound cake batter, you line up the tree cut-outs in the loaf pan and pour the batter all around the trees. I was afraid the cake would end up very dry since the green part was baked twice, but I was pleasantly surprised with how moist the cake ended up! And the eggnog flavor is so great, just a touch of spice that I also put in the glaze for the top. I may have gone overboard with the glaze, but I figured if we were calling this a cake instead of a quick bread, I wanted to go all out. It is Christmas time after all!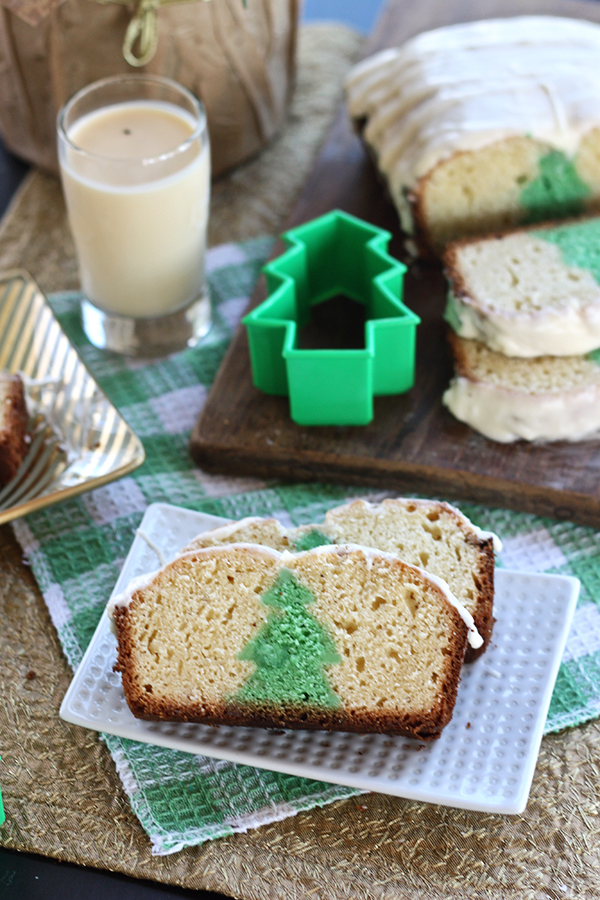 Speaking of Christmas time, I have an amazing, amazing, AMAZING (did I mention it's amazing?) gift in the form of a special giveaway to share with all of you today. One of my favorite things to do around the holidays is visit NYC to see the Rockefeller tree, smell the pine trees on every corner, visit the holiday markets, and see a Broadway show. My Mom's birthday is in December and she LOVES musicals, so we always end up in the city for a show around this magical time of year. The people at Disney were generous enough to offer Ryan and I a chance to see The Lion King last month, and now I get to share a pair of tickets with one lucky reader! I think this would make such a great Christmas gift – the show is incredible and perfect for all ages, who doesn't love The Lion King!? Here is how you can enter:
THE LION KING on Broadway Giveaway Details:
Prize includes 2 tickets to The Lion King on Broadway performance on Wednesday, February 24th at 7PM at the Minskoff Theater in New York City
Leave a comment on this post and leave a valid email address so I can message you if you win. Don't worry, it won't be made public!
You may enter one day every day until the contest ends
Contest ends Tuesday, December 15th at midnight EST. Winner will be announced via email and on next week's blog post!
Good luck winning these tickets – you're definitely going to make someone's Christmas if you win!! And now the recipe for this amazing eggnog pound cake:
Christmas Tree Eggnog Pound Cake
Ingredients:
for the green batter:
1-1/2 cups all purpose flour
1 tsp baking powder
1/8 tsp salt
1/4 tsp nutmeg
1/2 cup unsalted butter, room temperature
1 cup granulated sugar
2 eggs
1 tsp vanilla
1/2 cup + 2 tbsp egg nog
Green food coloring
for the white batter:
1-1/2 cups all purpose flour
1 tsp baking powder
1/8 tsp salt
1/4 tsp nutmeg
1/2 cup unsalted butter, room temperature
1 cup granulated sugar
2 eggs
1 tsp vanilla
1/2 cup + 2 tbsp egg nog

for the glaze:
1-1/2 cups powdered sugar
3-4 tbsp egg nog
Directions:
Preheat the oven to 350 degrees and spray a 9" loaf pan with nonstick spray. In a medium bowl, whisk together the flour, baking powder, salt, and nutmeg. Set aside.
In the bowl of electric mixer, beat together the butter and sugar until light and fluffy, about 2-3 minutes. Add the eggs, one at a time, beating well between each addition, scraping down the sides as necessary. Add the vanilla and green food coloring and beat again. With the mixer on low speed, alternate adding the flour mixture and the eggnog, starting and ending with the flour. Mix until just incorporated.
Transfer batter to perpared pan and bake for 50-55 minutes, until a cake tester (or toothpick) comes out clean. Allow the cake to cool in the pan for 20 minutes, then transfer to a wire rack to cool completely. Once cooked, slice the green cake into 1" slices and use an appropriately-sized Christmas tree cookie cutter to cut out trees from every slice. As you cut them out, place them back into the pan (after it's been washed and sprayed again with non-stick spray) in the order the slices came out so they're the proper height. (SheKnows has great photos to go along with this process if you need help visualizing it!). Put aside the leftover green cake pieces - you can save those to make cake balls or as your own personal snack later on.
For the white batter, following the instructions above again but this time omitting the green food coloring. Spoon the batter on either side of the row of Christmas tree cakes, and spooning a bit on top too. I used up all of my white batter and the cake didn't rise too high, but if your trees are larger, you might not want to fill up your pan all the way. Leave at least 3/4" of empty pan above your batter to allow the cake to rise. Bake again for 50-55 minutes, stopping at around 40 minutes to cover loosely with tinfoil to avoid over-browning the top. Once baked, test with a cake tester (or toothpick), and allow the cake to cool again in the pan for 20 minutes, before transferring to a wire rack to cool completely.
Once the cake is cooled, prepare the glaze by whisking together the powdered sugar and eggnog in a small bowl. Spoon the glaze over the top of the cake and spread around evenly. Store cake in an airtight container at room temperature for up to 3 days.