Every year when Ryan's birthday comes around I try to do something truly different. He sees all of my baking from the brainstorming phase to pulling the end results out of the oven, and sometimes straight into the trash depending on the day. He tries almost everything I make, so he's developed quite a discerning palate when it comes to baked goods. For a guy that would totally choose a cheeseburger over any sort of dessert, this is quite a feat. So this year for his birthday I wanted to do something I've never done before – a donut stack cake! Ryan's office provides donuts once a week, and he always jokes how he has to fight for the chocolate glazed, his favorite. So for his birthday I presented him with a massive pile of homemade chocolate (double) glazed donuts that was all his!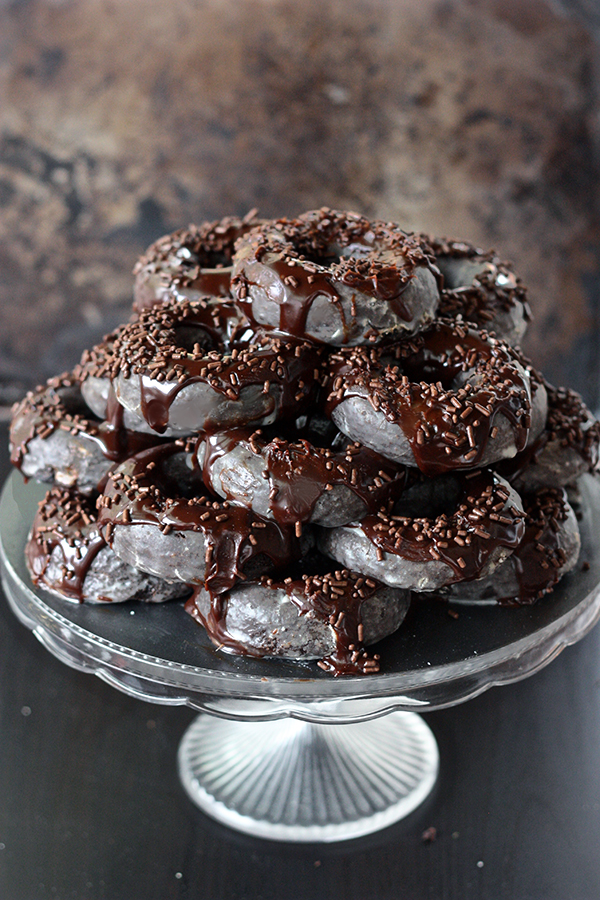 Ever since I burnt my face with hot oil making fried donuts a few years ago, I've been pretty much banned from making them the traditional way. Plus, deep frying with oil always stinks up our whole apartment or house and that makes Ryan less than excited for fresh donuts. Baking donuts doesn't always yield the same fluffy texture as fried donuts, which is understandable, but a cake donut can come out almost perfectly from the oven. And anyway, once you dip them in glaze, top them with more chocolate glaze, and stack them in the shape of a cake, the specifics of the donuts matter a bit less. It can't be bad! The presentation of all these donuts stacked on top of each other is so special that even Ryan, who's seen every crazy creation of mine, was impressed. It's not the easiest or prettiest thing once you start serving the donuts, but we just tackled the donuts one by one and didn't mind the mess.
I always believe every birthday deserves a cake, not just a box of donuts, so that's really where this idea came from. I wanted to make Ryan homemade donuts, but I couldn't let his birthday pass without a "proper" cake. You can really stack whatever you want to make a cake when you think about it, even storebought donuts with some simple homemade glaze to stick everything together. Deep frying donuts is a traditional Hanukkah activity, so this would also make a great addition to a Hanukkah party next week! Just please be careful not to burn yourself if you're going the deep fried route :) Donuts are definitely a super trendy dessert these days (Dough in NYC is our fave!) and stacked in a cake, they're even cooler. Happy belated birthday Ryan, may you always get the chocolate glazed donut!!
Glazed Chocolate Donut Stack Cake
Ingredients:
for the baked chocolate donuts:
3-1/4 cups + 2 tbsp all purpose flour
3/4 cup cocoa powder
2 tsp baking powder
1 tsp baking soda
1 tsp salt
3/4 cup unsalted butter
12 oz semisweet chocolate chips
2 tsp instant espresso powder
2 cups light brown sugar, packed
4 large egg yolks
2 cups buttermilk
1 tbsp vanilla extract
for the vanilla glaze:
1/2 cup milk
2 tsp vanilla extract
4 cups powdered sugar
for the chocolate glaze:
8 oz semisweet chocolate chips
1 cup heavy cream
1/4 cup light corn syrup
1 tbsp + 1 tsp vanilla extract
Chocolate sprinkles
Directions:
for the baked chocolate donuts:
Preheat your oven to 350 degrees and spray a donut pan with non-stick spray. In a large bowl, whisk together the flour, cocoa powder, baking powder, baking soda, and salt.
In a medium saucepan on medium heat, melt the butter. Add the chocolate chips and espresso powder, and mix until smooth. Remove from the heat, add the sugar and egg yolks and beat well. Add the buttermilk and vanilla and whisk together.
Create a well in the dry ingredients and add the wet. Fold ingredients together with a rubber spatula until just combined. Transfer donut dough to a piping bag with the corner snipped off, and fill the donut wells about 3/4 of the way full. You'll only be able to do 6 donuts at a time with one donut pan, so you'll have to work in batches. Bake for 12-15 minutes, then allow the donuts to cool in the pan for 5 minutes before transferring to wire rack to cool completely.
for the vanilla glaze:
Once all of your donuts are made, prepare the glaze. In a medium saucepan over low heat, mix together the milk and vanilla and heat until warm. Whisk in the powdered sugar and mix until well combined. Dip donuts into the glaze, one at a time, using a spoon to make sure the entire donut is covered. Set glazed donuts on a wire rack to set. You may have to rewarm the glaze slightly during this process to thin it out again to glaze all of the donuts.
for the chocolate glaze and assembly:
In a small saucepan over medium heat, warm the heavy cream until it starts to steam, but not boil. Place chocolate chips in a heat-proof bowl and pour the heated cream over the chocolate. Allow it to sit for 5 minutes, then whisk everything together until smooth. Add the corn syrup and vanilla and whisk again.
For assembly, choose your cake circle or cake plate and arrange 8 donuts in a ring with one in the center. Use a spoon to pour a layer of chocolate glaze over the first layer of donuts, and then add the second layer of 6. Add another drizzle of glaze, and then 4 donuts. I did another layer with 4 donuts and topped it all with one on top. Decorate with chocolate sprinkles if desired.