I realize none of you will be able to make this cake for tomorrow's big meal since I'm quite delayed in sharing my Thanksgiving dessert, but I couldn't help share this epic cake that we'll be enjoying tomorrow. I've done a lot of layer cakes with cheesecake centers since I started this blog – Oreo, Oatmeal Cookie, Red Velvet – and it was just about time pumpkin was added to the list if I'm trying to stay on trend. Ever since I made those Pumpkin Whoopie Pies earlier this fall I was reminded how good pumpkin cake can be. All pumpkin baked goods tend to be naturally loaded with moisture and there's nothing I like less than a dry cake. Well, maybe I like pie less, but that's exactly why I have this Pumpkin Cheesecake Layer Cake to share with you the day before Thanksgiving!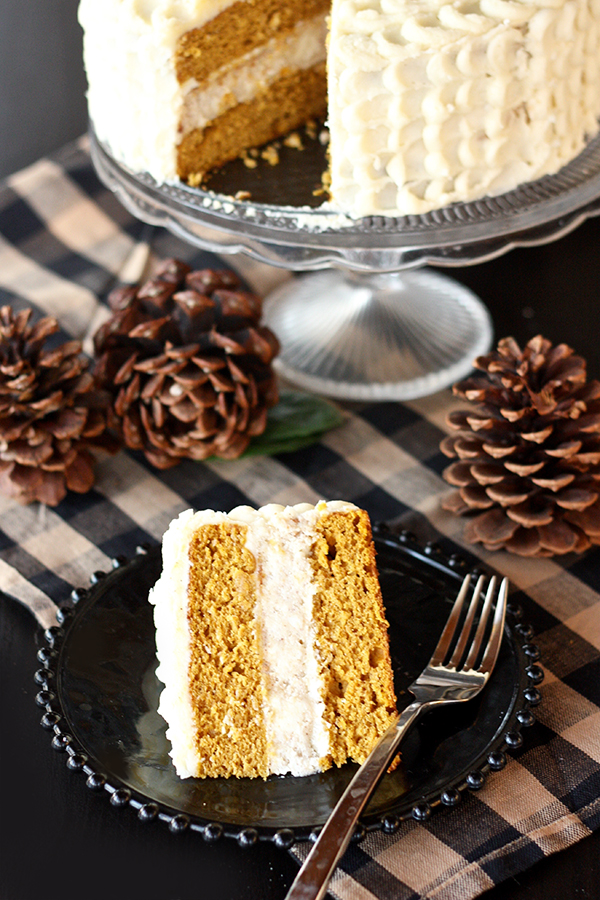 Pumpkin cake goes so well with cream cheese frosting, so I just upped the cream cheese factor by including a layer of cheesecake here as well as the topping of cream cheese frosting. The spicy, cinnamon-y flavors of the cake are perfectly complimented by the tangy cream cheese and cheesecake components. At our Thanksgivings growing up we usually had a cheesecake in our dessert spread, so combining the classic pumpkin pie flavor in cake form with cheesecake just seemed natural. It's just about as Thanksgiving-y you can get in my opinion without actually having pie! And it's really pretty too!! For the decorations I hot glued some pine cones together and attached toothpicks so that the pine cones weren't actually touching the frosting. No one wants sap with their cream cheese frosting! And turns out spinach makes for great fake leaves for topping cakes too :)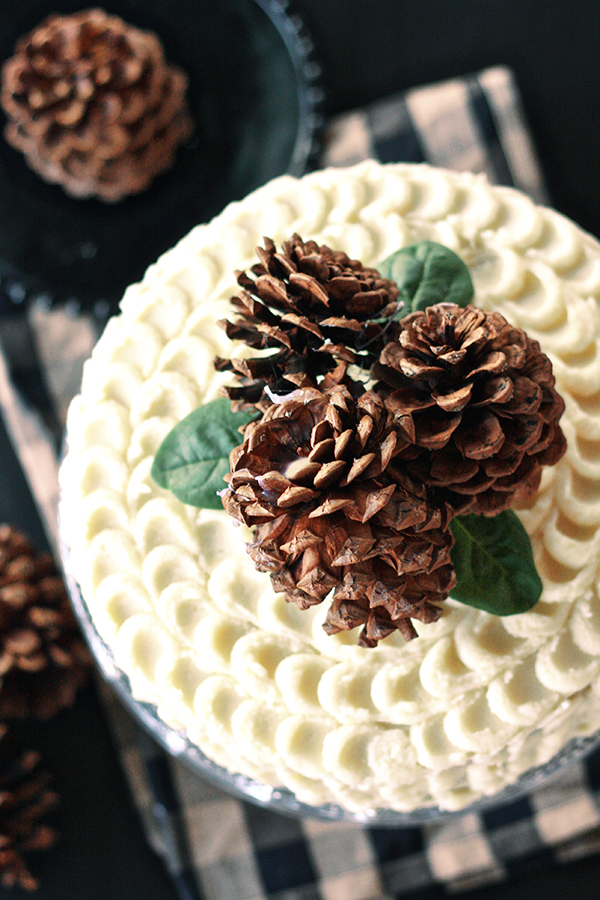 So even though I realize it's too late for you to add this to your dessert line-up tomorrow, pretty please book mark it for next year. Layer cakes are always extremely impressive in their presentation, and the layers freeze very well so most of the prep can be done weeks in advance if necessary. And since Thanksgiving is all about excessive eating anyway, serving a cheesecake layered inside a pumpkin cake is totally appropriate. Happy Turkey Day!!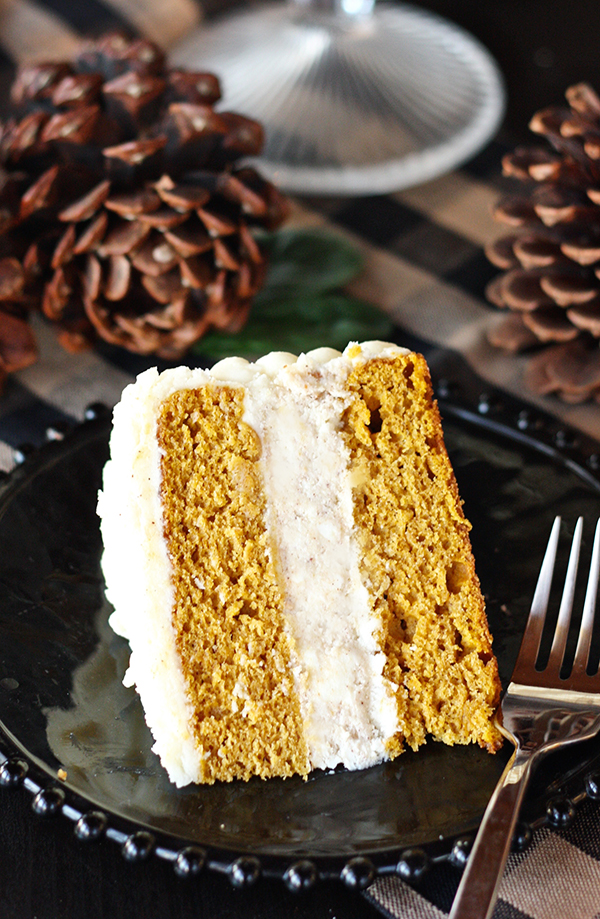 Pumpkin Cheesecake Layer Cake
Ingredients:
for the cheesecake layer:
20 oz cream cheese, at room temperature
3/4 cups granulated sugar
1/2 tbsp vanilla extract
1/4 tsp salt
1 tsp cinnamon
2 large eggs
1/2 cup sour cream
for the pumpkin cake layers:
2-1/2 cups all purpose flour
1-1/2 tsp baking powder
1 tsp baking soda
1 tsp ground cinnamon
1/2 tsp ground nutmeg
1/2 tsp salt
1/2 cup vegetable oil
1 cup granulated sugar
1/2 cup light brown sugar
2 large eggs, at room temperature
1-1/2 cups canned pumpkin puree
1 tsp vanilla extract
1/2 cup whole milk
for the cream cheese frosting:
1 cup + 2 tbsp unsalted butter, at room temperature
6 oz cream cheese
1-1/2 tsp vanilla extract
5 cups powdered sugar
2 tbsp milk
Directions:
for the cheesecake layer:
Preheat the oven to 325 degrees. Line the bottom of an 8" springform pan with parchment paper and wrap the bottom half of the pan in tinfoil. In the bowl of an electric mixer beat the cream cheese until smooth and fluffy, then slowly add the sugar. Beat in the vanilla and salt until smooth. Add the eggs one at a time, scraping down the sides between each addition and beating well. Mix in the sour cream and gently fold in to incorporate.
Place springform pan into a larger pan and pour boiling water until it comes up halfway up the sides of the springform pan. Bake for about 45 minutes, or until the center is just set. Remove pan from water and allow it to cool for 20 minutes. Run a knife around the edge of the pan and set aside to cool completely. Remove outer ring of pan, leaving the bottom piece, wrap cheesecake with plastic wrap, and store in the freezer until ready to assemble.
for the pumpkin cake layers:
Preheat the oven to 350 degrees. Lightly spray two 8" round cake pans with non-stick spray and set aside.
In a large bowl, whisk together the flour, baking powder, baking soda, cinnamon, nutmeg, and salt.
In the bowl of an electric mixer, beat together the oil and sugars until combined. Add the eggs in one at a time, mixing well between each addition and scraping down the sides of the bowl as necessary. Add the pumpkin and vanilla and beat again for 2 minutes. With the mixer on low speed, alternate adding the flour mixture and the milk, so that you add the flour in 3 additions and the milk in 2, beginning and ending with the flour, until just combined.
Divide the batter between the two prepared cake pans and bake for 30-35 minutes or until a cake tester comes out clean. Allow cakes to cool in the pans for 15 minutes then transfer to a wire rack to cool completely. The layers can be individually wrapped well in plastic wrap and stored in the freezer until you're ready to assemble the cake.
for the cream cheese frosting:
In the bowl of an electric mixer, beat together the butter and cream cheese for 2-3 minutes, until light and fluffy. Add the vanilla and continue beating. Reduce the mixer's speed to low and slowly add the powdered sugar. Once incorporated, add the milk and increase the speed to medium. Beat for another 1-2 minutes until smooth.
To assemble cake, place one of the pumpkin cake layers down on an 8" cake plate or cake board and cover with a thin layer of cream cheese frosting. Gently set the cheesecake layer on top, and frost with another thin layer of frosting. Add the second layer of pumpkin cake. Frost the top and sides of the cake with the remaining cream cheese frosting. Decorate as you wish!