March has always been a busy birthday month for me – as it's my birthday (yayy another year older!) and a few of my close friends as well. So to celebrate a big birthday for one of my besties last week, I came up with a new cookie dough treat to gift her. She is cookie dough OBSESSED, and I've made cookie dough dip for her several times, but I wanted to think of a new way to incorporate cookie dough into a dessert that I could easily bring into the city. We celebrated with karaoke, boozy gummy bears, and this cookie dough bark. If only I had used rainbow sprinkles it would have been the ultimate birthday treat!
Barks are one of the easiest treats to make, but they're still extremely yummy and pretty enough to make for a birthday dessert. It's quite surprising that I only have a chocolate-covered gummy bear one and a classic peppermint bark recipe here on the blog. Because with the busy schedule I've had recently, I'm all about easy recipes! Cookie dough truffles are one of my favorite things to give away as gifts (as I did here for my bridesmaids!), but sometimes dunking all of those individual balls in chocolate coating is too daunting for a weeknight undertaking. That's why barks are so great – all the great tastes and creativity involved in chocolate-covered treats, without actually covering anything in chocolate. And since I used high quality melting chocolate that doesn't involve any tempering (love Chocoley!), it really as easy as it gets.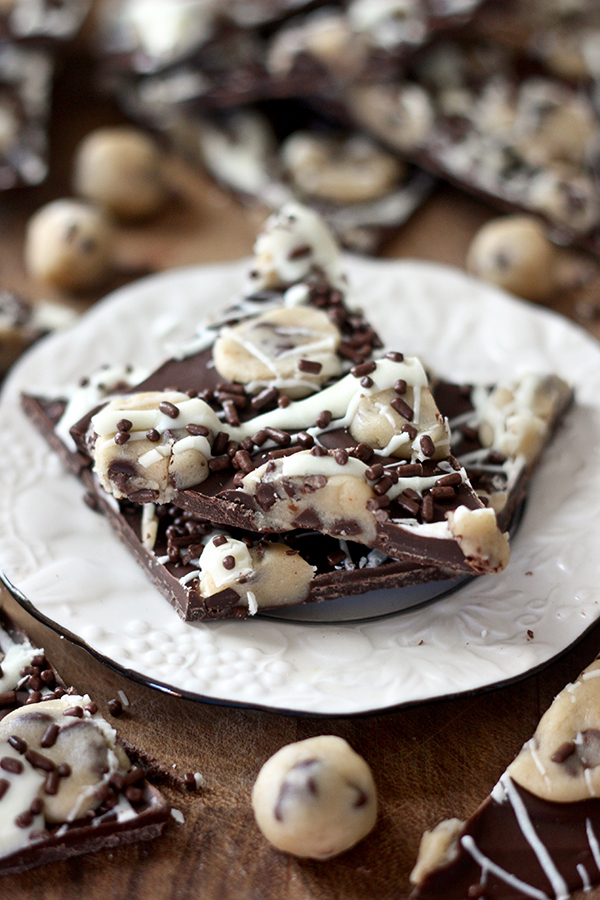 The most "challenging" part of this recipe is making the egg-free cookie dough first before assembling the bark. It's dangerous to whip up a batch of the cookie dough because you know it's safe to eat, and cookie dough consumption can thus get a bit out of control. But if you can hold off until the bark is complete, I promise it's worth it. The combination of the dark and white chocolate with the bites of cookie dough is so good! Plus, how pretty is it!?
Cookie Dough Bark
Ingredients:
for the cookie dough:
1/2 cup + 2 tbsp all purpose flour
1/4 tsp salt
Pinch of baking soda
1/4 cup unsalted butter, at room temperature
3 tbsp granulated sugar
3 tbsp light brown sugar, packed
1/4 tsp vanilla extract
1-1/2 tbsp milk
1/3 cup mini chocolate chips
for the chocolate bark:
10 oz semisweet or dark melting chocolate (I used Chocoley)
5 oz white melting chocolate (I used Chocoley)
Chocolate sprinkles
Directions:
for the cookie dough:
In a medium bowl, whisk together the flour, salt, and baking soda and set aside. In the bowl of an electric mixer, beat together the butter and sugars on medium-high speed until light and fluffy, about 2-3 minutes. Add the milk and vanilla and beat again. With the mixer on slow speed, add the flour mixture and mix until just combined. Add the mini chocolate chips and incorporate evenly with a rubber spatula.
Cover the cookie dough in plastic wrap and chill in the fridge for 30 minutes to an hour. Once chilled, use your hands to form small balls of cookie dough and set on a large plate. Place balled cookie dough in the fridge until ready to assemble the chocolate bark.
for the chocolate bark:
Melt the dark chocolate in a microwave-safe bowl in the microwave in 30 second intervals, stirring well between each interval, until completely smooth. Pour the melted chocolate onto a large sheet of parchment paper and use an offset spatula to smooth it on into an even layer. Immediately add the cookie dough balls to your chocolate in a random pattern. I chose to smoosh down the balls a bit to flatten them out at this point. Place bark in the fridge to allow the chocolate to set, about 15 minutes.
Then melt the white chocolate in a ziploc bag in the microwave also in 30 second intervals, and snip the corner to make it into a decorating bag and drizzle on top of the bark. Add sprinkles and return the bark to the fridge for another 15 minutes to set. Transfer bark to a cutting board and slice up bark into desired pieces. Store in an airtight container in the fridge until ready to serve.